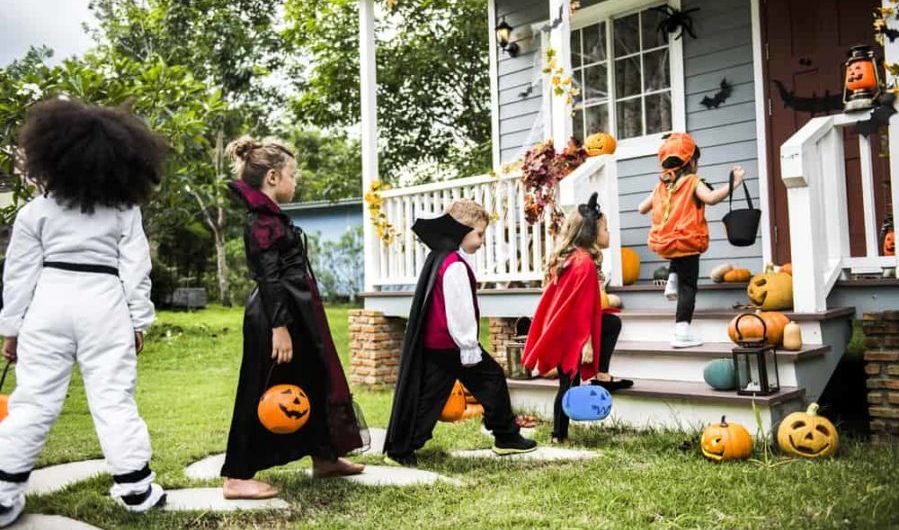 Holidays
Message in Teal & Blue Pumpkins (for Halloween Safety & Inclusivity)
On Halloween, pay attention to the pumpkins!
There are two really amazing initiatives to make Halloween trick-or-treating safer and more inclusive for more kids to be aware of this year.
1. Teal Pumpkins for Food Allergy Awareness
Halloween should be a little spooky, but not downright actually legit terrifying. For kids with food allergies, that "fun size" candy bar is a lot less fun when it could literally kill them. Most of the most popular candies contain a slew of common allergens — nuts, milk, soy, eggs, wheat, etc. — but the ingredient list (and subsequent warnings) is only on the outer bag, not on the individually-wrapped treats themselves. So unless a parent has an encyclopedic-level knowledge of what every possible candy contains, their kid is probably going to have most (if not all) of their haul tossed out at the end of the night. That. Sucks.
(And I say that as someone who routinely steals candy from my kids' buckets, but still leaves them enough for at least two or three solid candy-binge stomachaches.)
The Teal Pumpkin Project asks that households consider these kiddos and offer non-food options for trick-or-treaters, and to signal that your home has those options by placing a teal pumpkin outside your door. (You can paint a real pumpkin, buy a plastic one, or download and print a free sign!) Put candy in one bowl and stickers, small toys, glow sticks, etc. in another, and let any kid (allergic or diet restricted or not!) choose their treat…without anyone having to announce their allergies or diet restrictions or feel any "different" than anyone else.  Here are some ideas for non-food Halloween treats.
If any parents aren't familiar with the teal pumpkin, spread the word! The Teal Pumpkin Project was started by a mom of two boys, one of whom has a number of life-threatening food allergies, about seven years ago, and FARE (Food Allergy Research and Education) started promoting the idea about four years ago. It's a great way to let more children enjoy Halloween treats without the tricks. Or, you know, the risk of anaphylaxis.
2. Blue Pumpkins for Autism Awareness
If a trick-or-treater comes to your door bearing a blue pumpkin bucket, that's a gentle signal that that child has Autism. They might be non-verbal and unable to say "trick or treat." They might love to trick-or-treat but can't tolerate a costume. They might be easily overwhelmed by bright, blinking or noisy decorations, take a bit longer to choose a candy, or might be a little (or a lot) older than your "typical" trick-or-treater. Once again, this is the brilliant brainchild of Moms Who've Been There, Done That.
I wish I'd thought of this, honestly! My oldest has ASD and we've struggled almost every Halloween until super recently. And now he's 14 and humongously tall and getting a little borderline for trick-or-treating…RIGHT when he finally, completely enjoys it! For years we took him around in "costumes" that didn't really look like costumes, had to explain to neighbors holding back the candy bowl that he probably wasn't going to say "trick or treat," or had to deal with him either 1) running away in screaming terror when some yard decoration lit up or popped up, or 2) doing other slightly oddball or unpredictable things like trying to take ALL the candy or walking into a stranger's house to see what was on their TV or if they had any cool toys in their basement.
But we did it anyway, because he wanted the candy, and was simply doing his best to go along with the strange yearly ritual that would get him said candy.
(We always offered him the option of staying home and handing out candy, which he always agreed to…right up until the moment the first trick-or-treater showed up. Then he hated the sense of being left out and would rush to join his brothers outside.)
This year, he's super excited to trick-or-treat around our neighborhood with his best friend. They will be dressed as Michael Myers and Pennywise. They will both be accompanied by me, from an acceptable omg-Mommmmmm-distance. And they will both carry pumpkin buckets.
Blue ones.
More on Halloween from Alpha Mom:
1. Everybody Gets Scared
2. Tell Me How to Feel About Jimmy Kimmel's Halloween Candy Prank
3. How to Trick or Treat Safely
Photo source: Depositphotos/Rawpixel