Holidays
9 Creative DIY Halloween Costumes
I've spent a good number of hours looking at inventive DIY Halloween costumes on the Internet. We're a family with a lot of respect for the homemade costume, well, other than my kids, I mean. They are all about Pokemon and Spiderman and whatever other polyester options the Halloween store is selling this year. So far I have been unable to sway them from their Licensed Character costume dreams, but maybe you have more creative kids.
Here are nine of my favorite DIY costume projects. Let me know if you make any of these!
Creative Halloween Costumes to Make This Year

Why not make yourself (or your child) into an enormous sandwich for Halloween? Note the basketball for scale because this thing is HUGE. While it certainly wouldn't be filed under "Quick and Easy Do It Yourself Costume," it's guaranteed to be memorable. (A friend's son once dressed up as a taco. Five years later, kids are STILL talking about that costume.)


As a kid I always wanted to be a bunch of grapes, like the Fruit of the Loom guy, but considering the frigid October temperatures in Michigan in the 70's and 80's, it was never to be. Thankfully global warming has changed all that and your child will most likely be very comfortable clothed in balloons on a balmy October night.


I love this lobster lobster wearing Crocs — it's official, everyone's wearing them, even crustaceans! No instructions available for this project but the lobster costume doesn't look terribly difficult to figure out. You're on your own for the Crocs, though.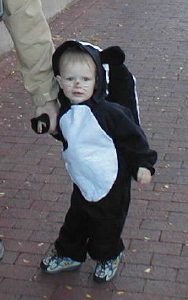 I did find a simple tutorial for a little skunk costume using felt and a black hooded sweatshirt. We had a skunk in our yard over the summer and for as bad as they smell they are awfully cute. When you dress your child up as a skunk you get all the cute and none of the smell. Hopefully.


Check out this iPod costume. Super easy and the tech-savvy kids among us would think it was very cool. Unless you think it's cool and then it can't be cool because parents are not cool. So do not mention that this is a cool costume. Got it?


If you love your family and America, you can put together this family costume set. I can actually imagine myself making almost all these costumes, except the Mount Rushmore one. I mean, it's amazing but yeah, let's not fool ourselves into thinking I'd commit that much time to a costume. But the little canine White House? I would do that in a heartbeat.


I love this DIY Mario costume from the Mario Bros. game. This mom made everything except the overalls, turtleneck and shoes. I'm not sure how I'd go about making the gloves and hat, but I'm guessing I could find something which would work. In fact, you could probably just buy those if you're feeling really desperate. Whatever works.


I came across this garbage can costume in a Craftster thread. I admit, being a garbage can doesn't sound all that exciting. But imagine the fun you'd have while out trick or treating, waiting silently for a passer by, jumping out of the top to surprise them. I think it might give my mother a heart attack, and that's always good for a couple of laughs. Probably best for kids who are pranksters at heart (so, middle schoolers, really).


Most irreverent DIY costume goes to this tiny Frida Kahlo, who I also discovered at Crafster (go figure). I love the story of her costume: She's two and no one really knew who or what she was supposed to be (must be in the suburbs). According to her mom, every time an adult tried to guess what she was dressed up as, she responded with an exasperated "NO! I'm Fweedah Kahwo!" I mean, duh.
Discover More DIY Costumes for Halloween: