Holidays
Inspiring Halloween Costume Ideas for the DIY-er
I've spent a good number of hours looking at the inventive costumes people come up with. We're a family with a lot of respect for the DIY costume. My husband once spent almost $100 making this Shriner costume (complete with little car) and I almost killed him. I'm cheap you see. I've been browsing all these great ideas while my kids are around hoping one of the lovely ideas presented boosts their brains beyond Pokemon and Spiderman. So far no luck, maybe you'll have more creative kids.


Here's a great Instructable helping you to make yourself (or your child) into an enormous sandwich for Halloween. Now this certainly wouldn't be filed under "Quick and Easy Do It Yourself" costume, but it could be filed under: "Big Laughs At The School Halloween Party."


As a kid I always wanted to be a bunch of grapes, but considering the frigid October temperatures in Michigan in the 70's and 80's, it was never to be. Thankfully global warming has changed all that and your child will most likely be very comfortable clothed in balloons on a balmy October night.


HGTV offers an extensive 'Reader Submitted' section of Halloween costumes at their site. Like this lobster, a lobster wearing Crocs, it's official everyone's wearing them. No instructions available but it doesn't look terribly difficult to figure out.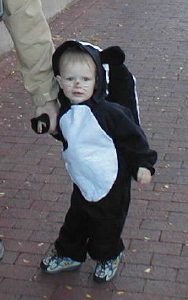 Here is a tutorial for a little skunk costume using felt and a black hooded sweatshirt. We had a skunk in our yard over the summer and for as bad as they smell they are awfully cute. When you dress your child up as a skunk you get all the cute and none of the smell.


Check out this iPod costume. Super easy and the tech savvy kids among us would think it very cool. Unless you think it's cool and then it can't be cool because parents are not cool.


Similarly, this Razr phone costume may appeal to the gadget obsessed tween. I love how this kid seems to have made this costume all by himself. Of course, everybody knows Razr's are so last year. You'll have to make yourself into an iPhone.


If you love your family and America enough you'll put together this family costume set. This was an entry in the Make: Blog's Halloween costume contest. I can actually imagine myself making almost all these costumes, all except the Mt Rushmore one. Which is amazing but yeah, let's not fool ourselves into thinking I'd commit that much time to a costume.


I love this DIY Mario costume from the Mario Bros. game. This mom made everything except the overalls, turtleneck and shoes. I'm not sure how I'd go about making the gloves and hat, but I'm guessing I could find something which would work.


Super simple is this Garbage Can costume in this Craftster thread. I admit, being a garbage can isn't all that fun. But imagine the fun you'd have while out trick or treating, waiting silently for a passer by, jumping out of the top to surprise them. I think it might give my mother a heart attack, and that's always good for a couple of laughs.


Most irreverent DIY costume goes to this tiny Frida Kahlo. I love the story of the costume, no one really knew what she was supposed to be (must be in the suburbs) and the two year old answered their (misguided) attempts to guess her costume with an exasperated "NO! I'm Fweedah Kahwo!" I mean, duh.
Up next: What Not To Wear This Halloween.
Find more Halloween costumes, crafts, decorations and treats from our archives here.