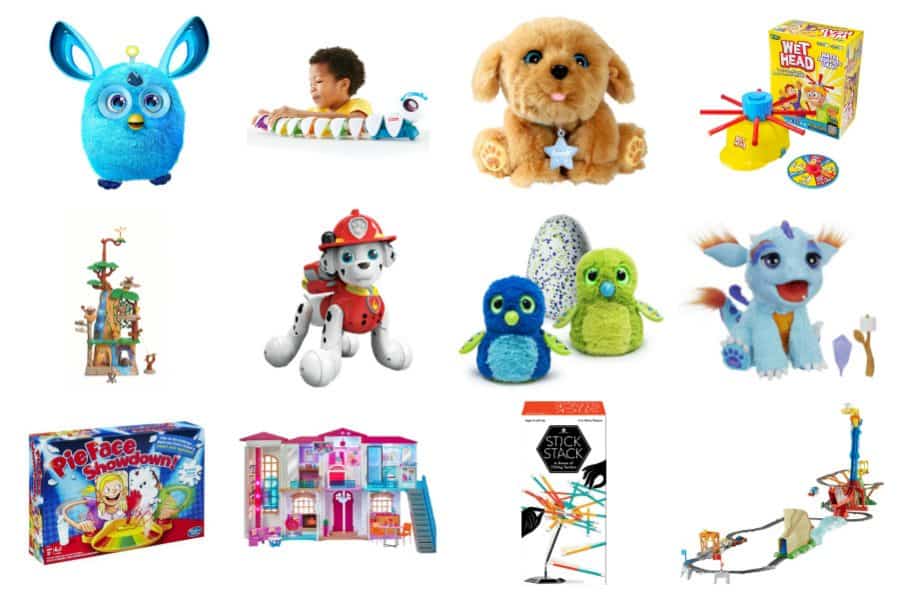 Holidays
Holiday Hot Toys 2016: Hits and Misses (Or, What To Buy and What To Avoid)
Every year the holidays seem to jump up on us. How is it Thanksgiving already?! The big retailers have all announced their Holiday Hot Toy Lists and now you need to know which toys are super cool and which are total duds… and whether this year's extra-hot toy, Hatchimals, lives up to its hype.
To help you figure it out – every year, my family of 5 children and I test out and review some of  the hottest toys on these annual Holiday Hot Toy Lists. We will tell you the real winners, the ones that might be worth skipping and the toys you should avoid.
Enjoy our holiday shopping cheat sheet!  (We have given that most current prices for these toys but they are very subject to change depending on the retailer and supply/demand.)
***********
Little Live Pets Snuggles My Dream Puppy (Buy It)
This is the latest from the "No, I'm not buying you a real dog but try out this life-like stuffed animal instead."  It seems like the toy market is forever trying to come up with animals that can take the place of real pets (you know, the ones that actually have to be fed, walked, brought to the vet, etc).
The Little Live Pets Snuggles My Dream Puppy is on the Hot Toy Lists for Walmart, Toys R Us and Toy Insider. It's currently selling for about $55 on Toys R Us, our affiliate.
I'm sort of smitten for this fake dog Snuggles. He is just so sweet.  The dog is very interactive and acts like a puppy when you pat his head, rub his tummy or push his nose. He opens and closes his eyes. And you can even feed him from a milk bottle and ease him into sleep.  It's just adorable the way he responds to your touch. Your child can even fill out the adoption certificate to make Snuggles an official part of your family.
I like this toy a lot better than the FurReal Friends Get Up & GoGo My Walkin' Pup Pet that my family and I reviewed in our  in 2014. It's just sweeter and more snuggly (hence the name Snuggles, right?). You can't walk Snuggles My Dream Puppy but the FurReal Friends My Walkin' Pup Pet never walked very well anyway.
Snuggles My Dream Puppy is recommended for ages 4 years and older, although my 3.5 year old likes playing with him. It has an off button on one of its paws. The dog requires four AAA batteries (included). When the dog starts making sort of sad, unusual noises, it needs new batteries. You have to replace the batteries in both back paws or else it won't work properly.
Final Word on The Little Live Pets Snuggles My Dream Puppy: The Little Live Pets Snuggles My Dream Puppy will not take the place of a real puppy but on the bright side, it won't pee on your floor either. But if you've got a dog lover, this is a cute little guy to cuddle up with.
***********
Paw Patrol Zoomer Marshall (Buy It)
My sons (aged 3.5 and 6.5) are big Paw Patrol fans so I was excited to check out Paw Patrol Zoomer Marshall. It's on many of the big retailers' Hot Toy Lists including Walmart, Kmart, Target and Toys 'R Us. It currently sells for approximately $52.
Zoomer Marshall is the newest pet on the block from the "Zoomer" family. In years past, my family has reviewed the interactive toys Zoomer Kitty ('15),  Zoomer Dino ('14), and  Zoomer Puppy ('13) in our past reviews of Holidays Hot Toys .
But what I immediately liked about Zoomer Marshall is that you don't have to charge it. Often the Zoomer animals need to be charged for an hour (a major bummer for small children) but this one is good to go out of the box.
Also, this Paw Patrol pup has 150 plus phrases and sounds. It has fun "missions" like putting out campfire coals and finding Chickeletta. It also plays the Paw Patrol theme. But by far my sons' favorite thing about this toy is that you can shoot off fake water cannons. Apparently you can also wave your hand and the pup will follow you but I could't make that feature work. Maybe Marshall doesn't think I'm a "dog" person.  Zoomer Marshall is for ages 3 to 5. Requires 4 AA batteries (not included).
Final Word on Zoomer Marshall: At around $52, Zoomer Marshall is cheaper than the other Zoomer pets in years past so you get more for your money. But keep in mind, it is definitely for a younger child who adores Paw Patrol.
***********
Think & Learn Code-A-Pillar by Fisher-Price (Buy It)
The idea behind the Think & Learn Code-A-Pillar is that preschoolers are encouraged to experiment with the building blocks of programming while playing.  This toy is on the Target, Toys R Us, Toy Insider and Parent's Magazine Hot Toy Lists and is currently selling for between $39.99 to $43 (depending on the retailer).
Basically kids connect the 9 segments in different patterns and combinations which direct the Code-A-Pillar to go forward, left or right based on the sequence.
My 3.5 year old was able to connect the pieces although he did not understand that the pieces were making the Code-A-Pillar go in certain directions. But he really liked the lights, sounds and movement of this toy. An older child like 4, 5 or 6 would have more fun planning out its actual path.

A couple things to note before you purchase this toy. It's pretty loud and there is no volume switch. Second, you need a lot of room. It's frustrating because the Code-A-Pillar will get stuck some place and it can't go in reverse. Some people solve this problem by buying a Master Moves Expansion Kit so the Code-A-Pillar can go in a full circle. Also, it doesn't move well on carpet. So you need a lot of floor space. (4 AA batteries are included.  Recommended for ages 3 to 8.)
Final Word on the Think & Learn Code-A-Pillar: The Think & Learn Code-A-Pillar is a cool toy if you have a kid who likes gadgets and putting things together.  Available at our affiliates Toys R Us and Amazon.
***********
Thomas the Train TrackMaster Thomas' Sky-High Bridge Jump (Buy It, with Reservations)
If you are looking for an amazing OMG holiday moment, the Thomas the Train TrackMaster Thomas' Sky-High Bridge Jump is it. It's sells for $78 (currently $63.99 on Amazon, or affiliate, as of this publishing date) and let me warn you, this toy is a beast. Like it's super gigantic. It's over 8 feet long and more than 3 feet high. Think about that for a moment. 
It takes some time to put it together and I am not highly skilled at this kind of work. The directions are actually pretty straightforward but I lost steam after about an hour. There are a lot of tracks with not-that-easy-to-read labels on the back. Luckily, my mother-in-law came by and finished the job. We didn't get every track to fit perfectly but it was good enough.
Now the most incredible thing about this train set is that the train shoots down a big ramp and flies into the air, over a fake river and lands into a tunnel. I am not kidding. My jaw dropped. My kids couldn't believe it either. And it worked every single time.
My 3.5 year old adores this train set. But the problem is – we don't have the space to keep it up all the time and it's not the kind of toy that you can quickly put back together. But if you have a big basement, this train set is awesome. It's easy to see why Target and Toys R Us put it on their Hot Toy Lists this year.
Final Word on Thomas the Train TrackMaster Thomas' Sky-High Bridge Jump:  The Thomas the Train TrackMaster Thomas' Sky-High Bridge Jump is not cheap but you will feel like you are getting your money's worth. But do not buy this toy, unless you seriously have the space.
***********
Lion Guard Training Lair Playset (Buy It)
I've got some serious Disney Jr. Lion Guard fans in my house – so if anyone is going to go crazy for a Lion Guard playset, it's my sons (age 3.5 and 6.5). The Lion Guard Training Lair Playset is on the Hot Toys Lists for Toys R Us and Toy Insider. It costs about $58 (currently $54.99 on Amazon, our affiliate, as of this publication) but you may find it for less on other sites.
It didn't take too long to put together but I found the directions (with black and white pictures) a little frustrating. The box (which has a big color photo of the playset) is quite helpful so definitely keep it until you've finished constructing this thing.
The playset stands about 3 feet tall and has some fun lights and sounds. It has cool features like a light-up waterfall, Kion's rock climbing wall, Bunga's bungee launcher, Beshte's pool with breakaway doors, a working lift and a hidden crossbow launcher. There's even a movable zip-line to help the animals defend the Pride Lands. The Lion Guard characters Kion and Janja are included.
I like this toy because it allows kid to use their imaginations and come up with their own adventures in the Pride Lands. It would be nice if it came with a few more animals but at least it comes with two of them. Recommended for ages 3 and up. Needs 3 AA batteries (included).
Final Word on The Lion Guard Training Lair Playset: I would absolutely love it if the Lion Guard Training Lair Playset was just a hair cheaper, so try to find it on sale. But if you have a true Lion Guard fan, this is an imaginative, fun holiday gift that shouldn't disappoint. However, if you are choosing between the Lion Guard Playset and the Thomas the Train TrackMaster (reviewed above), I would absolutely choose Thomas the Train (again, as long as you have A LOT of room). The Thomas the Train TrackMaster just has such a big wow factor!
***********
FurReal Friends Torch, My Blazin' Dragon (Buy It, with reservations)
You knew they would come up with another FurReal Friend! My Blazin' Dragon (currently $59.99 at our affiliate Amazon) is the latest in the FurReal Friends line.
In years past my family has reviewed other FurReal Friends such as  StarLily My Magical Unicorn ('15),  My Walkin' Pup Pet ('14) and  My Giggly Monkey Pet ('13). The Giggly Monkey still reigns as my all time favorite from the series but My Blazin' Dragon has one super cool feature that my kids loved.
Get ready to watch this dragon breathe fire! Or you know, the kid equivalent. Your child can fill his tank with water and he breathes flame-colored mist. And burps (of course). You can also feed him his marshmallow treat and the steam will make it look toasted. You do have to kind of shove it in his mouth to make it work which can be hard for young children.

This dragon has lots of different dragon-esque sounds and motions. It's not a cuddly toy – it's plush but still pretty hard. However, it's very interactive. It has an off button which is always a plus. Target, Walmart, Toy Insider and Parents Magazine all have this dragon on their Hot Toys Lists. (Intended for ages 4 and up. 4 C batteries required: not included).
Final Word on My Blazin' Dragon: If your child really wants My Blazin' Dragon, he or she won't be disappointed. But I do worry that once the thrill of the flame-colored mist wears off, this not-so-inexpensive toy will lose its appeal. The Think & Learn Code-A-Pillar or the Lion Guard Training Lair Playset (both reviewed above) might be better bets for keeping your child busy and entertained for a longer amount of time.
***********
Hatchimals (Buy It, with reservations)
Target, Walmart, Toys R Us, Toy Insider and Parents Magazine have all put Hatchimals on their hot toy lists and you will quickly see why.
These interactive animals actually hatch out of a shell! There is crazy Hatchimals buzz right now so this toy which normally retails for $50 or $60 is currently being sold by third party retailers at very escalated prices.
If you can't get your hands on one for a good price, give your kids an IOU during the holidays and buy one in January. Because the company plans to have more available then.
Here's how Hatchimals work. You tilt, tap or touch the egg and different colors will represent what your animal needs. For example, light blue means the animal is cold so you should rub the bottom of the egg to warm it up. My kids pretty much ignored the different colors and just wanted it to hatch. In fact, my 6 year old son recommended, "just smashing it." I did not let him do this.
When rainbow lights appear, the egg is ready to hatch. And it is so amazing the way the animal starts pecking its way out. My children were enthralled.
After it hatches, it goes through different stages like baby, toddler and kid. There are tons of different commands and fun things this animal can do (walk, talk, dance, play games) if you are patient enough to read through the directions and follow them. But honestly, after the hatching, my kids really lost interest. Thankfully, there is an off button. Hatchimals are for ages 5 and up.  Requires 2 AA batteries (included).
Final Word on Hatchimals: The hatching of the Hatchimal is absolutely the best part of this toy and will definitely create a "wow" moment.  But not every kid will hang with this animal through the different stages. Still, it's a fun, interactive toy. If you can find it at a reasonable price ($50 to $60), go for it. But don't pay an escalated price (now $220 and up on Amazon!). Just wait until the New Year when more product is available. Because everyone can use a little cheering up in dreary January.
***********
Pie Face Showdown Game (Skip)
The original Pie Face game took the kid world by storm so we were excited to check out the new version, Pie Face Showdown. It currently sells for about $18 on Amazon. It's on Walmart's and Parents Magazine's Hot Toys Lists this year.
The original Pie Face is more a group game of Russian Roulette where you wait to see which person is going to get a face full of whip cream. This new version is a showdown between only two people who madly press their red button to try to move the pie throwing arm towards their opponent.
When the arm gets too close, it'll spring up, and someone will get a face full of whip cream.
This is a messy game. Hence the fun. But you're missing the big suspense of the original Pie Face and on our Pie Face Showdown, one side seemed to always win no matter who was sitting there. Plus, you really have to remember to keep your chin fully on the chin rest or the whip cream could miss you entirely. Not hard to set up – although we got a little confused which way the hand was supposed to face. (Whip cream is not included.)
Final Word on Pie Face Showdown: If your child is dying for Pie Face Showdown, the new version of this game, go ahead and buy it because you will get some laughs and it's under 20 bucks. But if not, I'd skip Pie Face Showdown and just buy the original Pie Face for less money or try out Wet Head (reviewed below).
***********
Wet Head (Buy It)
Wet Head is basically the same concept as the original Pie Face (just water instead of whip cream). It currently sells for $10 which is a holiday steal and Toy Insider considers it a hot holiday toy for 2016.
In this water roulette game, you fill a helmet with water and the first player puts it on.  Then, the person spins the spinner and will be instructed to pull out one or more rods out of the helmet. If the player stays dry, they pass the helmet to the next person.
Eventually one rod will release the water and that's the player who gets wet.
My kids laughed a lot while playing this game. After trying it out one afternoon, they pulled it out later that night to play it again. As a parent, I'd rather clean up water than whip cream so it definitely works for me. And it appeals to lots of different ages.
The helmet is easy to get on and off and fastens with velcro. It was very big on my small 6 year old but she still was able to play.
Final Word on Wet Head: Wet Head is such easy holiday fun! Adults are a little shy to play since apparently we don't like getting our hair wet but the kids are all in. For $10 bucks, you can't go wrong.
***********
Stick Stack (Skip)
Stick Stack sells for about $15 and is on the Hot Toy List for Parents Magazine. I'm always looking for games that kids (of many different ages) can play together so this looked like a fun one to try out.
It says it's for ages 8 and up but my 6 year old twins were able to understand the rules of the game with no problem. Sometimes I had to remind them to match up the colors, but they were definitely able to play.
Basically, you add sticks to a wobbly stack (by matching colors), trying not to knock down all the sticks. It's a good group game with easy clean up. Sometimes it was challenging to match up the colors but ultimately we always figured it out.
This game is not going to take the toy world by storm. It has some suspense for sure but ultimately, all my kids would rather play Jenga than be matching sticks. There is just something more exciting and satisfying about a tower of blocks falling down, than a pile of sticks.
Final Word on Stick Stack: I would skip buying the Stick Stack game and just pull out your Jenga over the holidays.
***********
Barbie Hello Dreamhouse (Consider Skipping)
When the Barbie Hello Dreamhouse arrived, my kids screamed with excitement so loudly, I thought the neighbors were going to be concerned. Let me explain why. This dream house uses Wi-Fi enabled speech recognition to respond to more than 100 commands.
This modern, sleek house is on the hot toys list for Toys R Us and Toy Insider and comes with a hefty price tag of $290 (currently on sale for $224 at our affiliate Amazon). So for that kind of money, this house better deliver and it promises to do a lot of high tech stuff.
You can tell the house to open its doors, send the elevator up and down or turn the stairs into a slide. In the hallway, you can hold a dance party with a light show, music and spinning chandelier. Switches throughout the house also create effects – like lights and sounds from the oven, shower and office desk.
But at first, we never got to check out any of those cool things because after my 9 and 12 year old put the house together (on their own by the way), and enabled Wifi (with my help), all we heard was an error message about the kitchen floor not being attached correctly. I assumed my kids must have made a mistake somewhere so we unattached and reattached. But every time we turned that house back on, SAME ERROR MESSAGE.
I was ready to throw myself off the Barbie Hello Dreamhouse. But customer service was very kind and they agreed to send us a new house.
I really have to give props to Mattel (the company that makes the house) because it shipped out a new one quickly and the old one was picked up at my doorstep (at no expense to me). We put together the new house and it worked! My kids love shouting out commands and watching a fire (not real) start in the fireplace, the chandelier spin, a dance party break out and tons of other fun bells and whistles.
But within 24 hours, we encountered another error message which we can't seem to fix. Unfortunately, this is a very new product with just too many tech problems right now.
Final Word on the Barbie Hello Dreamhouse: I wish I could recommend this Hello Dreamhouse because it's a real wow gift. But there are too many tech glitches. Hopefully Mattel will improve on this house because it really is a Barbie lover's dream. But for now, I would stick to a more affordable Barbie house without the error message headaches.
***********
Furby Connect (Skip/Avoid)
I guarantee that at the end of the world, the only thing to survive will be a Furby.  These critters have been around for a long time and Alpha Mom reviewed them when they were the hot toy back in 2012 because for some reason, kids are always fascinated by these chatty fuzz balls (but parents can't stand them).
This updated version of the Furby Connect sells for about between $65 to $78 (on our affiliate Amazon) and is on the Hot Toys Lists of Toys R Us and Parent's Magazine. But this guy just never seems to stop talking. Yes, you can put on his sleep mask (new from the older version) and he will go to sleep (which is a really cute feature) but there is STILL no off button. I know because I checked a few times. He often speaks in Furbish but you can usually understand what he is saying.
As far as Furbys go, this one is pretty adorable. His fur is super soft and he's got a ton of expressions and movements. Kids can interact with with Furby by petting, tickling, shaking, turning him upside down, or even moving his antenna. My 3 year old was definitely entertained.
We were easily able to connect Furby to the app, although some reviewers on Amazon had issues. If you are having trouble connecting, try replacing Furby's batteries. It did the trick for us. The Furby gets updates with the app and learns new phrases but the last thing this guy needs is more to say! My kids grew a bit bored with the app which was fine with me because I don't need another reason for my children to be online. (Requires 4 AA batteries: not included).
Final Word on the Furby Connect: If you love Furbys, I'm sure you will love this Furby Connect too. But I can think of a lot of things I'd rather spend $68 on. However, if your kid loves an interactive toy, consider My Blazin' Dragon, The Little Live Pets Snuggles My Dream Puppy or Hatchimals (at a fair price) instead. These are all super interactive toys that will make you a lot less crazy.
************
My family and I reviewed so many fun toys this year and here are my absolute favorites from the group above.
Happy Holidays and Happy Shopping, too! Please let us know your thoughts on any of these toys or great ones you find for this season.
All of these toys were paid for by Alpha Mom.