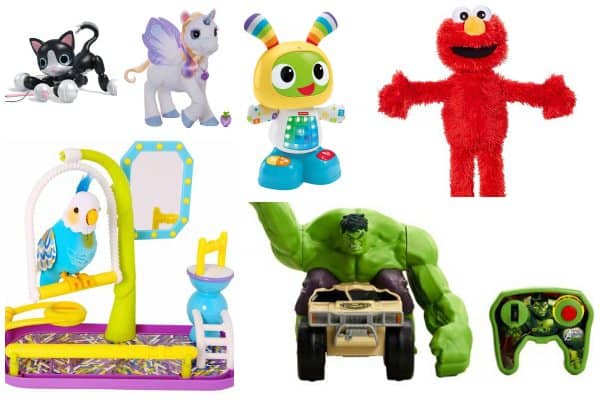 Baby
Holiday Hot Toys: Hits and Misses of 2015
The holidays are quickly approaching (Hanukkah starts early this year, on December 6th) and big box retailers have all announced their Holiday Hot Toy Lists. Now this stuff always looks super awesome online, in the stores and on TV commercials but then all too often ends up in the toy graveyard. We know you work hard for your money so for the past few years we've been testing out and my kids have been playing with some of the toys that make it onto a few of these retailers' lists. This year, more than usual, several toys were big winners. A few might be worth skipping or absolutely avoiding!
So get out those holiday lists and take some notes. (We have given prices for these toys but they are very subject to change depending on the retailer and supply/demand as these toys are very popular, especially as we get closer to the holidays!)
Imaginext Ultra T-Rex (Buy It)
This is one gigantic, ugly, scary dino. And my 5 year old son absolutely LOVES it! And this is not a kid who gets enthralled with many toys but he's obsessed with the Fisher-Price Imaginext Ultra T-Rex. It costs about $79.
This dinosaur has all kinds of bells and whistles. There are three power pads that make him walk, light up his eyes, making chomping sounds, roar and project fire (not real fire of course). At his full height, this dino stand 2.5 feet. Your child can also fire toy boulders from this beast. Basically, there's just a lot of stuff to do and it will keep your dino crazed child quite busy.
It seems simple enough to assemble but you will likely have trouble snapping on the legs. Make sure the dinosaur is lying on the ground and press harder than you think you should. (Just make sure you are putting on the correct leg before you try to snap it on.)
Just a warning, you will be pushed to the brink of insanity trying to find the power button. I'll be honest, my 11 year old finally found it for me. Hint: It's in the back near the green ladder. The T-Rex doesn't come with a lot of information but I found everything I wanted to know on Amazon (in the customer reviews and answered questions section). And no, I wasn't the only person who couldn't find the power button.
If you leave the T-Rex on, it will eventually make dramatic sounds from the other room and scare the pants off someone in the house. But that's what you paid the big bucks for!
Four AA batteries are included. Recommended age: 3 to 8 years.
Final Word on the Imaginext Ultra T-Rex: This toy dino has a big wow factor for the holidays because of its size and special effects. It's definitely an Alpha Mom favorite and is also on many of the retailers' Hot Toy Lists like Target's, Walmart's and Toys R Us's. If you have a dinosaur lover, start figuring out a place to store this thing.
The Paw Patrol – Paw Patroller (Buy It)
If you have a Paw Patrol fan, I would definitely recommend this super long rescue vehicle. The Paw Patroller comes with Ryder and his ATV vehicle and sells for about $48 (as of this publication date).
The Paw Patroller can transport three Paw Patrol vehicles inside, or display six vehicles when opened up. Kids can reenact rescue missions with the Patroller's sound effects (which are cool) and a working elevator that takes vehicles up to Ryder's command center.
The cab opens to fit four pups (sold separately) into the driver's seats. Also fits Chase, Skye, Rubble, Rocky, Zuma and their vehicles (all sold separately).
This truck is way more impressive than the Paw Patrol Look-out Playset we reviewed last year on Alpha Mom's Holiday Hot Toys list. The Look-out Playset toy on many retailers'  Hot Toy Lists' last year was really a piece of junk and I ended up throwing it in the recycle bin. But, this Paw Patroller seems like it will have a way longer shelf life. My 2.5 year old really likes it and keeps coming back to play with it.
Three LR44 batteries included. Recommended age: 3 to 8 years (although 2 year olds will enjoy too).
Final Word on the Paw Patroller: The Paw Patroller is on the Hot Toy Lists of Toys R Us, Target and Kmart. Have a kid who never stops asking to watch Paw Patrol? Then this is the holiday gift to get. Especially if that kid also likes big trucks.
Marvel Hulk Smash Remote Control Toy Vehicle (Buy It)
Some kids really like to smash stuff and that's very unfortunate if it happens to be your kitchen window or favorite wine glasses. Here's where the Marvel Hulk Smash Remote Control Toy Vehicle comes in. This toy is fierce and kids can make him smash and crash all they want. Currently selling for about $50 at various different retailers .
Kids can control the Hulk Smash toy vehicle and make it flip, spin and do wheelies. You can set up obstacles and let the Hulk smash them down. Even if he tips over, he can usually smash his way back into the driving position. Includes 10 Hulk phrases and sounds. Sometimes it briefly stops working but I just shut off the toy and put it back on and everything works again.
My 2.5 year old was terrified when we first got this thing but now loves it. My 5 year old son also thinks it's pretty cool. One major drawback for parents is the volume. It is so loud. Also, it needs a lot of batteries. On Amazon, it says 2 AA batteries required (included). Unfortunately, that's just for the remote control. It also needs 4 AA batteries in the back of the vehicle and another 2 AA batteries in the bottom of the vehicle . Yes, 3 battery compartments (good luck with that one parents).
Recommended age 4 to 8 (which seems about right although younger kids will enjoy watching this thing go too).
Final Word on the Marvel Hulk Smash Remote Control Toy Vehicle: This toy makes an impact and you'll find it on the Hot Toy Lists for retailers like Walmart, Kmart, Toys R US and Target. For $50, I think it's worth buying for the kids who likes to smash and crash.
Little Live Pets Cleverkeet (Buy It)
Animals that seem real but aren't real are all the rage and the Little Live Pets Cleverkeet delivers. This lifelike bird is about $45 and does a lot of stuff  (It's currently for sale for $39.99 at Toys R Us).
The Cleverkeet will dance, swing, chat and even pushes a cart while he rides in it. You can name the bird and then you can teach her new words.  Since our 2.5 year old son Cash is always getting into trouble in our house, we taught the Cleverkeet to say, "Where's Cash?" which entertained everyone.
In order to teach the bird new words, you need to get her to respond to her name. This was difficult to do unless it was really quiet. If there was any kind of background noise, she didn't respond. You can reset the bird to give it a new name and delete old messages. So if you teach it to say, "Happy Holidays!!" you won't have to hear that all year round.
And in a throwback to the Magic 8 Ball, the bird also answers yes or no questions which made my kids laugh too.
Recommended for ages 5 – 15 (although I think you can go younger and I can't imagine a teenager playing with this.) My 2.5 year old actually seems the most interested and my 5 year old daughter likes it too. Two AAA batteries are included.
Final Word on the Little Love Pets Cleverkeet: The Little Live Pets Cleverkeet showed up on Target's, Walmart's and Toys R Us's Hot Toys Lists and with good reason. This bird does a lot and it's very interactive. And from a parent's perspective, it beats a real bird any day!
Bright Beats Dance & Move BeatBo (Buy It)
The Fisher-Price Bright Beats Dance & Move BeatBo is a really cute baby/toddler toy. We found it for about $33 but prices vary. I wouldn't pay much more than $33.
It's is very easy to use. It has three different modes that are activated by pushing the toy's tummy or feet. The "Dance 'n Move" mode dances and plays music. The "Learning and Games" mode helps kids identify colors and numbers. And the "Sing-Along" Mode (the very best one!), allows you to record a phrase to be remixed into a song. All my kids thought it was super funny to record themselves saying slightly inappropriate things and then hear it remixed.
The BeatBo has a lot of flashing lights which might be a little intense for some children but didn't bother any of my kids.
Four AA batteries are included. Recommended for 9 months to 3 years (which seems about right although older siblings may enjoy that remix feature).
Final Word on the Bright Beats Dance & Move BeatBo: This is a cute interactive toy  for a toddler. It's showed up on the Hot Toy Lists for Walmart and Toys R Us. If you can find it for an affordable price, it could be a winner this holiday season.
Zoomer Kitty (Buy It)
Zoomer Kitty is the new pet on the block from the Zoomer family. Last year, we reviewed  Zoomer Dino in our 2014 Holiday Hot Toys Hits and Misses and in 2013, we tried out Zoomer Puppy in our Holiday Hits and Misses. Zoomer Kitty is currently selling for about $74.
Like the other Zoomer dino and puppy, this kitty is very interactive. She (why do I always think cats are a she?), has touch sensors in her head, ears and cheeks and will actually kind of nuzzle in when you are petting her. One of my favorite features is that she purrs which is very adorable (in a robot cat way).
She cuddles, pounces, sings, dances and moves all over the place. You can tell her mood by the color of her eyes. Using something called True Vision Technology, she follows your movements. You can use a toy (included and shown above) to play with her. She would surprise us by singing, dancing and even barking like a dog!
The main drawback of this toy (just like the other Zoomer animals) is the charging. The charge lasts about 30 minutes and then it needs to be recharged. That means letting it charge for an hour and then cool down for 10 to 15 minutes. I have found that when my kids constantly have to recharge a toy, they lose interest in it pretty quickly. I would also keep the instruction manual around until you get used to how this kitty works.
One nice feature for parents is that you can put the kitty into "half-volume mode."
Recommended for kids aged 5 to 10 which seems accurate although a younger child could have fun with this kitty too. USB cable included (have to have your own wall charger but I promise you have one lying around somewhere).
Final Word on Zoomer Kitty: This interactive kitty toy is definitely fun, plus no shedding! It showed up on the Hot Toy List of Kmart. If you already own a Zoomer toy and enjoy it, you will like this one too. Or if you have a child that loves cats, this would be a great toy for the holidays. But remember this toy needs frequent charging which can be a turn off for some kids.
Play All Day Elmo (Buy It)
Elmo is back! This latest version, the Playskool Sesame Street Play All Day Elmo will cost you about $43. Last year, on Alpha Mom's Holiday Hot Toys, we reviewed Let's Imagine Elmo. In 2013, Alpha Mom's Holiday Hot Toys we reviewed the Big Hugs Elmo.
The Play All Day Elmo is pretty cute. It has two modes of play (toddler and preschool). In toddler mode, you can tickle Elmo to hear him laugh, squeeze his noise to see how he responds or clap his hands together (which makes a clapping noise). He even gives kisses and knows when he's hanging upside down.
In preschool mode, Elmo will play games like Red Light Green Light and Freeze Dance. He also has a nap mode where he will get sleepy and sing a lullaby. This Elmo has 150 responses to keep kids engaged which seems like a pretty hard working Elmo.
I did like this Play All Day Elmo better than the Let's Imagine Elmo because you don't have to keep track of a bunch of hats. Although, one problem I found with the Play All Day Elmo is that sometimes you had to put a lot of pressure on the sensors (like the ones in his hands) which is hard for small children. It is also a bit top heavy so it can be difficult to keep Elmo upright. Some customer reviewers on Amazon have complained about shedding but we haven't had this problem.
My 2.5 year old was not particularly interested in the Elmo but I could see him playing with it overtime (the way he does with Big Hugs Elmo). My older kids (5 and up) had no interest.
Recommended age is 18 months and up. Needs four AA batteries (included).
Final Word on Play All Day Elmo: Got an Elmo lover at home?  Play All Day Elmo is a great one to buy. Both Target and Kmart put it on their Hot Toys List and I understand why. It's furry and super interactive.
Sky Viper Video Drone (V950 HD) (Buy It, with reservations)
We hear a lot about drones these days so my kids were very excited to try out the Sky Viper Video Drone. Prices will vary ($80 – $105) so look on different sites before you purchase. This seems like a great price for a drone.
My 11 year old (with some help from her dad) was able to put the drone together. Learning how to use the controls is a work in progress. We crashed the drone a lot which caused the guards on the outside of the blades to fall off. We even got the drone stuck in a tree but no matter how many times we keep crashing it, it seems to keep working!
It also apparently performs stunts like barrel rolls (when the camera is unplugged) but we didn't have a lot of luck with this. Maneuvering this drone takes practice!
This drone takes HD pictures and panoramic videos. You use a 4GB MicroSD memory card (included) to capture 20 minutes of your flight. After taking some photos and video, we removed the memory card, put it into the flash drive and inserted the flash drive into my Apple computer but it didn't work. I tried it with my desktop (also an Apple) and it didn't work there either.
I went to the Sky Rocket Toys/ Sky Viper support page and read that they recommended Mac users install the VLC player and provided the link. Unfortunately, when I downloaded this VLC player, my computer was inundated with pop-up ads that froze Safari and told me I had to call a number to fix a virus on my computer. There was no virus. It was all a pop up ad scam. I called Apple Support instead and they were able to help me delete the VLC player and all the pop up applications. I have since emailed and called Sky Rocket Toys about these issues but have not heard back.
Recommended age 12 years old+.  You can definitely go a little younger. But just remember it takes some time to learn how to control this toy. So if you buy it for a child under 12, you will likely need to do it with them.
Final Word on the Sky Viper Video Drone: The Sky Viper Video Drone showed up on the Hot Toy lists of Target and Toys R Us. My kids were fighting over who got to try out this drone first. They are still working on controlling it but love it! Even with our photo/video issues, this drone is a blast for the whole family.
FurReal Friends StarLily My Magical Unicorn (Buy It, with reservations)
I guess as far as unicorns go, the $95 price tag is pretty good. But as far as a toy, the StarLily My Magical Unicorn seems a bit pricy. I've noticed the price going up and up, so check different sites. Still, if you have a child who is unicorn crazy, this toy has some sweet, mystical features.
This is the latest offering from the FurReal Friends. Last year, Alpha Mom reviewed the My Walkin' Pup Pet and in 2013, Alpha Mom reviewed the My Giggly Monkey Pet. My heart still belongs to the Giggly Monkey because my 2.5 year old was just playing with it (and we got it two years ago!). I think the pup was a bit of a miss because it didn't walk very well.
Like the dog and the monkey, the unicorn is somewhat life-like. She responds to touch by moving her front hoof and head, making unicorn noises (now you'll finally know what a unicorn sounds like!), and fluttering her wings. Her horn lights up in different colors.
She even has a sugarberry treat (looks like a strawberry) that she is supposed to eat but we never had much success getting her to chomp on it. The sugarberry is very easy to lose and I wish they had a way to clip it to her necklace. Yes, of course she has a necklace! This is a fancy unicorn.
I had read that the unicorn also lies down so I kept waiting for her to finally take a load off and relax. But she never did. Turns out, she doesn't do it on her own. You have to position her legs in order for her to lie down.
This pet is recommended for ages 4 and up but you could definitely buy it for a younger child. My 5 year old daughter had the most interest in it. Requires four C alkaline batteries that are not included. There is also a StarLily My Magical Unicorn app that works with select iPhone, iPad, iPod touch devices, and select Android devices.
Final Word on StarLily My Magical Unicorn: I really think this is a sweet, magical toy. You'll find it on the Hot Toy Lists of many retailers including Walmart, Target, Kmart and Toys R Us. My only reservation is the price. It's currently priced between $95 and $123 (depending which retailer you're buying from) which is a lot of money unless you have a child who is dying for her own magical unicorn.  If so – your shopping is done.
Bunchems (Skip/Avoid)
Bunchems are these little squishy plastic balls that stick to each other. So you can make all kinds of creations. The mega pack costs $20 and hallelujah  – it needs no batteries!
This mega pack comes with 370 colorful Bunchems and 37 accessories so you can attempt to create all kinds of things like owls, bears, cars, monkeys, people and rainbows. (I don't want to brag but I made a pretty awesome rainbow.) It comes with an instructional guide that gives you lots of ideas. The concept is sort of like a Mr. Potato Head – meaning kids can make their creations and then pull it all apart and start over.
Four of my children (ages 5 to 11) were excited to try this out. They did get a little frustrated trying to make their creations look like the pictures in the guide (it's harder than it looks). But overall, they seemed to get into it. Especially my 5 year old daughter.
Sounds good so far, right? Unfortunately, there is a major warning with this product. A look at the customer reviews on Amazon and recent news articles will reveal that these little balls are impossible to get out of hair. Parents have resorted to cutting them out! I did not have this problem with my girls but the next time they play with them, pony tails for everyone!!
Recommended for ages 4 to 9 which seems about right.
Final Word on Bunchems: Bunchems showed up on the Hot Toy List of Target. I don't think your kids will be dying to play with Bunchems all the time. But for $20, it could be a fun item to pull out on a cold winter day. There is no mess or batteries which is nice. But since these little balls could get stuck forever in your child's hair, I would avoid this toy.
Girl Scouts Cookie Oven (Skip)
I was so excited to try out the Girl Scouts Cookie Oven because my 11 year old adores cooking. Plus, I adore Girl Scout cookies and still have childhood longings for an Easy Bake Oven. The Girl Scouts Cookie Oven is pretty affordable (currently selling for between $33 to $40) and seems like such a great idea. But we were disappointed.
It's a real working oven and comes with a baking pan, spatula, measuring tool, and a Thin Mints starter mix. You mix the ingredients, put the batter on the tray and then have to slide the tray into the oven. The cookies bake for about 8 minutes and then need to cool inside the oven for another 10 minutes. Then you melt chocolate on top in a warming station and decorate the cookies.
The oven seems very safe since you slide the tray into the side of the oven which prevents kids from burning themselves. But during the whole process (about a half hour), I kept thinking, "Why don't we just bake cookies the normal way?"
The final product (seen here) was not impressive. The cookies were tiny and did not taste great. If you're hoping these will satisfy your Thin Mints cravings, you will be sadly disappointed. You can buy additional cookie mixes but it would be nice if at least one more mix came with the oven.
There are no batteries. You just plug it in. The recommended age is 8 to 15 years which seems way too high. I would say 6 to 12 (with supervision).
Final Word on the Girl Scouts Cooking Oven: The Girl Scouts Cooking Oven showed up on many hot toy lists, including Target, Walmart and Toys R US. I understand why because the concept is great. But it just seemed like too much work for too little satisfaction. My 8 year old and 11 year old weren't impressed and next time, we'll just make cookies the old fashioned way!
Bright Beats Smart Touch Play Space (Skip)
The Fisher-Price Bright Beats Smart Touch Play Space has a touch-sensitive light bar that responds to a baby's touch. It sells for about $50 but despite the Smart Touch Technology, it doesn't seem to have enough hands on activities for babies and toddlers.
The toy is designed to grow with your baby. The first mode is the "Piano Play Perfect" which allows a sitting baby to touch the bar and experience piano tones, music and lights. The second mode is Dance Party and this is intended to get your toddler up and dancing with music, sounds and instruments. Mode three is Learning and Games which features ABC's and counting.
This toy took me about 45 minutes to put together (but I'm not the most skilled at that kind of thing). It takes up quite a bit of space so definitely don't buy it if you are tight on room. Although the touch bar is cool and there are a few other hands on activities, there just isn't enough on this toy to captivate some children longterm. It would be a lot more interesting if they hung some different baby toys from the light bar.
Also, there is a  green plastic spiral ramp (that a toddler can roll balls down) that constantly kept coming apart. And you will lose those balls pretty fast too. My 2.5 year old didn't pay much attention to this toy at all. He played with it briefly and then moved on to other things (like trying to disassemble my dishwasher).
Requires four C alkaline batteries. Recommended for ages 6 months to 3 years (which seems about right).
Final Word on the Fisher-Price Bright Beats Smart Touch Play Space: This toy was on the Hot Toy List of Toys R Us. But based on my experiences, I think a learning table or the Learning Home will keep your baby/toddler entertained for much longer.  I would skip this one.
****************
Which of the Toys Would I Buy for My Kids?
There are definitely some great toys out there this year!
The Imaginext Ultra T-Rex,Marvel Hulk Smash RC Toy Vehicle, Paw Patroller, Little Live Pets Cleverkeet, Zoomer Kitty, Bright Beats Dance & Move BeatBo and the Sky Viper Video Drone were all big winners in my house. The Sesame Street Play All Day Elmo is cute too if you are in the market for an Elmo. But keep in mind the size of the toys. If you have space issues, definitely skip the T-Rex and possibly the Paw Patroller too. If you are looking for a gift for the whole family, the drone is a good one. Happy Holidays!
Recommended for Babies/Toddlers:
Bright Beats Dance & Move BeatBo
Play All Day Elmo
Recommended for Preschoolers/Young Kids:
Play All Day Elmo
StarLily My Magical Unicorn
Paw Patroller
Imaginext Ultra T-Rex
Marvel Hulk Smash RC Toy Vehicle
Little Live Pets Cleverkeet
Zoomer Kitty
Recommended for Elementary School Kids:
Paw Patroller
StarLily My Magical Unicorn
Imaginext Ultra T-Rex
Marvel Hulk Smash RC Toy Vehicle
Little Live Pets Cleverkeet
Zoomer Kitty
Sky Viper Video Drone
Recommended for ALL ages/ Whole family:
Sky Viper Video Drone
Little Live Pets Cleverkeet
Zoomer Kitty
Have you tried out any of these toys already? Please tell us what you think!
All toys reviewed here were purchased by Alpha Mom.