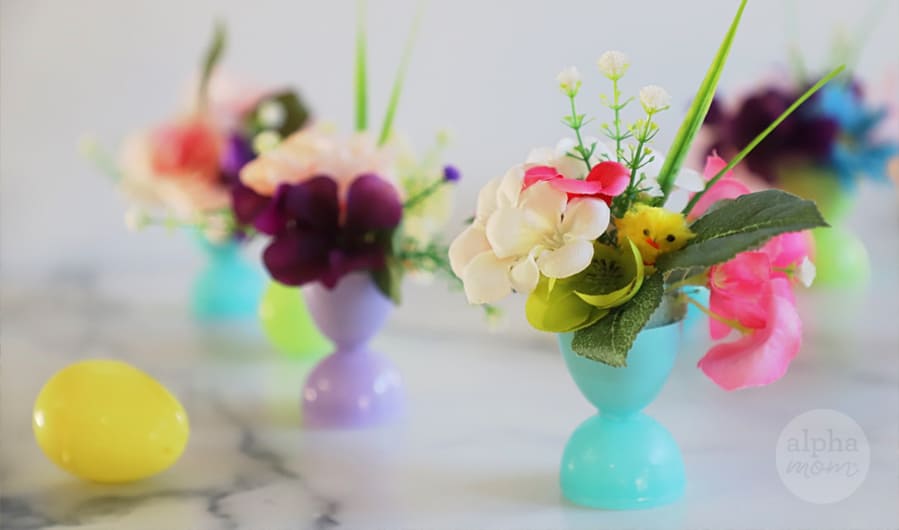 Holidays
Tiny Easter Egg Vases
It's that time of year when the end-caps at all the big box stores start to push their spring-related goods. You know what I'm talking about: festive paper plates in pastel colors, glass bunnies looking regal on bookshelves, pretty faux floral bouquets in terra cotta pots that you didn't even know you needed… It's a thing. This year I decided to make Tiny Easter Egg Vases for flowers from our plastic eggs. Because you know what I say? Let's recycle our past Easter decorations into something new! At least that's what I think when I started to get the urge to redecorate for spring.
At first, I was going to make them for fresh flowers and fill each tiny egg with water. While this is still a good idea, I quickly realized it would be a lot easier to make faux-flower vases. No "tipping-over worries" and no spilled water  mess, and they look just as adorable!
So this is what I put together with supplies I already had on hand. I realize I'm the crazy craft person with lots of supplies just squirreled around my house but you might have some of these things handy too. And if you don't, just make a quick online trip to Amazon and stay away from those big-box store end-caps!
Supplies for your craft:
a glue gun
dry floral foam (we used this brand)
a knife (steak knifes work great)
faux flowers
How-to craft instructions:
The next step is so easy I don't even really need to tell you. Glue the bigger side of the egg to the smaller side, end to end. That's it! It was so easy I surprised myself. The only trick is making sure you have them centered before the glue cools. I wasn't that careful on mine because I was trying to hold the camera with one hand so some of my tiny vases are a little off-center. No big deal.
Next, cut your foam into small 1-inch cubes for each "plastic egg vase." Then, pop your cubes into your vases and start floral arranging! (see the picture above)
I know, easier said than done. If you're new to floral arranging you'll probably look at me (or this article on your screen) with crazy eyes and say, What?!! But trust me. Floral arranging doesn't have to be perfect. Your biggest enemy is yourself. Just stick some flowers in the foam without thinking about it too much and see how it goes.
The first thing to do is cut your flowers into small pieces. If the stems are made from plastic-covered wire you'll need wire cutters. If they're just plastic, some good hearty kitchen scissors will do the trick.
Snip the flowers so the stems are just long enough to go into the foam with only the flower showing over the top of the vase. Fill the foam with just enough flowers to hide all the foam. I usually place one flower centrally and two-to-three filler flowers (hydrangeas are great because they have a lot of volume to one stem and the many petals fill around your central flowers) around the sides. Then I stick a few sprigs of a longer flower and some leaves here and there. Experiment and see what you like. You could even keep it simple and only put one big flower.
If you find your vases are a bit top heavy and they tip over at the slightest brush, glue the bottom of your foam cube to the plastic egg vase by running a bead of hot glue along the edges and securing it to the inside of your vase. They'll still topple but now they'll stay together in one piece and go upright easily.
Now for the best part: decorate your home with your tiny vases!
Put them everywhere! Give them to your child's teacher as a gift for their desk! Or personally, my favorite: decorate the table for Easter lunch or dinner with them. I love the idea of a small bouquet on each plate. It's so cute and sweet. You can even hand-write a name on each easter egg or stick a toothpick tag in your bouquet with a name and use them as name place cards.
There you go! Fun spring and/ or Easter decorations with recycled plastic Easter eggs!
Happy Spring!