Holidays
Hand-painted Eggs for Nowruz
Eggs have been decorated since the beginning of time. Egg-decorating might even be one of the first crafts ever recorded! Many people decorate eggs for Easter as a symbol of the resurrection of Christ but the Persians have been decorating eggs to celebrate Nowruz (the vernal equinox aka the beginning of spring or Persian New Year) for over 4,000 years!
So we decided to decorate some eggs inspired by Persian art.
Supplies we used to paint eggs for Nowruz:
plastic craft eggs (we used some similar to these)
acrylic paint
a good brush pen (This one by Pigma works well.)
some stick-on jewels
washi tape for stands
The trick to painting craft eggs is to work in layers. First, you put on your base coat. This layer can be frustrating because it will be streaky and you'll have fingerprints as you attempt to hold the egg and paint around your fingers at the same time. Don't sweat it, these little smudges and imperfections will work themselves out as you add layers two and three. A washi tape roll can work well as an egg stand while you paint and also let them dry (see below).
We found that a higher grade of acrylic paint worked way better than less expensive craft paint so if you haven' t already upgraded your paint supplies and you find yourself struggling painting, it might not be you. It might be time to move up to a level two or three acrylic paint. It just goes on more even and covers better. Sometimes using cheap craft paint can seem like painting with nail polish where one layer lifts the previous layer and you are forever streaking. (Just make sure you are crafting in a well-ventilated area.)
After your base layer of paint has been applied and dried, now it's time to smudge on your shapes and outlines of what you want to decorate your eggs with.
We chose simple flower shapes. We also copied decorative shapes found on Persian rugs and art that we printed from online searches and we even painted a few figurines. Of course, painting Persian kings and horses going into battle is a bit challenging but our group of crafters was up for it. It's amazing what you can create if you are patient with yourself as an artist. The first shapes were crude and awkward but when we went back later and added detail they were shining!
Simple purple and green brush strokes don't look like much on this hyacinth above but once you go back and outline the petals and leaves with the black brush pen, they start to look more remarkable.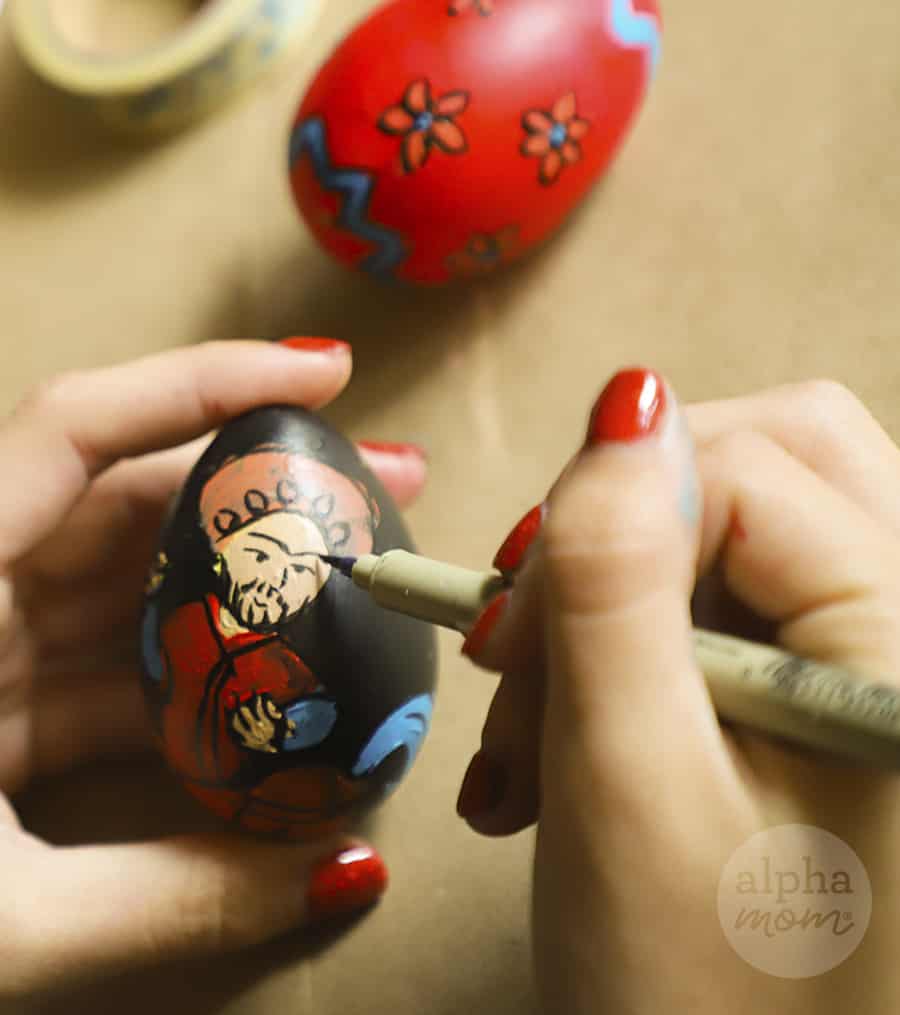 Throw some crown detail and it feels very Persian! Maybe not as skilled and detailed as ancient Persian art but more authentic than a pink plastic egg from the grocery store.
We had so much fun decorating these eggs before we knew we'd painted two dozen! And we know they will look so pretty on a haft seen table!
Happy Nowruz!
More Nowruz craft posts here:
1. Happy Nowruz! Haft-Seen Coloring Sheet Printable for Kids
2. Happy Norooz "Fish" Bowls!