Holidays
Mother's Day Cards Done Right
Mother's Day is coming up! You know that day that is supposed to feel like a vacation but it's more like – enjoy your cold breakfast while your kids fight with each other and then you're forced to wear a giant macaroni necklace for the rest of the day. Yes, that day.
So at the very least, we should be able to receive and give fun, amazing Mother's Day cards. You know, cards that celebrate powerful, strong, fabulous women. Except when you go to the stores, you can't really find those cards.
And we here at Alpha Mom got inspired by something we read that all too often mothers are painted as martyrs, toiling away in the shadows with no real recognition and this somehow gets celebrated.
So we created greeting cards that praises the kind of mothers we know. We hope you find one that fits those incredible mothers.
We worked with the amazing artist Robin Plemmons to create five uniquely humorous Mother's Day cards celebrating these influential women in your life. They're available here for free (for personal use only).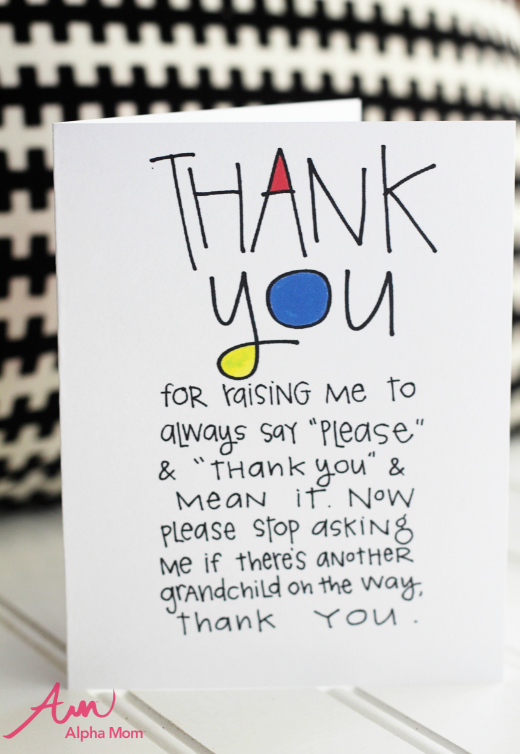 Click here to download this card: Thank You for raising me to always say "Please" and "Thank you" and mean it. Now please stop asking me if there's another grandchild on the way, Thank You.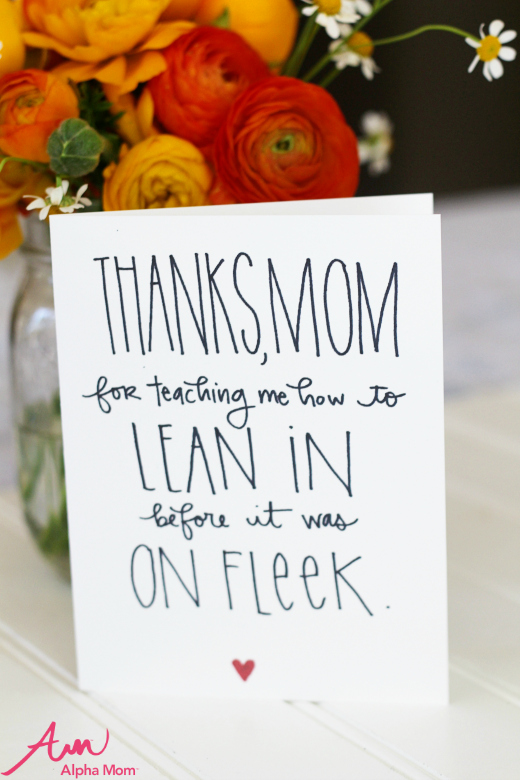 Click here to download this card: Thanks, Mom for teaching me how to LEAN IN before it was ON FLEEK.
Click here to download this card: Happy Mother's Day to the woman who believed I could do anything but anything but thankfully stopped me from getting that GIANT boy band tattoo on my back.
Click here to download this card: Mom, thanks for teaching me how to take charge and make things happen I wish you were running for President.
Click here to download this card: Mom, Thanks for teaching me that the right person for the job could be a woman and she deserves equal pay.
Just download, print and then cut.  Use the highest quality cardstock paper to print out.  They are formatted to fit into a standard A2 envelope.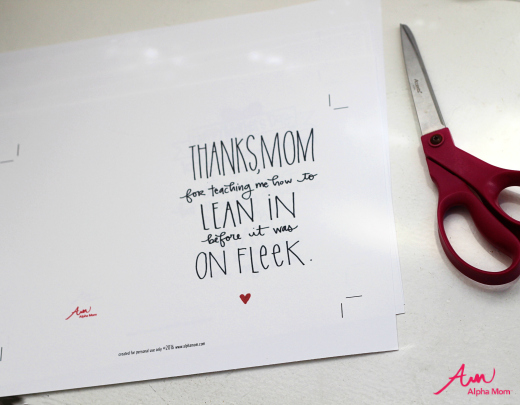 Photography and styling by the talented Brenda Ponnay.
Find More Ideas for Mother's Day Here: