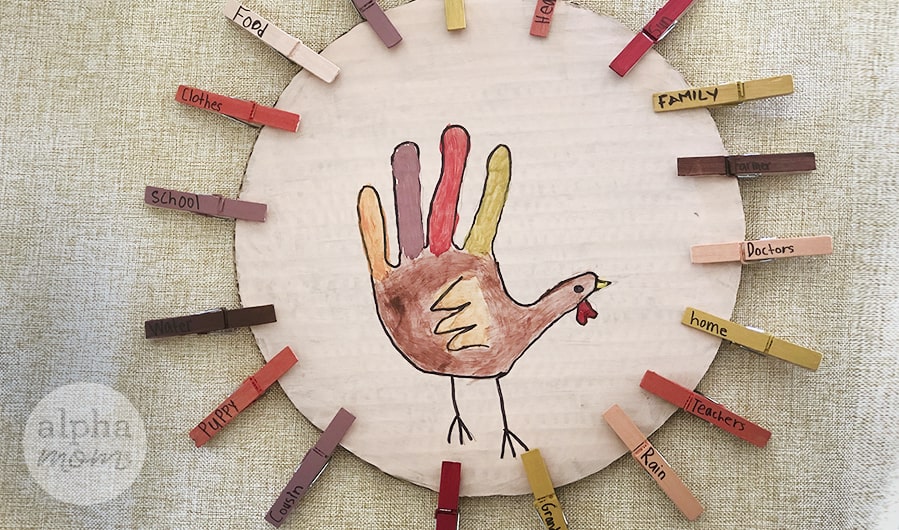 Crafts
Thanksgiving Gratitude Chart
It's wonderful to practice gratitude all year round, but Thanksgiving is an especially great time to come together as a family and really celebrate all the things we are thankful for together. While we can't gather in large groups this year, because of the Coronavirus pandemic, we can gather as an immediate family and teach our younger ones about our core family values.
I thought it would be fun to make a little Thanksgiving Gratitude Chart and remind us of some of our favorite things we are grateful for. This decorative chart uses clothespins so we can continually add new pins every day and even take some pins off to carry around or practice meditation with.
This idea came to me when a friend told me how her grandmother would put a family member's name on each clothespin she used to hang her laundry with. As she came to each pin while she was hanging clothes out to dry, she would hold the pin and think of that person, saying a little prayer for their wellbeing. My friend's grandmother had long passed on but those pins (well worn from love and hardwork) stayed in her family reminding them how loved they were by their grandmother.
I thought it was such a great exercise to do while passing the time doing laundry! We can all use a little gratefulness practice so I thought this chart might be a fun way to incorporate gratitude for little ones.
Maybe when they are feeling down or out of sorts they can take a pin off the chart and stick it to their shirt or pin it to a pillowcase or even to the bathroom medicine cabinet door. Or, it could even become a game on Thanksgiving where we hide the pins all over the house and play a treasure hunt game finding them. As each pin is found and returned to the chart that person could share a story about the pin.
So let's get to making this chart! You could make this in any sort of way but we made it round because we love a holiday wreath.
Supplies needed to make a Gratitude Wreath:
a round circle of cardboard
acrylic craft paint in fall colors
a pack of clothespins (the more the merrier)
a paintbrush
a fine-tipped permanent marker
First, we painted the cardboard circle (outdoors or in a well-ventilated room) with a happy "handprint turkey" but you could decorate this any way you like. You could even just write the words "What we are grateful for" in a pretty script. Really, anything goes. You could even change out the circle for different holidays.
Next, we painted the pins in different fall colors.
After the paint was dry, we used a fine-tipped permanent marker to write one word on each clothespin.
Friends, teachers, sunshine, and puppies… there are so many things to be thankful for even when things seem dark and gloomy.
You could hang this Gratitude Chart on a nail, glue a magnet to the back and hang it on the refrigerator, or even leave it in the center of the table as a Thanksgiving dinner centerpiece.
Wherever you put it, it will decorate your Thanksgiving Day with cheer and gratitude and maybe even stay up all year!
More Thanksgiving Crafts:
1. Children's Thanksgiving Books Focused on Gratitude
2. Thanksgiving Activity Placemat Printable
3. Gratitude Centerpiece