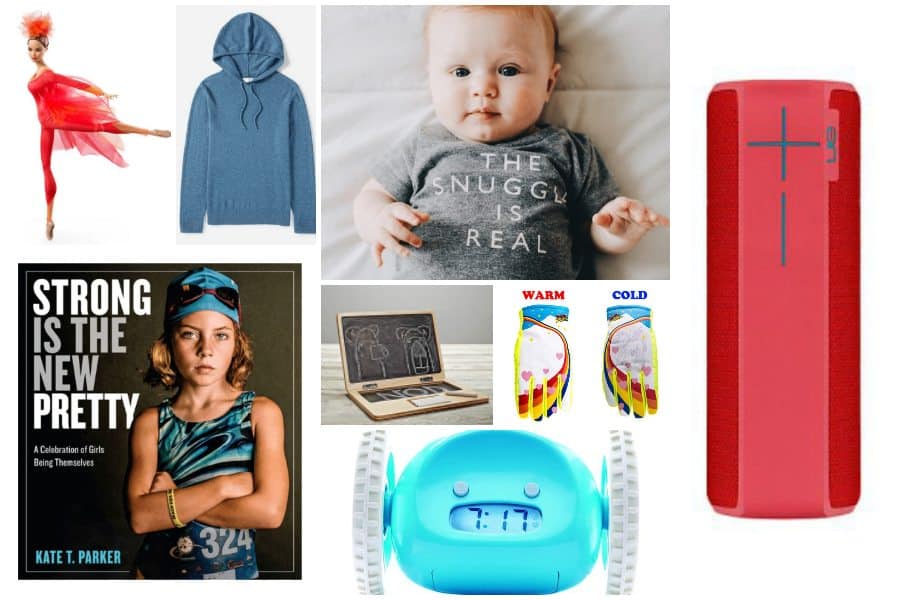 Products & Services
Gift Ideas for Kids for Holiday 2017
It's that time of year again when you're looking for inspiration for gifts for the kids.  Here is what is on our lists this year.
Gifts for Babies and Toddlers
Keep babies and toddlers busy and happy with these simple gifts.
Gifts for Youngsters
Our favorite gifts for little kids encourage them to build, design and dream.
Gifts for Tweens
We're taking our tweens offline this year, with gifts that connect them to the world in real time.
Gifts for Teens
Teens can be tough to shop for. We've rounded up some grown up gifts that are still kid-friendly.
**********************
Thoughts below on why we chose our holiday gift picks, listed above.
Gifts for Babies and Toddlers
"The Snuggle Is Real" Tee: Just perfect. Our only complaint is that it doesn't come in adult sizes.
Owl Babies: Three baby owls — Sarah, Percy and Bill — wake to find that their mother has left the nest to find food, and they worry that she's never coming back. This beautifully illustrated story is one of our favorites.
Dinner Winner Plate: Make mealtime fun with this clever plate: The game board-style spaces divide dinner into eight small portions — your child eats her way to the finish line, where a special treat waits in a covered slot.
Byte-Sized Personal Laptop Chalkboard: Your toddler can set up her own home office right next to you with this sleek laptop chalkboard.
Bandana Buddies Activity Lion: Your baby's got a new best friend: the crinkly, crunchy, soft and bumpy Activity Lion. Designed for ages 3 months and up.
Super Nerdy ABC Blocks: These beautifully crafted retro-style blocks are decorated with math and science terms. Perfect for decorating the nursery.
Gifts for Youngsters
Color the Earth Inflatable Ball: Take coloring to the next level with this 3D globe. Inflate with a bike pump and start exploring the earth. Your kids might even learn something!
Misty Copeland Barbie Doll: Barbie's Shero line of dolls honors iconic American women — our favorite is Misty Copeland, American Ballet Theatre's first African American Principal Ballerina. A word of caution: Order now because the Shero dolls tend to sell out fast.
Magna-Tiles: These are like small bits of magnetized stained glass that little hands can arrange in 3D shapes. Fun for everyone.
Strong is the New Pretty: Kate Parker's photos of girls being girls are powerful and inspiring. These are the images our daughters — and sons — need to see.
Hearth & Hand with Magnolia Wooden Dollhouse with Furniture: Chip and Joanna Gaines are famous for their stunning home remodels. Bring a little bit of Fixer Upper charm home with this retro doll house, which comes complete with furniture.
Personalized Christmas Snowflake Book: Your child is the star of the story in these delightful customized books.
Snap Circuits: The 60 pieces in this set can be combined to build over 300 different electronic projects, including doorbells and burglar alarms.
LEGO Women of NASA Set: Space is still the Final Frontier — and it's women who will take us there. Kids can plan their own space mission stories with this homage to the women of NASA: astronomer Nancy Grace Roman, computer scientist Margaret Hamilton, astronaut, physicist Sally Ride and astronaut, physician and engineer Mae Jemison.
Gifts for Tweens
"Forget Lab Safety, I Want Super Powers" Tee: Science is great, but honestly, who doesn't want to be a superhero?
Freezy Freakies Gloves: These gloves are made with winter weather magic: When the outside get cold, a unicorn appears on them. Cool! (Note: Because these are adult gloves, order size XS for kids.)
Loog Beginner Guitar: Start your little Jimi Hendrix out with this elegant three string guitar designed for smaller hands. It also converts to a six string for older tweens who are ready to tackle more complex fingering.
LEGO Mindstorms Robotics Kit: One day, robots will run the world — and your kid will be the one building them. (Added bonus: Your child will learn some basic coding as she builds her bot.)
Critter Faux-Fur Slippers: Keep your kids' feet cozy with these adorable slippers. (We're in love with the unicorns.)
Personalized Bar Necklace: Engrave a mantra — be smart, be strong, be kind — on this lovely bar necklace so she can carry with her every day. Add her name, initials or birth date on the reverse side, to make it extra special.
Friendship Bracelet Maker: Friendship bracelets are addictive — we suggest you pick up extra thread because we're sure your kids will make a hundred of these before New Year's.
Harry Potter Hogwarts Keepsake Set: Transport your young readers to Hogwarts School of Witchcraft and Wizardry with this beautifully bound set from Juniper Books.
Gifts for Teens
Clocky Alarm Clock on Wheels: Get your teen out of bed in the morning with this mobile alarm clock: It rolls around and beeps until it's caught and turned off.
Never Let Me Go by Kazuo Ishiguro: This dreamy novel blends sci fi and romance in a compelling look at what makes us human. Kathy, Ruth and Tommy have been friends since childhood, bound together by a shocking secret that controls their destinies.
UE Boom Wireless Speaker: This high-quality wireless speaker is used by the pros in the music business, but its compact size and affordable price make it perfect for get-togethers in your game room.
She Believed She Could, So She Did Cuff Bracelet: This sleek, simple bangle is a lovely reminder that you believe in her — and she should, too.
Everlane Cashmere Hoodie: You want your teen to look nice. He wants to be comfortable. Meet in the middle with a cozy cashmere hoodie from Everlane. Available in five colors.
Spotify Premium Membership: Give the gift of music this year with a Spotify subscription. Teens can create and collaborate on playlists, and share their songs with friends.
Camp So-and-So by Mary McCoy: Fans of the Percy Jackson series will love Camp So-and-So. Twenty five girls are invited to a mysterious summer camp in the mountains, where they find danger, drama, and magic.
Uniqlo Ultralight Down Jacket: This lightweight down jacket is perfect for on-the-go teens: It folds up into a pouch that can be easily stored in a bag or backpack.