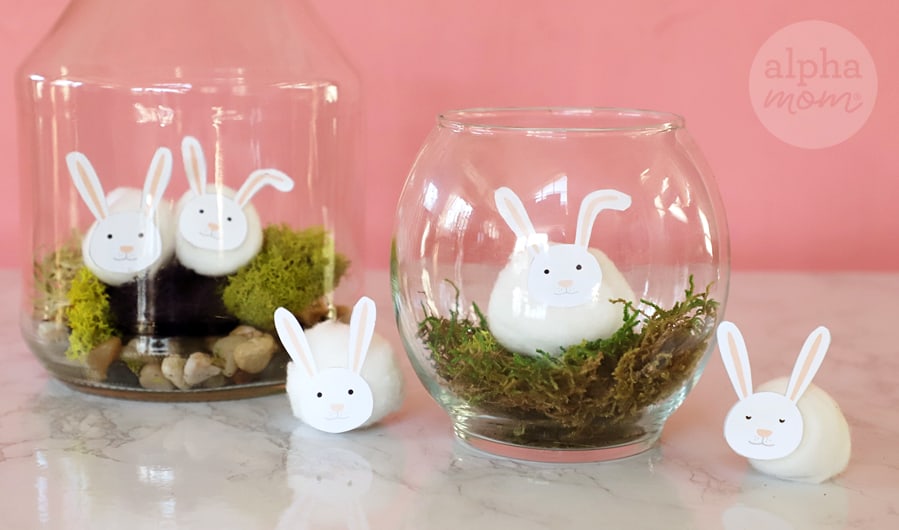 Holidays
Cotton Ball Bunnies in Terrariums for Easter (and Spring)
Do you know what you want to do for this Easter or just any fine Spring day? You want to make tiny cotton ball bunnies!
They are so easy and so cute you won't be able to resist this craft. Just do it, we say.
Supplies you will need to make Cotton Ball Bunnies in Terrariums
card stock
our printable of cute little bunny faces (see below for the printable to download)
cotton balls
tiny white pom poms
glue (white craft glue or hot glue will work)
scissors or an x-acto knife and a self-healing mat
glass jars or floral bubble bowls
moss
pebbles
Let's get started!
How to make Cotton Ball Bunnies in Terrariums
Step 1:  Print our "bunny face" printable. CLICK TO PRINT. Cut out as many bunny faces as you like with scissors or use an x-acto knife on a self-healing mat. A blade might be easier to get around the little ears. (please use your common sense when working with kids; only you know the age and skill level of your child(ren). Adults, take extra care when using x-acto blades.)
Step 2: Then gather your supplies. If you want to put your bunnies in mock terrariums, gather your jars, pebbles and moss.
Step 3: Next assemble the bunnies. Glue the face to one side of the cotton ball and the small pom-pom to the other as a bunny tail. So easy and cute!
Step 4: They are so cute you might as well make dozens! Pop them in your terrarium jars with moss and pebbles and the bunnies will look like they are enjoying a beautiful spring day in a meadow.
You could even put them in a cake dish under a dome and use it as a centerpiece for an Easter or Spring party table setting!
Find more Bunny Crafts here:
1. Easter Bunny Ice Cream Sundaes
2. Bunny Name Cards printable
3. Bunny Shaped Crayons