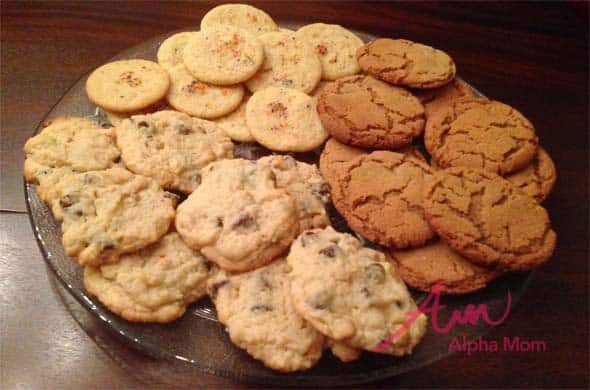 Holidays
Three Simply Perfect Holiday Cookie Recipes
'Tis the season for me to put on my Wonder Woman apron (yeah, I have one) and wreck the kitchen. Everyone from the PTA to the neighbors seems to need me to make "just a few cookies" for various holiday events, plus I like to dole out some goodies to my kids' teachers before we head off for winter break. After many years of baking, I've settled on three favorite cookie recipes I'll make every year, because they're low effort/high yield (particularly if you have a good stand mixer) and delicious. What's more, all of the following can be frozen, so if you can't bake everything at once, you can pace yourself and still be ready with a gazillion plates of homemade holiday cookies on short notice.
Old-Fashioned Molasses Cookies Recipe
This recipe comes from my dear friend Kira's grandmother, but in my house we just call them "Kira cookies." These are sweet and dark and chewy and nostalgic. My children swear Christmas cannot arrive until we've baked at least one batch.
Ingredients for Molasses Cookies
1 1/2 cups shortening
2 cups sugar (plus sugar for dusting)
1/2 cup molasses
2 eggs
4 cups flour
1/2 tsp salt
4 tsp baking soda
2 tsp cinnamon
2 tsp cloves
2 tsp ginger
Directions for Molasses Cookies Recipe
Preheat oven to 375˚.
Cream sugar and shortening together. Add molasses and eggs. In a separate bowl, combine remaining ingredients. Add by cupfuls to wet mixture, mixing well.
Roll dough into balls (about 1.5″ across) and roll in sugar to coat. Place 2″ apart on an ungreased cookie sheet. (If the dough seems either too sticky or soft to form into balls, chill for 10 minutes or so and try again.)
Bake for 10 minutes. Resist the urge to say, "Oh, they cannot possibly be done yet… they don't look done!" and bake them for longer, unless you're hoping for a batch of hockey pucks. Trust me; 10 minutes is all they need.
Yield: 5 dozen.
World's Best Chocolate Chip Cream Cheese Cookies Recipe
This one comes from Jen McAllister (of the much beloved but now lapsed Prepare to meet your Bakerina), though she says she can't recall who passed it to her. Listen, chocolate chip cookies don't need to be complicated to be good, but this is a decadent version of the old standby—suitable for holidays and other special occasions with the tang of cheesecake-y-ness (that's totally a word) they bring to the mix. They're sinful.
Ingredients for Chocolate Chip Cream Cheese Cookies Recipe 
1 lb (4 sticks) unsalted butter, softened
1 lb cream cheese ( 2 8 oz. bricks), softened
1 1/2 cups white sugar
1 1/2 cups brown sugar
2 eggs
2 TBL vanilla extract
5 cups all-purpose flour
2 tsp baking powder
1 tsp salt
4 cups (about 1.5 pounds) chocolate chips
Directions for Chocolate Chip Cream Cheese Cookies Recipe
Preheat oven to 350˚.
Cream butter and sugars together. Add cream cheese; beat. Add eggs and vanilla; beat. In a separate bowl, combine flour, baking powder and salt. Add by cupfuls to the wet mixture; beat well. Add chocolate chips. (Note: this is a good place for experimentation. This year I made them with half chocolate chips, half butterscotch chips. Divine.) Drop in generous mounds (2 TBL or so) onto cookie sheets, and bake for 16-18 minutes. Watch them carefully and err on the side of undercooking, as they will lose their divine tang from the cream cheese if overbaked. You want them to be soft (and they will seem "whiter" than traditional chocolate chip cookies, because of the cream cheese) but just starting to brown on the edges.
Yield: 5 dozen.
Easy No-Roll Sugar Cookies Recipe
I've never been a huge sugar cookie fan; honestly, the two cookie recipes above kept me plenty happy for years. But Christmas seems to demand sugar cookies (as have my kids), and as I hate both bland cookies and using my rolling pin, with some time and patience I found the solution. The following is a modified version of this recipe from Food Network and results in thin, crispy, just-perfectly-sweet and buttery rounds, no rolling or cutting required.
Ingredients for No-Roll Sugar Cookies
1 cup (2 sticks) unsalted butter, softened
1 1/2 cups white sugar
1 egg
2 tsp vanilla extract
1/2 – 1 TBL citrus zest
2 3/4 cups all-purpose flour
1/2 tsp baking soda
1 tsp baking powder
1/2 tsp salt
2 tablespoons sour cream
Optional: milk plus sprinkles or colored sugar (for decorating)
Directions for No-Roll Sugar Cookies Recipe
Preheat oven to 375˚.
Cream together butter and sugar until smooth. Beat in the egg, vanilla, and citrus zest. (Note: Use whatever you like or have on hand, and how much you like. This is personal preference. I usually zest a large orange or a couple of tangerines, but lemons are good, too. Up to you!) Mix flour, salt, baking soda and baking powder in a separate bowl, then add by thirds to the wet mixture, beating after each addition. At this point the dough should seem sort of dry and grainy; add the sour cream and the batter should soften into the right consistency.
Scrape down your mixing bowl to compact the batter and put it in the fridge for at least an hour, but I've left it for a day or two and that works, too. The chilled dough can then be easily scooped and rolled into 1″ balls and placed on a parchment paper or silpat-lined cookie sheet. (I often use liners for ease of clean-up, anyway, but these are thin and delicate and will stick without them, so use one or the other.) If making these cookies "naked," go ahead and put them in the oven. If you want to embellish, wet your finger in a little bit of milk and gently flatten the tops of the cookies and sprinkle with the decoration of your choosing before putting in to bake. (The ones I made, pictured above, are sprinkled with some edible glitter.) Bake for 8 minutes; these cookies are small and once they spread out they're quite thin, so that's all they need.
Yield: 6 dozen.
[Please note: Author not responsible for any weight you may have gained while reading these recipes, or from any subsequent baking you may decide to do.]
Discover More Baking Ideas