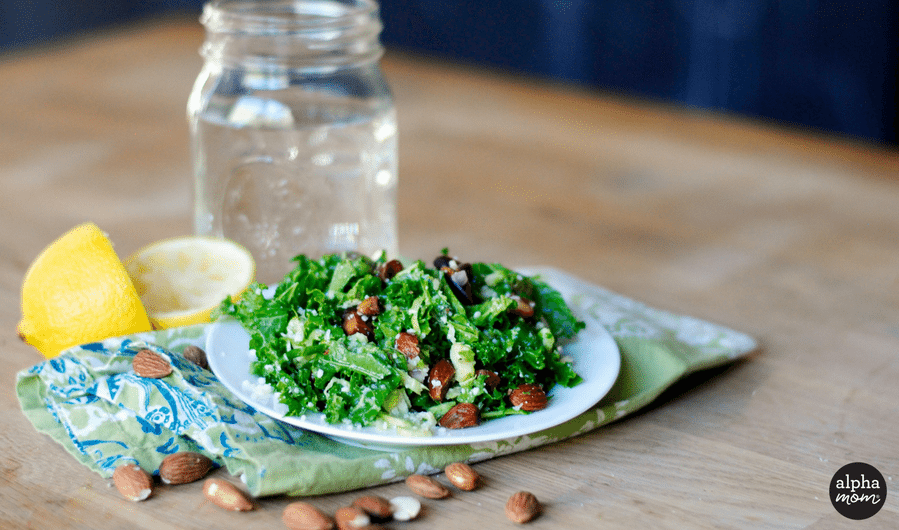 Food & Home
Super Crunchy Tuscan Kale & Brussels Sprouts Salad that Kids Love, too!
Have you ever come across a recipe and thought, "no way will my kid eat that," made it anyway, and then found a miraculous, inexplicable hit on your hands? This is one of those recipes.
Honestly, I'm guessing some fully grown adults are looking at that title and thinking, "no way will I eat that." Kale AND brussels sprouts, Amy? Why do you hate life and fun?
It's nutritious
I know, I know. These are two very controversial ingredients. I happen to LOVE brussels sprouts…but typically prefer them cooked with copious amounts of butter, bacon and blue cheese. Which, um, kinda negates the point. If they're not cooked to death, sprouts are an excellent source of vitamin C and K, and a good source of B vitamins, including pregnancy essential folic acid. Kale is also a super-healthy green, but for me still mostly falls in the "I'll eat it because I'm a grown-up but blehhhhhhh I don't love it."
(And yes, I've tried making kale chips. I don't know where I go wrong, but I always feel like I'm eating salty tissue paper.)
Kids love it, too
And yet! Here are brussels sprouts and kale, completely raw, with almonds, a light homemade dressing and a moderate dusting of cheese. And maybe witchcraft, because this salad is insanely delicious. So delicious, that not only did my kids eat it, they LOVED it. I think the familiarity of nuts and cheese lured them in, and then the wonderfully crunch of the vegetables and mild taste of the dressing sealed the deal. This salad was an Acceptable Salad. They will continue to Accept This Salad, while all other salads continue to get the side-eye, because ewwwww weird dressings too many textures so many vegetables ugh.
Kale & Brussels Sprouts Salad with Almonds Recipe
This salad was also our primary reason for growing our own kale and sprouts, which are what we used in the photos here. The recipe makes QUITE a bit of salad– about 8 generous servings  —  so it's a great one if you're tasked with bringing the salad to a holiday meal or potluck! Feel free to cut back on the ingredient amounts, but know that it does keep nicely (undressed) in the fridge for a few days, depending on how fresh your veggies are. If you've got nut allergies, swap in your favorite seeds, soynuts,. or croutons. We typically serve this as a side, but adding some grilled chicken or salmon can bump it up to an entree.
(Slightly adapted from Susan Spungen, Bon Appetit)
Salad & Dressing Ingredients
1/4 cup fresh lemon juice
2 tablespoons Dijon mustard
1 tablespoon minced shallot
1 garlic clove, grated or mashed to a paste
2 large bunches of Tuscan kale
12 ounces brussels sprouts
1/2 cup + 2 tablespoons extra virgin olive oil
1 cup raw almonds, coarsely chopped
1 cup grated Pecorino
Dressing Directions
Combine the lemon juice, mustard, shallot, garlic and season generously with salt and pepper. Set aside.
Once the salad  is prepared, slowly whisk 1/2 cup of olive oil into the lemon mixture until combined. Season again to taste with salt and pepper.
Salad Directions
Remove kale stems and thinly slice the leaves into ribbons. Trim the ends off the brussels sprouts and finely chop or grate (a food processor with the grater attachment makes this MUCH MUCH easier). Mix together in a large bowl.
Heat about two tablespoons of olive oil in a frying pan over medium-high heat. Add the almonds and toast for two minutes, stirring frequently until golden brown. Transfer to a paper-towel-lined plate and season lightly with salt.
Add dressing (see recipe above) and cheese to the kale and sprouts, toss lightly to coat.
Add almonds and toss again once more just before serving.
(If you're making this ahead of time, prep the veggies and keep them in the fridge, tightly sealed. Refrigerate the dressing in a separate container. Store the almonds at room temperature).
Photos by Jen Tilley