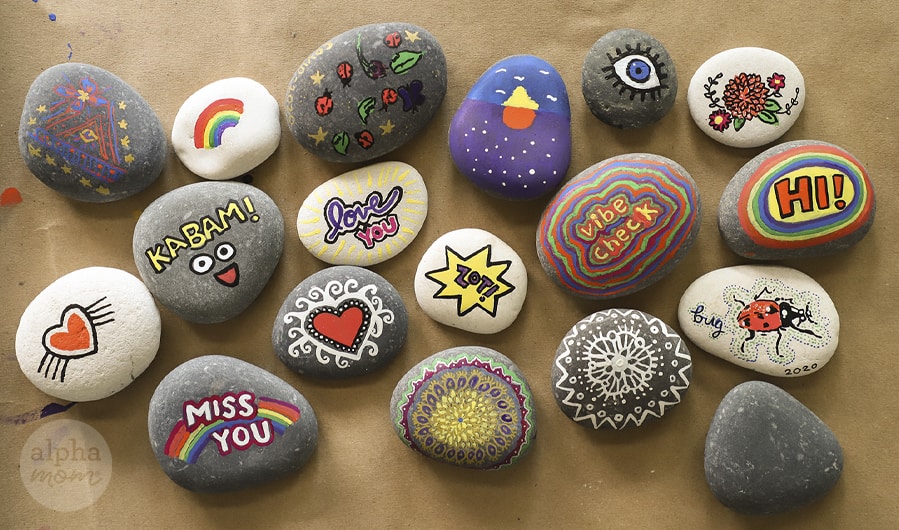 Crafts
Kindness Rocks for Your Garden (and Neighborhood, too!)
We've been painting rocks since we discovered paint pens ages ago but recently we've been noticing them around the neighborhood when we are out walking. Have you seen them too? So we decided to join in the fun and make some too. It's really easy.
All you need are some clean, smooth river rocks and some paint pens. We used these paint pens. And a little patience. Painting rocks can be as elaborate or simple as you like. We tried a few different methods.
Some ideas for decorating your Kindness Rocks:
1. Doodling on your rock is always a good start.
2. Creating petals that start from a center point and loop outwards are super easy to do but look impressive when they create five or six-layered chrysanthemum-looking flowers.
3. We also tried writing some words by painting big chunky letters and then outlining in black.  It's amazing what a simple outline will do. That method seemed to pop the best.
4. And, of course, rainbows are always a crowd-pleaser.
Then we decided we liked our rocks so much that we weren't quite ready to part with them so we made some for the plants by our front door. Now we have a happy little rock garden that is filled with messages for the essential workers who are delivering us groceries and take-out, as we support our local restaurants. It's the little things, that make us happy, right?
Want to participate in spreading kindness through little rock messages? We have since learned about The Kindness Rocks Project. The movement encourages people to leave rocks painted with inspiring messages along the path of life. Check them out to see how you can be involved! So nice (and cool, too).
More painting crafts on Alpha Mom:
1. Dad Rocks Father's Day Gift!
2. Sea Shell Art Craft
3. Happy Rainbow Prints