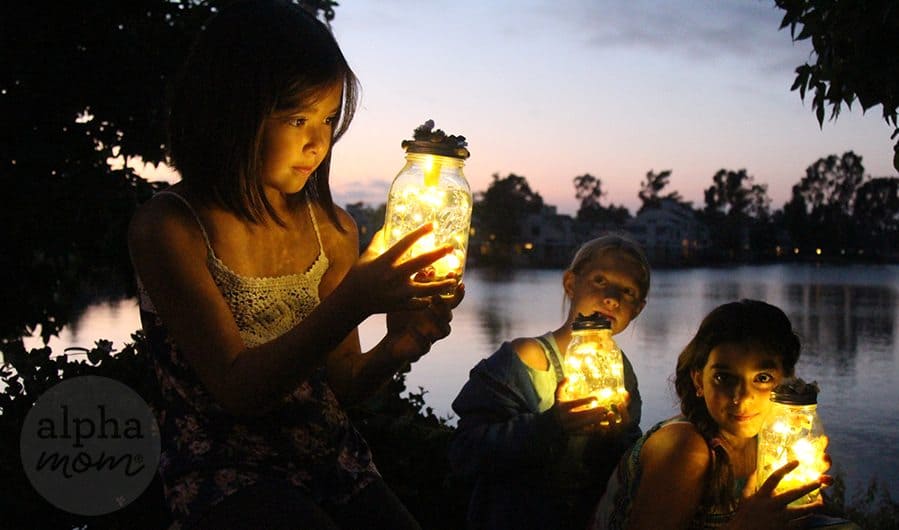 Crafts
Make Your Own Light-Up Fairy Jars for Kids
In my family, we've always had a a soft spot in our hearts for fairies.  And, I believe in keeping the magic alive as long as possible. So, when I first came across these battery operated LED lights, I just knew we had to incorporate them into a craft. Whether you are hosting a woodland-themed party or just having some summertime fun, these light-up Fairy Jars are so easy to make!

Supplies needed to make Light-up Fairy Jars
mason jars (get the wide-mouthed ones if you can for ease of use)
pretty pebbles, rocks or stones
faux flowers
sticks, feathers, tiny pinecones, seashells etc…
hot glue* (or white craft glue)
Directions to make Light-up Fairy Jars
First you'll want to attach your mason jar lid parts. Run a bead of glue around the rim and then carefully insert the centerpiece. Then glue your lighting element to the lid with the switch exposed for ease of use.
*A note about glue guns: hot glue can burn! We hosted a tween party with experienced crafters who have used glue guns many times and are very familiar with how not to burn themselves but if you are hosting a party of children, be sure to have a grown-up on hand to do this step. We cannot stress that enough.
We set up a table with a plate of rocks, pebbles, shells, feathers, flowers, sticks and moss in the middle and a glue gun station at one end. Each girl took turns gluing their pieces and parts while the others spent time arranging their jar in the most "fairy"-hospitable manner. You'll be amazed at all the creative combinations your guests can come up with! Just give them supplies and some glue and let the fun happen.
When the tweens were done decorating we turned on the lights and took some photos. We had so much fun taking pictures that we scheduled another meet-up to go down to a near by lake at twilight for even more photos when the fairy lights illuminate up even more magically.
It was an adventure and a half!
Then each girl took their fairy jar home to use as a homemade nightlight. These would make great party favors or even better, lighting for a campout sleepover! Yes, they also look like a jar of fireflies (or maybe you call then lightning bugs– depending where you live in the country).
More Ideas for Summer Fun: