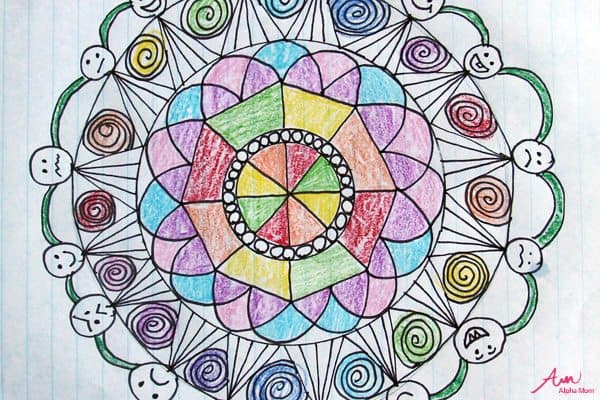 Crafts
Doodled Mandalas
My kids and I love to draw and doodle together. At least once per week I try to shut my laptop, ignore the chores and sit down at the table with them to sketch. Sometimes I give them challenges, other times we all make our drawings of the the same object and sometimes we do our own thing, but we always enjoy talking and creating together.
Earlier this year I started doodling a mandala in my sketchbook and when the kids noticed they started making their own versions. "Mandala" is a Sanskrit word describing a circle or disc. In the Hindu religion a mandala is a detailed geometric figure that represents wholeness or unity. While the mandalas we draw are not particularly spiritual in nature, I've found that they are soothing and relaxing to draw. They also end up being a lot of fun to make and they look great taped to the fridge.
Here's how we do it:
Start by gathering a few materials. The only things you absolutely need are paper and something to draw with — a pencil, pen, colored pencils, marker, whatever. It's also helpful to have something round to trace and if you or your kids like things extra neat a ruler can come in handy.
I like to dive in and start drawing my mandalas freehand, but I've found that I can save a lot of frustration for my boys if I set them up with a basic circle structure they can build on before handing them a piece of paper. I usually trace around a cup or a bowl, but you could use a compass or draw it freehand too.
I also like to divide my circle into quarters because this makes it a little easier to create patterns.
I like to work inward from my initial circle and fill in the circle with geometric designs, then work outward from the edge of the circle drawing shapes and patterns in layers until it covers a great deal of the paper.
Here are some ideas for patterns, shapes and lines you can add to the mandala if you get stuck:
triangles
circles
ovals
arches
scalloped lines
zig-zags
wavy lines
checkerboards
spirals
flowers
diamonds
stars
curlicues
And these are some examples of mandalas my kids and I have drawn:
Sometimes we are precise. Sometimes we're loosey-goosey. We often like to add color to our mandalas, either by using colored pens or pencils when we are initially sketching or by coloring in the patterns and shapes we've made when we are done. One time we made a mandala entirely out of stickers. And sometimes when I draw the circle and hand it over to my kids they go in a completely different direction by drawing monsters or drummers in a flaming circle. That's OK too.