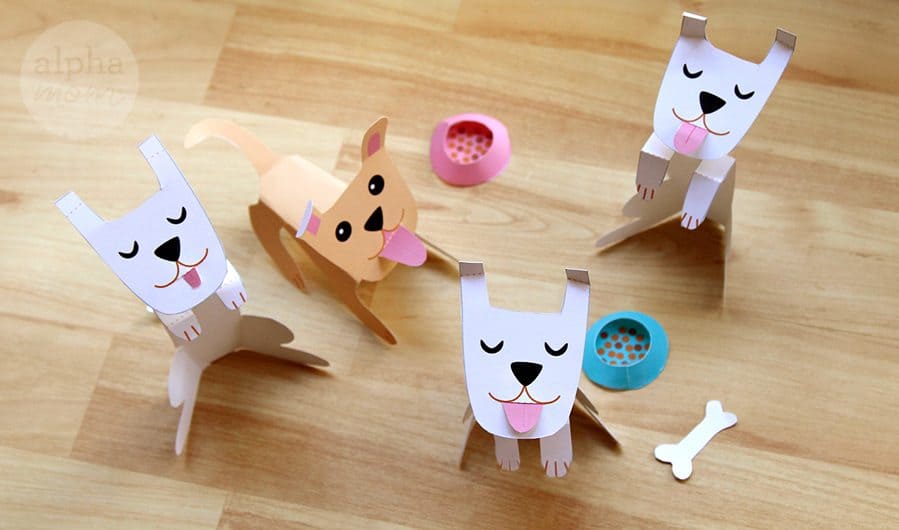 Crafts
Lunar New Year Craft: Year of the Dog Printable
Lunar New Year falls on February 16th this year and guess what it is? Year of the Dog! This is great news for a dog-lover like me.
In past years I have made paper printables for the Year of the Horse, Year of the Snake, Year of the Ox and Year of the Rabbit.  When I don't make one, a request is usually forthcoming from a reader. So in honor of the Year of the Dog, I was inspired to make some paper puppy printables. (Pant, pant, pant!) I mean, come on. How cute are they? Don't you just want to make a whole litter of them?
Supplies to make Paper Puppy printables 
cardstock
scissors and/or an exacto knife and a self-healing mat
tape
our handy printable
Click here to print the tan dog with a pink bowl
Click here to print the white dog with a blue bowl
How to make Paper Puppy printables
Cut your puppy printable out along the outside lines. Cut a slit where there is a dotted line on the mouth. Fold along the dotted lines. Some places will fold in (legs), some places will fold out (tail). Don't worry, you'll know which way to fold when you get there. Insert the tongue through the slitted line in the face. You might need to fold the neck up or down to adjust your puppy's balance.  For the food bowl: after you cut the parts, tape the bowl sides in a cone shape and place over the circle with kibble. Pretty easy!
Now the kids can play with them! (As if they wouldn't anyway.)
More Crafts for Lunar New Year: