Crafts
Homemade Bubbles, Playdough and Sidewalk Chalk
We spent a lot of time mixing this week. First we made bubbles. This particular recipe calls for glycerin which is "commonly available at drugstores". Not at my drugstore but after furtively browsing the laxative aisle I remembered baby laxatives are often glycerin suppositories. I'm not going to lie and tell you I didn't feel weird buying these two items together. I felt so awkward I threw in a Snickers bar just so I wasn't only buying laxatives and soap.


I apparently didn't do a very good job making our bubbles because they, pardon my crassness, sucked. They were too thin maybe? And resulted in about 5 minutes of very frustrating daylight being burned.


Next we moved onto making our own chalk. My daughter loves plaster of paris, once as a toddler she coated herself in it. So they enjoyed seeing how this stuff is supposed to work. It all went well when I went with one color and put it in dixie cups to set up.


But then I got daring and thought, why don't we mix up a big batch, add paint to each color and then put them in an egg carton to dry? This product sets up awfully fast so, unless you like being frustrated, don't do it this way. Also, don't give your daughter the paint to put in because "add a little at a time" has no meaning relatively speaking. It's like when my husband used to be in charge of the checkbook and would tell me, "Don't spend a lot of money!" Without a definition of "a lot" this means nothing.
This version of our chalk didn't work out quite as well.


I'd have a hard time making my own sidewalk chalk on a regular basis because while we were at the store, I saw a box of 35 pieces of chalk for $3. If the kids or I enjoyed the process of making it we might do it, but no one was particularly into the process. I will say the colors, even on the not as nice looking batch are quite vibrant and their softer feel makes them easier to draw with.
The chalk paint was much easier to mix and work with. We used sponge brushes to paint with it but it didn't appeal to my kids in the same way the store bought version does. I ended up putting the paint in a spray bottle and this was wildly entertaining for my 8 year old for about 15 minutes. Our scheduled play group was canceled but I suspect very young kids would be entertained by the mess this stuff can make for many hours. (It's exceedingly simple to clean off, literally a wipe with your hand removes it.)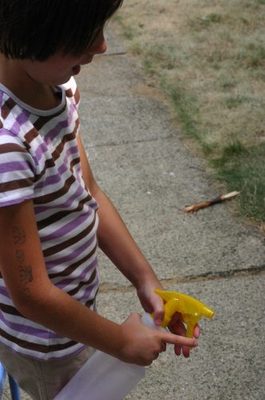 Our biggest hit, by far, with 5 hours of daylight burned so far is Play Dough! I made a large batch the night before, divided the dough into six balls and added food coloring from the craft store cake decorating department to the middle of the balls.


I did not tell the kids the secret and Max wondered what all the pizza dough was doing in the fridge and when I pulled it out to play with Madison asked why they had to play with vanilla play dough. As they started to play they figured it out.


The kneading process took a little parental help, but they were pretty excited to get the color to come through and thrilled to move on to the next ball of dough while I got the color evenly distributed. We ended up with lovely brightly colored dough. As an added tip, err on the side of too much food coloring, lest you end up with a gray ball of dough.


Of all the projects we did this week this is the one I most highly recommend. The fun of finding out which color was inside was one thing but as I type this we just crossed the 7 hour mark of daylight burned by play dough. Nice.