Activities
Portland, Maine: 50 Things to Do With Kids Before They Grow Up
By Amanda of SouleMama

Having grown up and lived most of my life in the Portland, Maine area, I have a special kind of hometown love for this coastal spot. But seeing the area with the new eyes of my children makes me fall in love with it even more with each changing season. While the city itself provides plenty of arts and cultural entertainment for us, the access to the ocean, lakes, mountains, and rivers give it just the right balance we love.
Whether you've been here for a while, or you're just here for a little vacation time, I hope you'll find something on this list to keep you and your little ones happy and having fun in Portland, Maine!
1. Take a walk on Mackworth Island, where you'll need to stop in the magical village of fairy houses to build your own fairy abode!
Dan Zanes at the LL Bean Concert Series
2. Head to LL Bean – not just for the shopping, but also for the outdoor evening
Summer Concert Series
.
3. Make the journey (about 2 hours North of Portland) to the Maine Organic Farmers and Gardeners Association's annual Common Ground Country Fair. Held the third weekend in September, the weekend has an old fashioned country feel with livestock, Maine farmers, and exhibits and demonstrations on sustainable living, organic farming, and Maine crafts. Don't miss the special Children's Area with plenty for your little ones to do!
4. About an hour west of Portland on the last weekend in September, you'll find the Apple Acres Bluegrass Festival. Featuring local bluegrass music and a bbq, the event is held in the apple orchards. Perfect for dancing, and picking Maine apples at the height of apple season!
5. Check out the Old Port Festival, always held the first weekend in June. Be sure not to miss the larger than life, giant and beautiful puppets in the parade by Portland's Shoestring Theater.
Snowshoeing in Pineland
6. Rent snowshoes and head out on a trail at
Pineland Farms
in New Gloucester.
7. For cold and rainy days (or hot and humid ones!), the Children's Museum of Maine is always a great time for the little ones.
8. A trip to the Old Port is essential from time to time – stop by Treehouse Toys for the little ones, and Edith & Edna and Ferdinand for handmade loveliness. And wrap it all up with delicious organic, local gelato at Maple's Organics.
Spring Point Light House
9. Stop by
Scratch Baking Co
. in Willard Beach, South Portland for the yummiest bagels around town. Follow it up with a walk on Willard Beach and Fort Preble on the Southern Maine Community College campus. The lighthouse (Spring Point) is open for public tours on Saturdays in the summer months.
10. Take a trip back in time on the Maine Narrow Gauge Railroad, where you'll get a fabulous view of Portland's waterfront.
11. Visit some Maine native animals in rehabilitation at the Maine Wildlife Park in Gray.
12. Catch a Portland Sea Dogs baseball game – the AA affiliate of the Boston Red Sox.
13. Go frog catching and bird watching at Capisic Pond.
14. Catch some mackerel off the end of the Maine State Pier on Commercial Street.
15. Walk the 4 mile Prout's Neck Cliff Walk, beginning at Scarborough Beach State Park. The walk goes along the rocky coast, onto private beaches (with public access), and by historic waterfront homes.
Deering Oaks wading pool
16. Stop by
Deering Oaks
on a Saturday morning for a visit to the Farmer's Market. Follow up with some play in the children's wading pool.
17. Spend a day – any time of year – at Maine Audubon's Gisland Farms in Falmouth. You'll find a 65 acre sanctuary full of trails, an educational center and children's discover room.
18. Take a half-day, day, or overnight sea kayak tour with Maine Island Kayak Company.
Scarborough Marsh
19. Canoe through the marsh, and discover the unique habitat at
Maine Audubon's Scarborough Marsh
, in Scarborough. Both canoe and kayak rentals are available.
20. Visit the Yarmouth Clam Festival in Yarmouth, held in mid-July. Full of events, crafts, food and a fair atmosphere, the hour long parade on Friday night is not to be missed!
21. Charter a windjammer for a private 2-hour sail around the islands of Casco Bay.
22. Join the Mailboat on a ferry run at sunset as it goes about it's business of delivering mail to Casco Bay's island residents, while getting a scenic tour of the bay.
23. Gather some friends for an classic and scenic Lobster Bake on House Island.
Pick your own strawberries at Broadturn Farm
24. In June, head to a
Broadturn Farm
in Scarborough for some pick your own strawberry love.
25. Take a hike at Bradbury Mountain State Park in Pownal. A beautiful spot for seeing the foliage in the fall, and hawk migration in the spring.
26. Head up an hour north of Portland to Sebago Lake State Park, where you'll find a state park with great lake swimming, as well as Douglas Mountain – a great little hike for even the youngest of kids.
at Crescent Beach
27. Catch some surf at Higgins Beach in Scarborough or Crescent Beach in Cape Elizabeth (beaches are right next to each other). Bring your boards, or kayaks for some wave action!
28. Head to Old Orchard Beach for an old-fashioned carousel, and fries on the pier.
29. Visit Fort Williams, in Cape Elizabeth. The best spot around for kite-flying, lighthouse viewing, and fort exploring (bring your flashlights!).
30. For some great family vaudeville, check out Phyzgig: A Festival of Physical Comedy, held each year at SPACE Gallery.
31. Visit the Victoria Mansion at Christmas, where you'll find the preserved historic home decked out in lavish holiday décor. (Also a great visit any time of year!)
32. See the classical holiday ballet performance of the Nutcracker by Maine State Ballet.
The ferry to Peaks Island
33. Take the
Casco Bay Lines Ferry
to Peaks Island, where you can rent bikes to ride around and explore the island.
34. If your little ones need a break from the outlet shopping you're doing in Freeport Village, swing by Wolfe's Neck Woods State Park, where you'll find nature trails, guided walks, and plenty of osprey!
Holiday sleigh ride in the Old Port
35. Attend the annual tree lighting at Monument Square for some music, sleigh rides (don't forget the blankets and hot cocoa!), and a sighting of Santa.
36. Visit the Portland Museum of Art, which features many works by Maine artists Andrew Wyeth and Winslow Homer. Free admission on Fridays from 5 to 9 pm.
37. Climb to the top of the Portland Observatory (built in 1807 to aid local ship owners) and get a full 360 degree view of Portland, the harbor, and the islands.
Windham Skate Park
38. Do you have a skateboarder in your crowd? Head to the
Windham Skate Park
in Windham, where kids can rollerblade, skateboard, and scooter to their hearts content (all under the eye of its well-supervised staff).
39. Drive up to Damariscotta in the early summer months to catch the running of the alewives as they travel up river to freshwater to spawn. You'll likely catch some osprey and bald eagles watching the action as well.
40. Spend some time at the Maine Rock Gym, an inside rock climbing facility. The gym is a great spot for climbers of all ages and provides instruction as well.
Fort Popham
41. Visit
Fort Popham
in Phippsburg, for some great climbing and exploring. Pair it with a visit to nearby
Popham Beach State Park
, where you'll likely see some seals in the harbor.
42. Eat lobsters on the rocks at Lobster Shack at Two Lights in Cape Elizabeth.
43. For the sweets-lovers in your family, Haven's Candies offers tours of their chocolate factory each day in their Westbrook facility.
44. Catch a double feature at the drive-in movie theater at Prides Corner Drive-In in Westbrook.
45. Especially if your family includes a four-legged friend, take a stroll through the dog-friendly acreage in Robinson Woods in Cape Elizabeth, where you'll find extensive trails through the woods and streams.
46. A great spot for the new little bikers in your family, Baxter Boulevard offers a 3 mile path along the Back Cove of Portland.
47. For the 4th of July, bring a picnic to hear the Portland Symphony Orchestra as they perform Independence Pops by the sea at Fort Williams in Cape Elizabeth.
Ice Skating at Riverside
48. Go sledding (or cross country skiing, or ice skating) at the
Riverside Municipal Golf Course
, where the trails and pond are groomed, and free to the public all winter.
49. Catch a starshow at the Southworth Planetarium on the USM campus.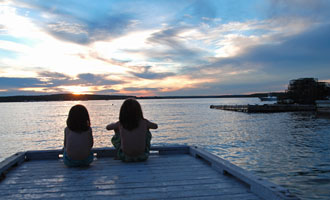 Sunset at Ferry Beach
50. Bring a picnic to Ferry Beach in Scarborough to watch a summer sunset.
This series was inspired by Mommy Poppins' 100 Things to Do with Your Kids in NY Before They Grow Up.