Products & Services
Money From The Outdated Gadgets In Your Life.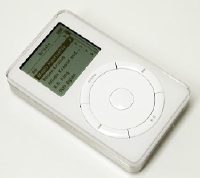 My husband had one of the very first iPods. At the time it was amazing, just like a Commodore 64. A mere 4 years later it is an enormous brick we like to pull out when we have guests just to amaze them with our 'vintage' sound system. We could pull out a victrola, wind it up and play a little Beyonce on it and get the same reaction.
I have a severe allergy (emotionally) to things we don't use so the collection of two iPods we don't use and another iPod Shuffle we also no longer need, irritates a deep place in my brain.

This is why I read about Second Rotation at Tech Crunch with great interest. With Second Rotation you can recycle your old tech equipment for cash, not just good karma.
The process seems simple: locate the item you want to trade-in for cash, enter details about its condition and get an estimated value. Send it to Second Rotation postage paid and once they confirm the condition of your gear you'll be paid via paper check or Paypal.
They accept MP3 players, digital cameras, cellphones, GPS systems and game consoles. I just plugged in my Digital Canon Rebel and got a price of $440, which is actually in line with the resale value at Ebay…without the hassle. Maybe it's time to upgrade?
My husband is currently shuddering in the corner.
I'm not entirely clear on what Second Rotation does with your gadgets once they take them back. I assume something about these electronics are valuable to people who are not using them as cheap parlor tricks, but really who knows.
FYI; If you have a Nintendo Wii new in box I'm going to suggest you don't try to unload it at Second Rotation where you'll get $130 for it. Wait until Christmas and sell it on Ebay for three times that.
Of course, you'll use all that money to feed starving orphans.