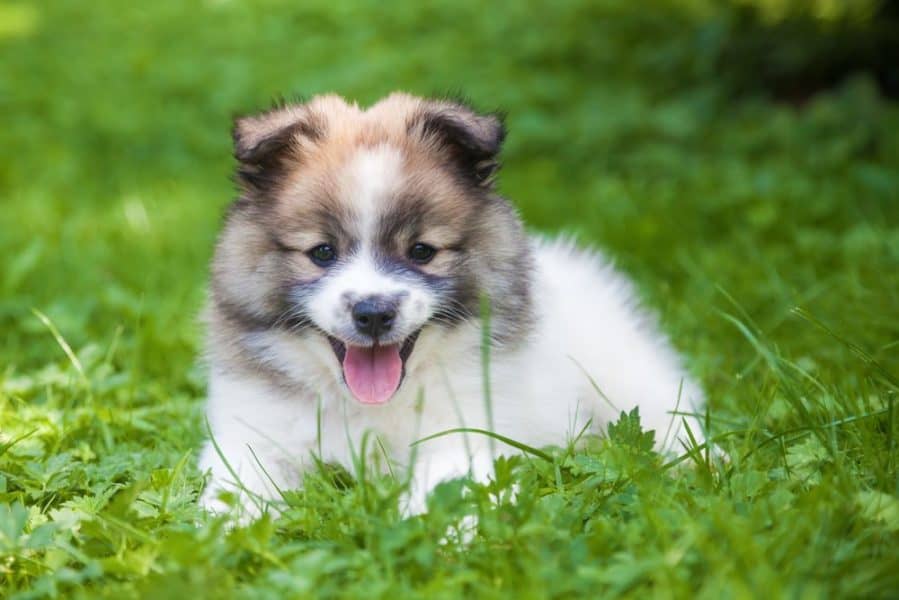 Home
New Year, New Boo: Our Family Takes the Dog Ownership Plunge
There are things that none of us thought we'd say before we became parents. "If you don't stop, we're turning the car around!" "Come here and let me smell your hand!" "If you wear the shirt for picture day, I'll buy you the gems on 'Clash of Clans!'"
For me, perhaps the most unlikely line of all is this: Let's get a dog!
Now, understand, I have no issues with house pets. My younger sister brought a super cute Shih Tzu named Kiwi into our family when she was in middle school. Mind, I had already moved out of the house, and she and my parents were living 3,000 miles away from me when this all went down, but I enjoyed the little, fluffy guy whenever I visited. And when I met my husband Scott, he had a smokey grey cat named Munroe. This cat loved Scott, but largely tolerated me — this new human person who stole his spot in the bed. But as for me becoming a full-blown pet owner myself, it just wasn't in the cards for me.
Then we had a son.
This should tell you everything right there!
It was about two years ago, when The Youngster started asking for a pet. I had bought him a Beta fish when he was three (and, uh, had to artfully "replace" that blue fish a couple times since), but he kept asking for a "real pet," one that he could cuddle and play with in earnest. My answer was always a kind, but firm no.
There are a lot of reasons for this, but the biggest one: I wasn't up for being yet another person's caregiver.
With my son about to turn 9 soon and my travel schedule becoming more predictable, instead of the usual no, the kid's begging has been met with let me think about it. There are plenty of reasons for this slow pivot as well; the biggest one being I realized this household has a lot of love to give.
And that's how we got here. It's the start of 2018 and we're jumping into this doggy pool with vigor!
Yeah, yeah, Blades. Enthusiasm and love, that's great and all, but have you checked out the steepness of this learning curve, though?
Listen. Knowing what you don't know is half the battle, right? And this family was starting at square one on the pet ownership journey (no offense, Jasper the fish!). So, I did what you do: I hit Google and its very distant cousin, Facebook.
This turned out to be a tad overwhelming. There are lots of opinions on every single thing regarding dogs. Basically, I had to cast my net so it covered a little less ground in the beginning. I started asking dog owners about their experiences, and I heard some lovely, heartwarming origin stories. However, I was still feeling like I needed to dive deeper into researching all of it for myself, and I decided to bite off the biggest piece of that straight out the gate:
Breeder vs. Shelter
It's a debate that can get folks pretty heated. And I understand the passion that drives both sides. What I'm not down with, though, is the social "bullying" around this personal choice. Right now, we're looking at adopting a dog through a rescue shelter. However, if we start to feel like we're not making any progress or that we are butting up against the same obstacles, then we will definitely consider researching a reputable breeder for our new pet. And we'll do it without a drop of shame.
So far, I've researched breeds that will work for our family: small, playful, young, and kid-friendly dogs that don't shed a ton. I've also received some great recommendations from friends for helpful pet websites where we can plug in some preferences in the filters and search a wide database of dogs available for adoption.
Over the MLK Day long weekend, we even submitted an extensive application form to adopt an adoraboo Cavalier King Charles Spaniel-Pappillon puppy. But another family got to him first, and he's now living in Long Island, NY, looking cozy and delighted.
This means we're back to the drawing board. To be honest, I did feel a teensy bit crushed when I found out that that cutie-pie pup we cooed over was no longer available. But then my son said something that put it in perspective: "Mom, we should just be happy that he found a home."
Oh, all right, kid. Easy with the I'm-so-smart-and-actualized bit, will ya?
Web Resources
If you, too, are in the process of trying to decide what type of puppy or dog would work best for your family, here are a few websites that helped us:
Hope you're going to ride with us on this new puppy adventure. I'll be back next time with more dispatches from Dog Days with Blades.
Photo source: Depositphotos/Madrabothair
****************
More on Pet Ownership: