Beauty & Style
Get This Actual, Real-World Look: Liquid Liner
I used a black liquid liner in college. I would do this heavy black line around my eyes and then a little up-and-out cat eye thing in the corner. I would do this over white eyeshadow. I would also cry myself to sleep at night a lot, so clearly, I was going through some emotional upheaval that was manifesting in my cosmetic choices.
I've never used liquid liner since…and every time I see a woman with that tell-tale Sharpie-like line around her eyes, I always wonder if I should perhaps hold her and tell her that everything is going to be okay. And yet! Today Heather is going to demonstrate the RIGHT way to apply liquid liner — for a natural, smudge-proof look. Take it away, Heather…
Liquid eyeliner seems to consistently be one of the scariest cosmetic items out there. (For me its bronzer but to each her own irrational fear.) No one wants to look like they drew on their eyelids with a magic marker, and pencil just seems more forgiving what with being able to blend and all. But…
I love liquid liner because I find that pencils tend to slide off my oily skin and wind up under my eyes, like a tired badger. Plus when you do it right, liquid gives a really sharp clean line, so that you look more like you have natural eye definition and lashes, rather than liner.
First the tools.


I use the Ulta eyeshadow palette for green eyes, Coup de Theatre mascara from Bourjois, Liner Pinceau from Bourjois in Gris Fusion (kind of a slate gray), free gift eye shadow brushes, and free gift brush that is supposed be for blush but is better for blending.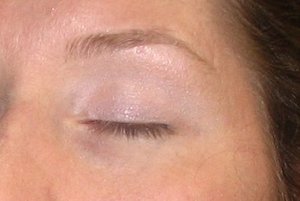 Step 1 – Sweep the lightest eye shadow color over the entire lid. I used pink.
Step 2 – Wipe the excess off the liquid liner brush, kind of the way you do nail polish – you don't want too much, but too little and you won't get a defined line.


Now pay attention, and trust me on this: Place the brush in your lash line just above your pupil, then CLOSE BOTH YOUR EYES AS YOU SWEEP THE BRUSH BACK AND FORTH. Use short strokes to work your way out to the corner of your eye.
If you close both eyes, keep the brush in your lash line, and do it by feel you'll get much better results than trying to watch yourself because your eye isn't fighting to open and flicking up and down, which WILL result in the dreaded squiggly line. Then check the look, you may want to build the line a little thicker out towards the corner.


If you don't usually wear a lot of shadow, you can skip the next steps and just add mascara.


Otherwise, apply the darker eye shadow color from mid-lid along the underside of the brow bone. Carry the darker color out just past the outer corner of the eye and down to the edge. It's not quite a V-shape, more like the top half of a C. Blend in toward your eye. Here I used a sheer plum color. I add a swipe of green right in the crease, and then blend the whole thing. To add a little more drama you can just extend and thicken the line or add darker eye shadow.
Add mascara to finish it off.
And just in case, some error correction tips. If you messed up and your line is too thick near the pupil use a thin eyeshadow brush, (or – I've been known to use the included sponge tip applicator) to go over it a little with the lightest shadow color. You can also, while the liner is still wet, just use your finger to squeegee straight down. Because you started in the lashline, you won't wipe it all off by doing this.


See? Easy! And sharp!