Beauty & Style
Get This Actual Real-World Look: Asian Eyes
Woot! Another demo! This one is courtesy of Khanh, who writes:
Okay, so I need to preface this demo with something: I'm Asian. However, unlike most Asians, I wasn't blessed (cursed?) with the single eyelid. Nope, I got the coveted white-girl double eyelid. Soooo I'm not really sure if this will help other Asian women out there… I mean, I have the almond eye shape, but I don't have to deal with the whole "creating an illusion of an eyelid" thing. Also, I would like to say that yes, I am fully aware that my eyebrows look hideous right now, but I'm between waxes so leave me and my caterpillar eyebrows the hell alone. Also: ignore the shiny! And the huge pores! Kthx, read on!
Methinks she's being a BIT overly self-deprecating, and I think you'll agree. Her eye routine is gorgeous, and as she pointed out, appropriate for non-Asians as well. If you've got almond-shaped eyes and are wondering how to really make them stand out, DEFINITELY give Khanh's routine a try:


The Makeup: (Clockwise, starting from top) Benefit F.Y…eye! eye shadow base, NARS eye shadow in Night Star, bareMinerals Glimmer in Bare Skin, CARGO Eye Shadow in Cocoa Beach, Stila Smudge Pots gel eye liner in Black, Bobbi Brown eye shadow in Charcoal, Benefit High Beam liquid highlighter


The Tools: (Left to right) Smashbox eye liner brush #9, Sephora Professionnel Platinum Natural Smudge Brush #11, Bare Escentuals dual end smoky eye brush (I didn't end up using this in this demo, but it's a great brush), Sonia Kashuk angled eye shadow brush, Sonia Kashuk medium eye shadow brush, Maybelline large eye shadow brush (yes, cheap, but it hasn't shed on me yet and I've had it for 3 years now), Shu Uemura eye lash curler


Start with a clean lid, you can use a cotton pad soaked with facial toner to pat the oils off the skin on your eyelid if your lids are especially oily. Dab your finger into the F.Y…Eye! primer and blend all over your lid and out towards your temple. This stuff is amazing; before, my eye makeup used to slide off my lids by noon, but this primer makes it stay 'til dinner time!

(Amy: I know! Love it.)


Use the large eye shadow brush to swipe on the NARS Night Star all over your lid up to your brow bone.


Use the large brush, tapping off excess, to apply the bareMinerals Bare Skin glimmer to your entire lid, winging it out slightly like so.


(Look at my ghetto MS Paint.)


Use the medium/angled eye shadow brushes to line your lash line using CARGO Cocoa Beach.


Blend the color from your lashline up, concentrating on the outer corners.


Use the angled brush for precision; make a "v" at the corner of your eye and pull the color midway along your crease. Blend, blend, blend! Make sure you concentrate the color at the corners.


Using the eye liner brush, swipe it into the pot of gel liner (you don't need much, a little goes a long way).
(Amy: Sweet. I have ALWAYS stared at the Smudge Pots with a mixture of fascination and fear.)


Line your eyes as close to the lashline as you can get; don't worry if it's not perfect, we're smudging and blending it.


Use the smudge brush to dip into the powder eye shadow (tap off excess) to soften the harsh line of the liner; smudge along lashline.


Apply High Beam to brow bone and blend along the bone with your finger.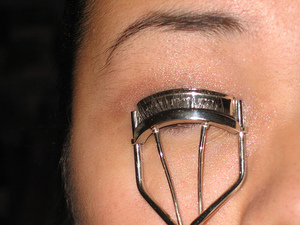 Curl your lashes, add 2 coats of mascara (I use Shu Uemura Fiber Xtension mascara).


Et voila! (I only did one eye.)