Baby
Carseat Tetris: What Seat Fits In What Car
Amy,

It's me, the woman who interrupted your snap and go shopping this weekend at Buy Buy Baby. (Am I the only person totally grossed out by the name of that store?)

I know at the store you mentioned that you liked Graco infant car seats, and have heard good things from lots of folks about them–I was just wondering: do they fit okay in Subarus? I have been reading conflicting opinions online, but I think I remember you writing that you all are a Subaru family so I thought I'd check. We have a 2007 Forester if that makes any difference.

Thanks for any advice you might have,
Bewildered in Buy Buy Baby
(You would not BELIEVE how often I get recognized by readers these days! Three times this weekend alone! I'm guessing it's because I am 1) the circumference of a planet and visible from space, and 2) perpetually at the damn baby superstore, waddling through my target baby-having demographic.)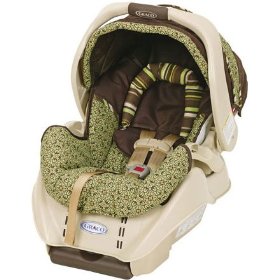 Oh yes, the Graco car seats fit FINE in Subarus (UPDATE from April '13: see below on a reader who says that the Graco ClickConnect does not fit in her Forrester) . We used it last time with an Impreza WRX (much smaller than the Forester) with no problem. Since Noah was our only child he of course got prime safety placement (center seat, not by the window), and the despite the car not being particularly wide, the car seat didn't significantly cramp the recline or positioning of either of the front seats.
This time we'll be using the same carseat primarily behind the passenger seat in a 2008 Forester — poor second baby is too likely to get his little eyeballs poked by a curious three-year-old to sit in the center seat. (Jason drives the good old wonderfully reliable WRX now and will probably buy a second car seat base just in case we need to switch cars at any point.) (Runs off to add that to our shopping list, eeeeeek!) We've done a trial run with both seats (Noah's in a forward-facing Britax) and while the front passenger seat can't recline super-far, obviously, there's still plenty of legroom for the average adult human to sit there comfortably.
If you're still concerned, you can usually take display models out to your car to double-check. (We did this at Babies R Us [I am also totally grossed out by the stupid backwards R in THAT store's name, which strikes me as not "cute" as much as "illiterate."] before buying the Britax, since I was very worried it wouldn't fit rear-facing in the Impreza.) Just ask a salesperson and they'll most likely oblige — it's not a weird request at all.
That way, in addition to checking out the fit, you can also do some real-world testing of the ease of snapping in and out. You might realize that finding the lightest seat is your priority, or the narrowest base (especially if you're looking to fit multiple seats across one backseat), or you might hate the snap-and-release mechanism once you actually try it from the awkward sideways angle.
Now! Let's get some reader input and bitching — tell me the make and model of both your carseat and car, and a definitive-ish yes/no/ehhhh on how well it fits. Bonus points for any tales of car seats that absolutely did NOT fit into a certain car. Double bonus points for car seat recommendations for small cars or fitting multiple seats and children into a single row. (NOTE: Bonus points not actually awarded or worth anything, other than the thrill of sharing your important car seat assvice.)
I did so much Googling before buying our carseat, trying to get a clear answer on whether the Graco Snugride fit into a Mazda RX-8. (Jason's hot little sports car at the time — it had a small backseat accessible by suicide doors and the LATCH system, but I was still not sold on whether a rear-facing seat would really fit.) I couldn't find a definitive answer anywhere. Turns out, YES, the Graco Snugride DOES FIT into a Mazda RX-8. A rear-facing Britax Marathon? Yes, but only if your passenger doesn't mind sitting REALLY REALLY CLOSE to the glove compartment. Once the Britax can switch to front-facing, all is well again. Until, you know, your lease is up and your wife gets knocked up again and it's time for the full-on sensible family car.
Don't forget to visit Amalah's must-read weekly Pregnancy Calendar.