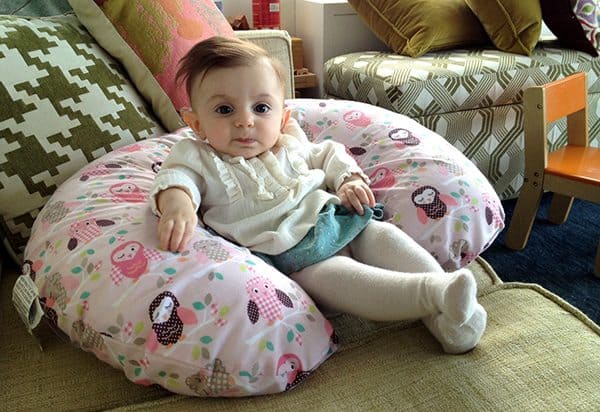 Baby
Nursing Pillows: The Yay to the Nay
Let's be honest: breastfeeding can be tough. Particularly, in the early weeks when it might be awkward and uncomfortable. But pretty soon, you get a routine down, your breasts don't hurt as much, and you figure out a method that is both comfortable for you and your baby.
One of the things that can aid in this process is a nursing pillow. There aren't a ton of nursing pillow options on the market and mothers seems to have diehard opinions about the one they have chosen for themselves.
I put three nursing pillows to the test to see which one is the right one for me.
1. Boppy Nursing Pillow
The most commonly used nursing pillow is the Boppy. It's a horseshoe shaped pillow that you put around your waist while sitting and lie your baby on so that he/she is at optimal distance from your breast. Obviously, you need much less arm strength if your baby is fully supported than if you have to hold him or her up to your breast yourself. It comes in many different patterns and colors, and the cover is removable so you can throw it in the wash.
The Boppy is simple and works great, with the cushion being just supportive and high enough to place the baby in the optimal breastfeeding position. Although I do wonder if it works for larger women. I am pretty average sized but in the days after my pregnancy, when I still had the baby weight to lose, I found the Boppy did not quite fit around my waist. Otherwise, it's very easy to use and we have it lying on the couch at all times because when I am not breastfeeding, it is the perfect place to use as a little seat for the baby.
As a sidenote, since my baby had a bad case of acid reflux, the Boppy has been the best place to sit her since her head is propped up but her legs are flat to the ground. In most bouncy seats, her legs angle up toward her tummy which makes her spit-up every time. But keep in mind, your baby has to be two-to-three months old before they are big enough to sit in the Boppy.
VERDICT: YAY
2. My Brest Friend Nursing Pillow
Yes, the name, My Brest Friend, is HORRIBLE. But, I've had friends who swear up and down that My Brest Friend is the only way to go. My Brest Friend is much more structured than the Boppy with a foam interior as opposed to just a regular soft pillow. Lying the baby on the My Brest Friend is like lying them on a soft contoured yet flat surface, which prevents the baby from rolling in or away while maintaining her latch. Since it wraps entirely around your body, it has both back support and arm rests. The other major difference is that My Brest Friend has an adjustable strap that hold the pillow in place around your waist. If you wanted, you could stand up and walk around and the pillow would walk around with you.
At first, I thought I liked My Brest Friend better than the Boppy. It stayed in place while the Boppy might shifts as you feed your baby. The height of the pillow is optimal for breastfeeding and your baby is definitely more supported. The back support and arm rests both add additional comfort. And I liked the little pocket on the side which I used to put her pacifier.
But ultimately, I got annoyed having to stand up and strap the pillow around me, particularly in the middle of the night when the baby was in a bassinet attached to my bed. It felt much more natural for me to drag the Boppy over to my already seated self. Not to mention, it saved some time if the baby was crying or really hungry, since I could pull the Boppy around me without putting the baby down and picking her up again. No so with My Brest Friend.
The other thing to consider is that My Brest Friend is a bit of an eyesore if you leave it lying around and cannot be used as a seat for the baby. However, if you feel you want more support while breastfeeding, it's probably the way to go over the Boppy. I didn't feel that level of support was necessary.
VERDICT: OKAY
3. Leachco Natural Boost Nursing Pillow
The Leachco Natural Boost Pillow is similar to the horseshoe shape of the Boppy but it has an extra stuffed appendage that shoots out of the top. When you breastfeed, you can push the appendage down on either side, depending on which breast you are feeding, so that your baby is supported in a diagonal position and more upright on your breast.
Initially, I thought this idea was genius, particularly since acid reflux babies are supposed to be fed in a more upright position. But the execution of the pillow is lacking. The pillow is so stuffed so high and fat, that it practically put the baby up by my chin. It was laughable. When I compared the pillow to the picture on the package, it was stuffed almost twice as much. I began to wonder if this pillow was meant for people with especially long torsos. I ended up finding it more comfortable to angle the appendage under my upper arm opposite of the breast my baby was feeding on, but it still was just way too big of a pillow to position the baby correctly.
If the Leachco boost nursing pillow had about half as much stuffing, it might be a real contender.
VERDICT: NAY
Overall, I think choosing between the Boppy and My Brest Friend is a personal decision. So my suggestion is, get the Boppy. If you feel you want more support that stays in place, buy My Brest Friend. No matter what pillow you ultimately breastfeed with, you're going to want the Boppy as a place to sit the baby.
********

If you're looking for ideas and recommendations for a baby registry, don't miss our Baby Registry Checklist.
Considering an online baby registry? We recommend our affiliate Amazon's Baby Registry, which offers free 90-day returns on baby store purchases. You can even add items from other websites onto to your baby registry.