Baby
My Favorite Children's Books for Young Ones
It's no secret that my favorite baby gift is a bundle of my favorite children's books.
I often find myself going to my son's bookshelves to select a few of my favorite book titles to buy for the new baby and parents. Sadly, this weekend I started packing up many of my son's children's books from his younger years. He tells me that at a playdate the other weekend, one of his friends was asking him why he still had "babyish books" from his younger years still on his shelves. I'm sure the boy's words weren't as teasing as Ry felt them to be, but, nevertheless it is time to make room on his shelves for the bigger-boy chapter books that he is currently reading.
Upon starting my "donate" and "storage" boxes, I realized that I could no longer run to my son's shelves to select my favorite children's book titles to gift. Yes, I have my previous order lists on Amazon, but they're a mish-mash as I'm pretty particular about which books I pick out to gift. So, I decided to chronicle our favorite children's books here so I could have a nice go-to list. I hope it helps you too when you're searching for children's books to gift to very young ones.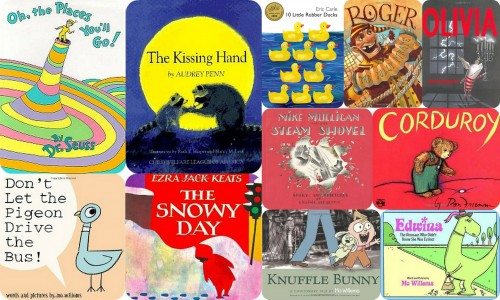 Here we go (in no particular order):
1: When You Were Small
2: Mike Mulligan and His Steam Shovel
3: Corduroy
4: The Little Engine That Could
5: Make Way for Ducklings
6: The Snowy Day
7: I Am Not Sleepy and I Will Not Go to Bed (Charlie and Lola)
8: I Will Never Not Ever Eat a Tomato (Charlie and Lola)
9: Don't Let the Pigeon Drive the Bus!
10: Pride & Prejudice (BabyLit Board Book)
11: Alice in Wonderland: A Colors Primer (BabyLit Board Book)
12: Brown Bear, Brown Bear, What Do You See? (Board Book)
13: Where You Came From
14: The Very Hungry Caterpillar (Board Book)
15: Where the Wild Things Are
16: Wave
17: Shadow
18: Flotsam
19: The Paper Bag Princess
20: Edwina, The Dinosaur Who Didn't Know She Was Extinct
21: Knuffle Bunny: A Cautionary Tale
22: Knuffle Bunny Free: An Unexpected Diversion (Knuffle Bunny Series)
23: Knuffle Bunny Too: A Case of Mistaken Identity
24: Olivia
25: Olivia Saves the Circus
26: Olivia Forms a Band
27: Olivia . . . and the Missing Toy
28: Olivia Helps with Christmas (Olivia Series)
29: Zen Shorts
30: Love You Forever
31: Freckleface Strawberry
32: Leonardo, the Terrible Monster
33: Good Night, Gorilla
34: Jamberry (board book)
35: Wizard of Oz Scanimation: 10 Classic Scenes from Over the Rainbow (Scanimation Books)
36: The Country Bunny and the Little Gold Shoes
37: Waddle!: A Scanimation Picture Book (Scanimation Picture Books)
38: It's Okay To Be Different
39: Miss Nelson Is Missing!
40: The Story of Ferdinand
41: Silly Sally
42: Pippi Longstocking
43: Blueberries for Sal
44: Is Your Mama a Llama?
45: Alice's Adventures in Wonderland: A Pop-up Adaptation
46: The Wonderful Wizard of Oz: A Commemorative Pop-up
47: No, David!
48: 10 Little Rubber Ducks
49: The Velveteen Rabbit: Or How Toys Became Real
50: The Nutcracker
51: The Kissing Hand
52: How I Became a Pirate
53: Roger, the Jolly Pirate
54: Papa, Please Get the Moon for Me (Board Book)
55: Caps for Sale
56: The Carrot Seed (Board Book)
57: Each Peach Pear Plum (Board Book)
58: The Runaway Bunny (Board Book)
59: Tikki Tikki Tembo
60: Alexander and the Terrible, Horrible, No Good, Very Bad Day
61: Olive, the Other Reindeer
62: Guess How Much I Love You (Board Book)
63: Every Friday
64: Harold and the Purple Crayon (Board Book)
65: The Giant Jam Sandwich
66: Oh, the Places You'll Go!
67: The Day the Babies Crawled Away
68: Fairy Tales
69: Martin's Big Words: The Life of Dr. Martin Luther King, Jr.
70: The Giving Tree
What are some of your favorite children's books for little ones?