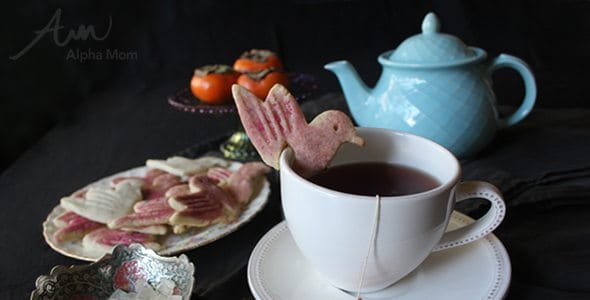 Party & Play
Tea Party Bird Cookies on a Cup for Spring!
There is a reason for a tea party in any season but this Spring we decided to bring some fun floral notes to a Bird-On-A-Cup cookie. We mixed cardamon and lavender into the cookie dough and then glazed it with a pink rosewater glaze. It's an unexpected twist that is sure to chase your winter blues away and make way for the new season!
Nothing goes better together than strong black tea and a light sugar cookie (decaffeinated  tea for children, of course!). Perch that bird cookie on the side of your cup and you have something to tweet about!
For this recipe you can use your favorite sugar cookie dough recipe. Just leave out the baking soda ingredient to prevent the dough rising, and add in lavender and cardamon. Blend your spices in with your dry ingredients. Refrigerate your dough to ensure nice sharp edges in your sugar cookie shapes.
We used our old favorite hummingbird cookie cutter but any bird cookie cutter will work for this recipe.We cut off the tail feathers and shortened the beak. Then we used a fork to create the feather marks and the blunt end of a toothpick to poke eyes (see below).
Then we cut out a slot from the bottom of the birds for later cup-perching.
We baked our cookies following the recipe and then glazed them with a rosewater and powdered sugar glaze. The glaze was made simply by combining confectioners sugar and rosewater teaspoon by teaspoon until it reached a syrupy consistency. Then we sprinkled the glaze while it was still wet with some pink sugar granules for extra prettiness.
Then we invited a few friends over and shared our sweet little birdie treats with our decaf tea!
More Ideas for Spring Fun: