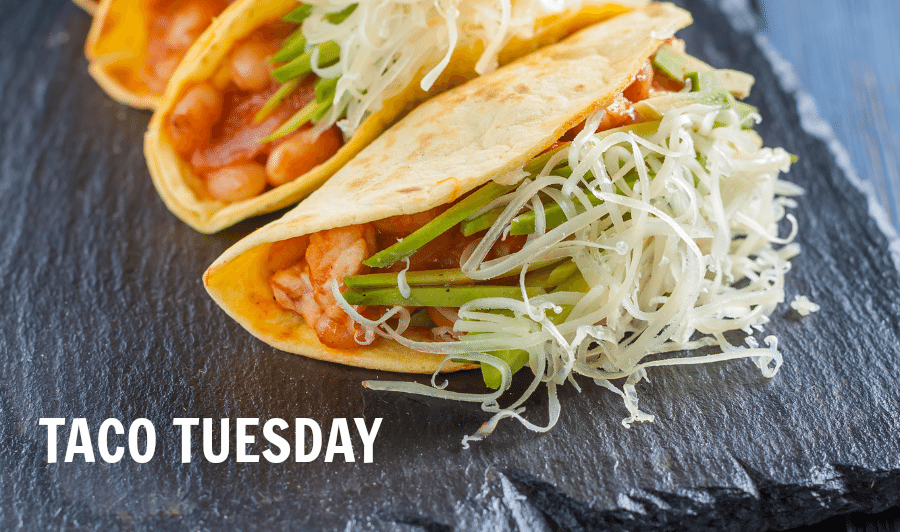 Food & Home
America, It's Time for Taco Tuesday
This is it, America. While I realize that not everyone is going to agree on politics, I think we can all agree on some basic fundamentals. Like: Tacos are delicious. And today is Taco Tuesday.
I don't know what tomorrow may bring, but I do know two things: 1) Everyone in my household who is eligible to vote, did so and 2) we're having tacos for dinner tonight.
Please vote today if you haven't already. And then come on back here for some taco inspiration, because I've got you covered if you're not interested in a standard ground-beef-and-spices taco, today.
Mexican Chicken Tacos (Crock Pot)
What my family will be eating tonight—and what I make any time I want a delicious dinner with about 2 minutes of work, total—is a variation on the basic Mexican Crockpot Chicken recipe you see everywhere online (I've linked to Mess For Less, but seriously, this recipe is everywhere). If you like Mexican flavors and chicken, this is the simplest recipe ever, open to variation, and the crock does all the work. The basic formula is chicken + salsa + black beans + corn. That's it, and you'd be hard-pressed to screw it up (it's very forgiving in terms of proportions). Once the chicken is cooked (and I usually put it in at breakfast time at let it go on Low all day), shred it up with a couple of forks and mix everything together. Your delicious mixture is now ready to loaded into taco shells or eaten in a bowl like chili. We top ours with a Mexican cheese blend and sour cream.
Variations: If I'm short on salsa, I'll use Rotel either instead of or in addition to the salsa. You could use different beans (I like black beans with this, but it won't hurt my feelings any of you prefer something different). Today's batch of mine also contains chopped roasted red peppers, because I bought some at Costco in a weak moment and now I have four pounds of roasted red peppers. I'm pretty sure it'll work. I've made it without corn when I had no corn and I've thrown in a frozen "fajita veggies" mixture (peppers/onions) when I've had that. Add whatever you like.
Lentil Tacos
The other taco recipe that's a staple in our house is this lentil recipe from Verbatim, which, admittedly, I made a lot more often before my vegetarian left for college. (Note to self: Stock up on lentils before winter break.) Even if you think you're not a big fan of lentils, this recipe is a cheap, filling, high-protein, and—I promise!—tasty winner. The result is similar in taste to a conventional ground beef taco.
Variations: I'm not going to lie to you; I've always prepared this one exactly as written. But I often eat it on a bed of spinach instead of in an actual taco. Does that count?
Brussels Sprouts Tacos
While we're talking vegetarian options, allow me to direct your attention to this amazing recipe from Gimme Some Oven. Now, two caveats with this one: First, I get that people have strong feels about Brussels sprouts. People seem to either love them or hate them (I've never met anyone who was ambivalent about them). I happen to love them, so I adore this recipe, but if you don't like Brussels sprouts I'm not going to lie and insist that this recipe will win you over. It won't. It's still Brussels sprouts. But also, if you don't like them, you are wrong. (I kid! Maybe!) Second, in the interest of full disclosure I will tell you that I would cheerfully eat the accompanying avocado sauce in this recipe if you spread it on cardboard or a pinecone, so that's part of my love affair, as well. If you love avocado and Brussels sprouts, you will love this recipe.
Variations: Again, black beans are great, but you could use a different kind. If you want to up the crispy factor and don't mind another cooking step, you could sub roasted chickpeas, instead (even more delicious). And if you're not a rabid fan of Brussels sprouts but you're trying to get there, you could do half sprouts and half some-other-roasted-vegetable-you-really-love. I won't tell anyone.
Roasted Vegetable Tacos
That brings us to the "lemme just tell you" vegetarian taco option, sans recipe, because it's just that easy: Grab a sheet pan, chop up your favorite vegetables to roast (for me, I'd do a mixture of sweet potatoes, portobello mushrooms, peppers, onions, broccoli, and maybe even some eggplant), coat them all in some olive oil/salt/pepper/favorite spices, and slap it in the oven at 425 for 20-30 minutes. Stir occasionally. Then put it in a taco shell with some black beans and eat it, maybe with some of that avocado sauce from the recipe above. Simple. Customizable. Delicious.
Variations: The whole thing is a variation. You do you. Experiment!
Creamy Poblano Tacos
My friend Heather posted a picture of this rajas recipe in progress, prompting a "What is this??" from me, because it looked creamy and delicious. It contains both heavy cream and creme fraiche, so not exactly a health food, but this is taco night, after all. This recipe is now on my "must make" list, because creamy poblano peppers are alright by me.
Variations: I don't know, yet. I'll have to report back.
Accidental Pork Tacos
Once upon a time I made Ree Drummond's spicy pork shoulder for a giant crowd and had a bunch of leftovers. This recipe was shared with me as great for sandwiches—which it is—but while working through leftovers we discovered that it is magic as taco filling, preferably with coleslaw and a pineapple salsa. Yummmmmm.
Variations: If you're not cooking for a billion, it's perfectly fine to both scale down the recipe (it calls for a 7 pound shoulder, which is a lot!) and/or use a different cut of pork. Also, this recipe adapts to the crock pot beautifully, making it an easy set-and-forget option for a busy day.
Blackened Shrimp Tacos
My son is a fool for shrimp. He will eat them cooked absolutely any way at all, but once I found Running to the Kitchen's shrimp tacos with cherry corn salsa recipe, I certainly knew what my favorite was. Granted, this is kind of a summery recipe, and you may find the salsa a little fussy if you want something simple, but every component of this one is gold. So many shrimp or fish taco recipes involve breading (which I can't eat) or frying (which is messy and not terribly healthy), so I appreciate the grilled simplicity here. And the beauty is that this is another recipe where the variations are nearly endless. So…
Variations: The "blackened shrimp" part of this recipe works just as well with any white fish you may wish to substitute (I like tilapia, because it's mild-tasting and relatively cheap, but I can't imagine a fish it wouldn't be delicious on) if you don't like shrimp or just want to use something else. I think the salsa is unique and amazing as is, but I'll also tell you that if you substitute mango for the cherries it's just as good. Pineapple works, too. And if you're not a fruit-salsa type, again, you do you.
Taco up, America!
It's your civic duty. Okay, not really, but it is delicious. If you have a favorite taco recipe, hit me up in the comments, please. I'm always looking for additions to my repertoire.
Top photo source: Deposit Photos/Seagull_l