Holidays
Snowflake Crowns!
I don't know about you but I have a serious snowflake production problem in my house. As in my daughter and her friends think they are snow princesses and no piece of white paper is safe from their snipping scissors. They make snowflakes constantly. Our windows are adorned, the tree is decorated, it's a virtual snow storm of paper.
It's actually kind of pretty (and I got a great deal on reams of inexpensive copy paper when our local office store went out of business) so I've done very little to hamper their proliferate paper flurries. In fact, you could say I got in on the act and joined them!
They were having so much fun with their paper wonderland, I decided they needed paper snowflake crowns to go with it!
I got out my supplies:

1. cereal boxes (one will do since you can make two crowns with one cereal box)
2. paper doilies leftover from last year's Valentine craft
3. a glue stick and scissors (exacto knife* optional)
4. white glue and glitter (optional)
Tutorial to make Snowflake Crowns:
First I de-assembled the cereal boxes so that I had a nice big piece of flat cardboard. I then cut an oval the size of their heads into the cardboard (An exacto knife is handy for this step*). I measured one of my daughter's hats for size and made this template but feel free to make your own or just eyeball it.
Next I cut around that oval in a rough two-to-three-inch bigger oval. Some of my sides extended onto the folded side of the cereal box but that didn't deter me. Floppy snowflake hats are cool with a 70's snow child vibe I told myself.  With the ring I had now created I notched it with big triangles so it looked like a radiating sun.
Then I cut my doilies into slices like you would a pie and glued them to the radiating triangles of the oval hat with a glue stick. I wasn't a perfectionist about my placement of the doilies, I just covered the hat with lacy white on both sides until it was all white and lacy. I removed the excess from within the hat circle by cutting it out with an exacto knife.
For the last step (that is completely optional) I let the girls glitter their snowflake crowns by painting them with white glue and sprinkling them with blue and white glitter. But be warned: if you are going to do this last step, you might want to protect your table and floor from glue and glitter. You don't want to be like me and spend the next hour and a half peeling glue off your table and glitter off your feet.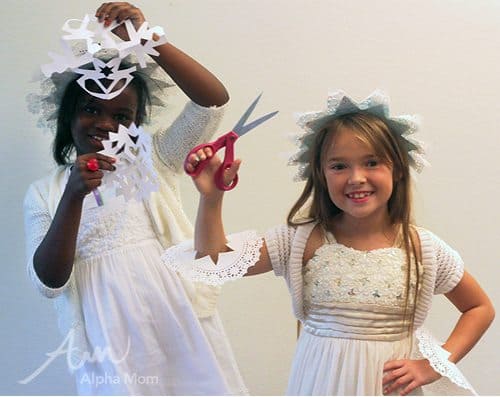 And that is how the Snowflake Princesses were born! They decided to make cuffs and shawls out of the remaining doilies and various snowflakes they had made.
Future fashion designers or their next album cover? You decide.
*please keep all sharp objects away from children and have a responsible adult on hand for cutting.