Holidays
Rice Krispy Turkeys You'll Gobble Up
By Marie LeBaron

These cute little turkeys are a great edible craft to make with the kids while the real turkey is roasting in the oven. Mix up a batch of Chocolate Rice Krispies and design them into turkey treats. Then save them for a fun table decoration, ready to eat for dessert.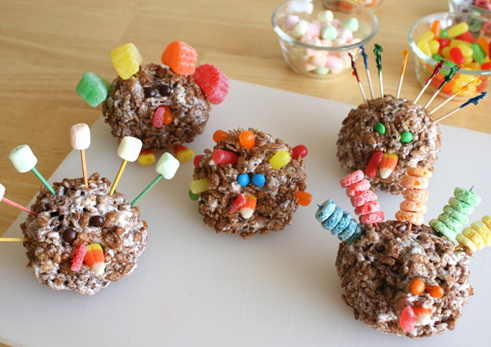 Supplies for Turkey Treats
Chocolate Rice Krispy Cereal
Marshmallows (using the colored marshmallows works best at keeping the chocolate crispy treats brown)
Toothpicks (colored and party ones with the fun flare on top)
Assorted Candy (Mike & Ikes, candy corn, gum drops, mini m&ms, fruit loop cereal, more marshmallows)
How to Make Turkey Treats
Mix up a batch of Rice Krispies using the Chocolate cereal, marshmallows, and butter. Let it cool for a few minutes. Then grease your hands with vegetable spray and form the Krispies into balls. Try to use the colored marshmallows for making these. If you use white marshmallows, just roll your balls into more chocolate cereal to make them more brown for the turkey bodies.


Using a utensil, make holes for the candy to be placed in the body. For the snood (the red thing on the turkey's beak) I cut a red Mike & Ike in half or you can cut a gum drop in half. We also liked candy corn for the beak, perfect size and color.


Now add your feathers. So many possibilities here. We used toothpicks, marshmallows, cereal, etc.
We added a cellophane bag and ribbon to them, so they would stay nice and soft for dessert. We also placed a name tag on each one for a fun place setting.


This activity should keep the kiddies busy for a little while. Make one for each person coming to dinner. Then have fun gobbling these fun Turkey Treats up after Thanksgiving Dinner.
Find More Thanksgiving Crafts on Alphamom.com