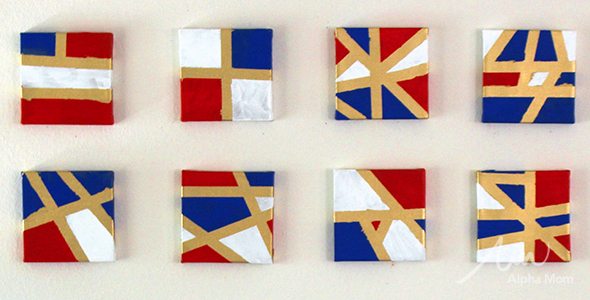 Holidays
Easy DIY Geometric Art for Patriotic Holidays!
Does your house need some sprucing up for summer? Maybe some patriotic decor would be timely for that BBQ party you've got planned for the July 4th weekend?  How about a fun art project that involves the whole family AND looks great? You might even find yourself leaving it up all year around!
What you'll need for this simple project:
4 or more gallery-style (not flat) square canvases in whatever size you like (Ours are 4×4 inches)
gold spray paint**
acrylic paint in patriotic colors*
painters tape
scissors
paintbrushes
Instructions:
First, you'll need to prep your canvases. Do this by spray-painting them outside or in a very well-ventilated area**.  Make sure to paint the sides of the canvases too.
When the spray paint is dry, use your painters tape to create geometric designs. Remember to wrap your tape all the way around the edges. If you plan on framing your art you can skip that step but what I love about the gallery-style canvases is that you don't need to frame them. They're ready to go as-is! They're also super light so even a push-pin can hold them up on a wall.
When all your tape is set, make sure to press it down firmly so that no air bubbles allow paint in later. Then set out three bowls with a squirt (or three) of your red, blue and white paint and three separate paintbrushes. If you're involving children in this craft, make sure to reiterate that there is to be no paint-mixing. You don't really want shades of pink, mauve or purple for this patriotic version of the craft and it's easy to do if you aren't careful with your brushes. Paint smoothly, making sure there are no clumps.
We could have been a little more careful with ours. AND we were a little too excited to pull our tape off so some of our paint peeled off with the tape. You can avoid our mistake by painting evenly and letting your paint dry completely.
Peeling the tape off was easily the most fun part of this art project. The kids loved it! The paintings look so smudged and messy and then ta-da! the tape comes off to reveal nice clean and sharp lines. It's a magic trick, every time.
After all the tape is peeled off, hang your art in your favorite grouping/arrangement and you've got yourself a festive home decor masterpiece!
*For this project you should opt for student- or professional- grade acrylic paint and not the washable kid-safe kind because it will be shinier and last longer. If you are more worried about smaller kids ingesting the paint than you are about longevity of your art, then opt for kid-safe paint.
**Always have a responsible adult use spray paint outside or in a very well-ventilated area.
More Patriotic Craft Ideas from Alpha Mom: