Holidays
Ahoy, Make Crafts for Talk Like a Pirate Day!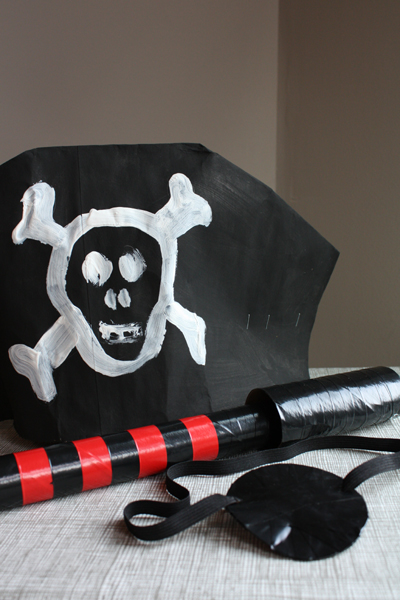 Shiver me timbers! There's actually a day called Talk Like a Pirate Day. Arrrr! Indeed, you can read more about it here. Celebrate with the kids on Saturday, September 19 with these quick crafts made from supplies likely to be found around the house. Make a hat, spy scope and an eye patch. We enjoyed making these and I really can't stop talking like a pirate. Arrrr! This pirate gear would also work well for a quick Halloween costume and the hats could be a simple craft for a pirate-themed birthday party if you just paint the bags beforehand. And the hats will fit adults too! Listen up mateys, here's how to make the booty.
How to Make the Pirate Hat
Supplies:
-brown paper bag
-scissors
-black & white paint
-paintbrush
-stapler
Follow these simple instructions and you'll be sailing the seven seas in no time:


I spy some landlubbers!
How to Make the Eye Patch
Supplies
-thin cardboard (cereal or cracker box)
-scissors
-black electrical tape
-elastic or string
Simply cut an eye patch shape from the cardboard and wrap it with the electrical tape, being careful not to stretch as you wrap or it will curve your eye patch. Poke a hole in either end and thread elastic or string through the holes, adjust to fit, and tie off the ends.
How to Make the Spy Scope
Supplies:
-2 or 3 cardboard tubes of various sizes (found on paper towels, toilet paper, aluminum foil, etc.)
-electrical tape in black and red
-glue
Wrap the electrical tape around the longer tube in a striped design. Stop at the point where you'll add your smaller end piece and leave that part cardboard (so the glue will adhere). Then wrap your smaller piece with the black electrical tape. Attach the smaller piece to the end with the glue and allow it to dry. Go spy some scallywags!