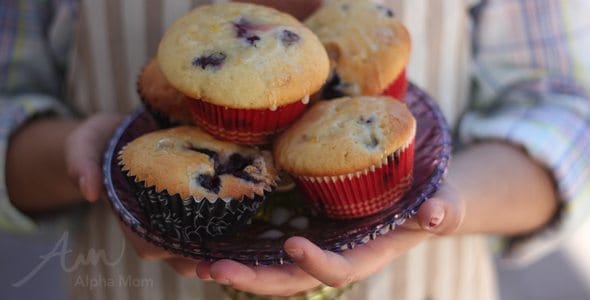 Food & Home
Yummy Greek Yogurt Blueberry Lemon Muffins!
It's lemon season here in Southern California so I've been baking every lemon treat in my arsenal. One of those treats is my great grandmother's lemon bread recipe. It's been my favorite for as long as I can remember and talked about in my family for generations. My great grandmother is long gone but her recipe is safely tucked into my antique recipe box and I hope to pass it on to my children (and you!) too.
To add variety and a twist to the lemon loaf recipe, I decided to replace the milk in the recipe with a cup of plain greek yogurt (it adds a little extra protein, too).  I also decided modify the recipe and make muffins instead of the bread loaf that my great grandmother always made because muffins are more portable and fit great into the hands of kids who are late for school and need a quick-get-out-the-door breakfast.  And, then I added blueberries too because they were on sale and they are just so delicious!
Ingredients for my twist on the Lemon Loaf
2 cups of sugar
1 1/2 sticks of melted butter (salted is fine)
4 eggs
1 cup of Greek Yogurt
3 cups of flour
4 tsp of baking powder
1 tsp salt
grated rind of 2 lemons
1 cup fresh blueberries
Ingredients for Lemon Glaze*
juice of 2 lemons
1 1/2 tbs powdered sugar
Recipe for Greek Yogurt Blueberry Lemon Muffins
Preheat oven to 350˙F.
Line muffin tins with muffin papers or lightly spray them with butter spray.
Zest two lemons (I did three because we are lemon rebels)
Mix sugar, butter, eggs, yogurt, flour, baking powder, salt and lemon zest together in a medium-sized bowl.
Gently fold in blueberries.
Pour batter into muffin tins.
Bake for 30 minutes or until golden brown on top and a a toothpick comes out clean when you poke it into a muffin.
While you are letting your muffins cool, make the glaze.
Directions for making our lemon glaze:
Combine the juice of two lemons and sugar.
*Our glaze came out a bit runny so feel free to up the sugar measurement if you don't want it soaking into the muffin bread completely. We also poured our glaze into a squeeze bottle for more fun and less mess.
Drizzle the glaze onto the muffins and then set aside to let it set.
Enjoy!