Food & Home
How to Make Tacos (Recipes Kids Should Know How to Make Before Leaving Home)
Tacos are our family's favorite go-to dinner. As a cook, I love how easy and flexible they are and that I can pretty much use whatever ingredients we happen to have on hand. I also love making tacos because there are lots of things kids can help with…and it's a meal older kids can even make on their own. Once you know how to pull together tacos for dinner, you will use that skill your entire life.  That's why we think it's a dish that kids should know how to make before they leave home.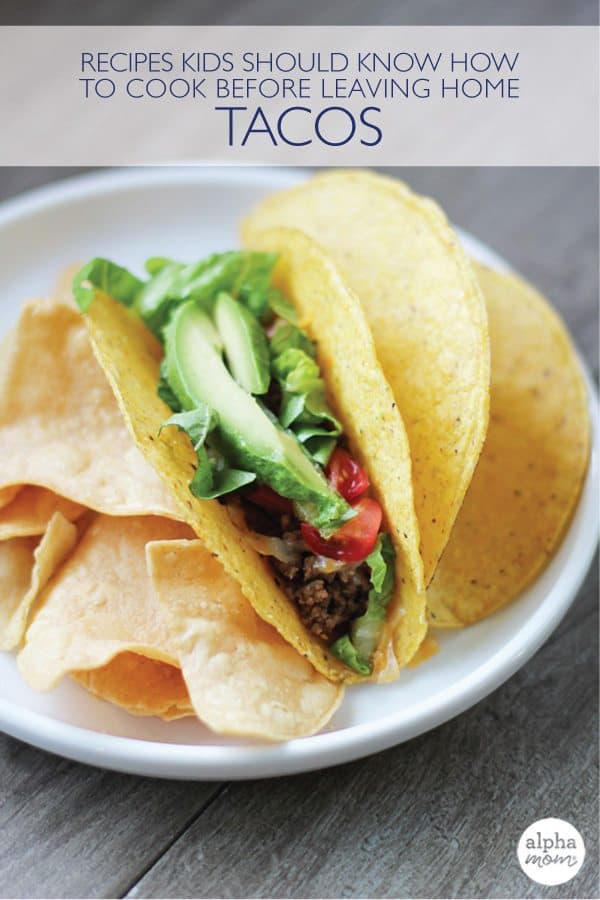 When thinking about how to make tacos, these are the three main elements you need:
The Shell: Tacos can be made with hard or soft shells. Hard shells are made from corn, but soft shells can either be flour or corn. When our family makes hard shell tacos, we like to follow the instructions on the package to heat them up before using. For soft tacos, we always heat the tortillas in a frying pan on the stove. We especially love buying uncooked tortillas, which you can normally find in the refrigerator section of the grocery store.
Protein: Tacos can be vegetarian or you can use meat. For vegetarian, canned whole pinto or black beans, or refried beans work well. For meat, grilled or shredded chicken (click here to learn how to cook chicken on the stovetop), grilled steak, pork carnitas and ground beef taco meat are all delicious. If you like shredded chicken in your tacos, one tasty trick is to sprinkle your chicken with taco seasoning bought from the grocery store before serving. Taco seasoning packets also come in handy for ground beef taco meat, or you can make your beef taco meat from scratch using my sister-in-law's amazingly delicious recipe.
Toppings: Topping options are endless! Our family favorites include chopped tomatoes, lettuce, sliced avocado, salsa, hot sauce, sour cream and cheese. Sometimes we even sauté sliced bell peppers and onions over medium heat on the stove with a bit of cooking oil, salt and pepper to serve as a topping.
Remember, tacos are fun to make. Get creative and don't stress about the details. The recipe below is for basic chicken or ground beef tacos.
How to Make Tacos
Print
Ground Beef or Chicken Tacos
The recipe below is for making basic ground beef or chicken tacos using a taco seasoning packet from the grocery store. Measurements are approximate!
Author:
Prep Time:

15 minutes

Cook Time:

15 minutes

Total Time:

30 minutes

Yield:

6

servings

1

x
1/2

 taco shells (hard corn, soft flour or soft corn)

1

pound ground beef or cooked chicken (about

2

boneless, skinless chicken breasts)

1

 taco seasoning packet

3/4 cup

 water (if using ground beef; water measurement may be different for your taco seasoning packet – be sure to read the instructions on the back)

1

 tomato, chopped

2

 handfuls chopped lettuce

2

 sliced avocado

1 cup

 shredded cheese

1/2 cup

 salsa

1/2 cup

 sour cream
Instructions
If using chicken: Cook 1 pound of chicken (you can follow our instructions for sauteed chicken breasts here on Alpha Mom). Cut the cooked chicken into bite-sized pieces, place in a bowl and sprinkle evenly with taco seasoning until all the chicken pieces are generously coated. You will use anywhere from half of the packet to the entire packet, depending on how flavorful you want the meat. Add 1 tablespoons hot water and stir well. I like to heat the chicken in the microwave for 30-60 seconds after mixing if the chicken is no longer hot.
If using ground beef: cook ground beef in a large skillet on the stove over medium heat, until ground beef is brown all the way through, stirring and breaking the meat up as it cooks. Carefully push all the meat to one side of the pan and then tip the pan up so that the meat side of the pan is raised. Once all the fat has drained down, use a large wad of paper towels to carefully soak up the grease. Place the paper towels on a plate and let the grease cool before throwing the paper towels in the garbage. Follow the taco seasoning packet instructions, adding the measured water and taco seasoning to the meat. Stir well and cook according to package instructions.
Follow package instructions for heating hard taco shells. If your soft taco shells are already cooked, you can heat them on the stove in a frying pan over medium heat, using a pancake flipper to flip the tortilla. Cook until warmed up, about 30 seconds per side. If your soft taco shells are uncooked, follow package instructions for cooking the tortillas on the stove.
Serve the meat in the taco shells and add whatever toppings you like!
Find more Meals Kids Should Know How To Make Before They Leave Home here.