Food & Home
How to Make Tacos (Recipes Kids Should Know How to Make Before Leaving Home)
Tacos are our family's favorite go-to dinner. As a cook, I love how easy and flexible they are and that I can pretty much use whatever ingredients we happen to have on hand. I also love making tacos because there are lots of things kids can help with…and it's a meal older kids can even make on their own. Once you know how to pull together tacos for dinner, you will use that skill your entire life.  That's why we think it's a dish that kids should know how to make before they leave home.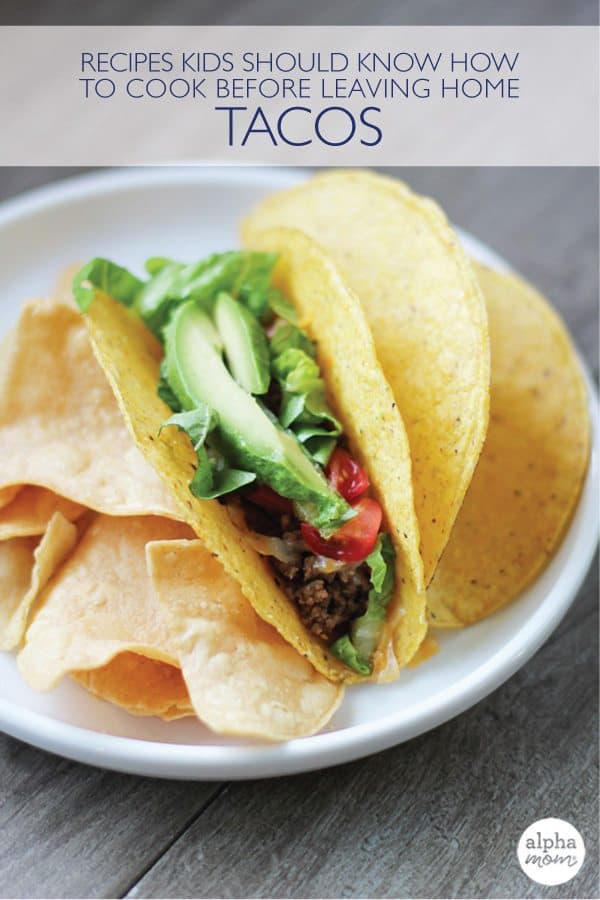 When thinking about how to make tacos, these are the three main elements you need:
The Shell: Tacos can be made with hard or soft shells. Hard shells are made from corn, but soft shells can either be flour or corn. When our family makes hard shell tacos, we like to follow the instructions on the package to heat them up before using. For soft tacos, we always heat the tortillas in a frying pan on the stove. We especially love buying uncooked tortillas, which you can normally find in the refrigerator section of the grocery store.
Protein: Tacos can be vegetarian or you can use meat. For vegetarian, canned whole pinto or black beans, or refried beans work well. For meat, grilled or shredded chicken (click here to learn how to cook chicken on the stovetop), grilled steak, pork carnitas and ground beef taco meat are all delicious. If you like shredded chicken in your tacos, one tasty trick is to sprinkle your chicken with taco seasoning bought from the grocery store before serving. Taco seasoning packets also come in handy for ground beef taco meat, or you can make your beef taco meat from scratch using my sister-in-law's amazingly delicious recipe.
Toppings: Topping options are endless! Our family favorites include chopped tomatoes, lettuce, sliced avocado, salsa, hot sauce, sour cream and cheese. Sometimes we even sauté sliced bell peppers and onions over medium heat on the stove with a bit of cooking oil, salt and pepper to serve as a topping.
Remember, tacos are fun to make. Get creative and don't stress about the details. The recipe below is for basic chicken or ground beef tacos.
Find more Meals Kids Should Know How To Make Before They Leave Home here.
Published September 29, 2017.
Last updated September 29, 2017.