Food & Home
Citrus Sweet Potato Pinwheels for the Lunchbox (Cooking For & With Kids)
Thanks everyone, for the warm squishy welcome to the world of recipe blogging! My son and I are having so much fun already as we test-kitchen a bunch of new and old recipes together. (Since I'm historically more of a "just toss stuff together and adjust as you go" sort of cook, I'm aware that telling y'all to just use an "eyeball's worth" of something and a "medium-ish handful" of something else isn't going to net you the best results.)
Anyway! Today isn't really a full recipe post day, but as hinted at, I wanted to share the THIRD way I get mileage from a batch of the Citrus Mashed Sweet Potatoes. And that's in my kids' lunchboxes.
My 7-year-old loves these potatoes so much that he began requesting them in his lunch. So I would microwave a small serving in the morning, transfer to a metal thermos and call it a lunch. But that's really lacking as an entree in and of itself, and my other two kids declared it boring and would only eat a few bites before moving on snacks and sides.
I achieved better results when I mixed some crunchy seeds in for texture and protein — unsalted pumpkin and sunflower seeds were a hit. I also tried adding leftover black beans, but in the end, the thermoses of mash were never going to get the same reaction as sunbutter & jelly sandwich number four thousand and twelve (all our schools are nut-free).
And that's fine! But ugh, the lack of variety really starts to wear on me. And from experience I know that it is the best way to make a picky eater even pickier.
I experimented with mashed sweet potato sandwiches, but the bread would become a soggy, unappealing mess by lunchtime and NO, I am NOT messing around with plastic wrap or telling my children to assemble a fresh sandwich themselves. Two of them would eat the plain bread with great joy and the other one would take forever and make a huge mess and the lunch monitors would probably send back a booby-trapped lunchbox as revenge.
The probably obvious-in-hindsight solution: Citrus Sweet Potato Pinwheels!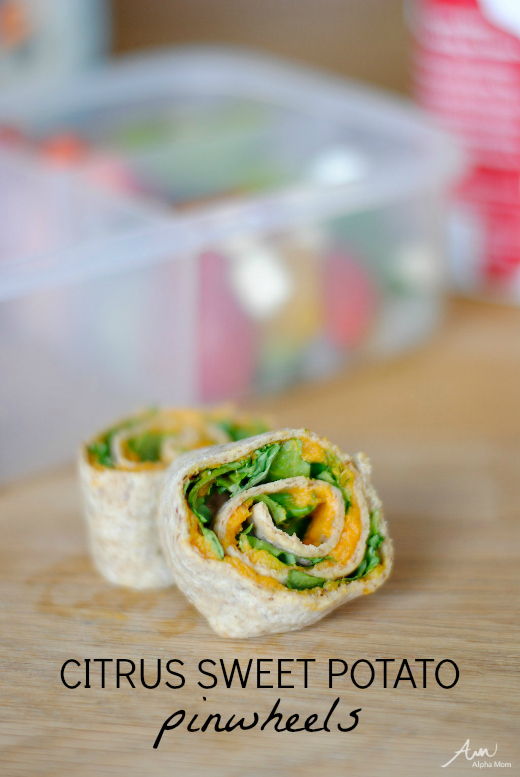 I use either whole-grain tortillas or lavash bread — whatever my local grocery store has that offers the most fiber or other "good" adds like flax or oat bran. (I check ingredients carefully on tortillas to avoid ingredients partially hydrogenated oils, though.) They're super easy, fun to eat, and I can easily turn a Tupperware full of mashed sweet potatoes into a more "complete" meal for each kid, with healthy carbs and protein.
The ones photographed here are for my middle son, Ezra, who loves them with a smattering of baby arugula or spinach. (I KNOW!) The other two boys prefer them rolled up with the pumpkin or sunflower seeds. Cooked black beans work too (try not to smush them), as does leftover chicken, shredded pork, rice, and neutral-tasting lunch meats. Basically if something will conceivably pair with the taste of orange juice and sweet potatoes and lie flat enough in a wrap, it'll work.
Citrus Sweet Potato Pinwheels
1 batch leftover Citrus Mashed Sweet Potatoes (click through for the recipe)
Tortilla or lavash bread of your choice ("taco size" makes about two small lunchbox servings)
Literally whatever else you want! (See above paragraph for ideas)
Spread a thin layer of citrus sweet potatoes all over the bread — you can heat up in the microwave or serve cold. (Don't use too much or it'll ooze out and make a mess.)
Top with leftover meats or salad or nuts or seeds or dried fruit. Gently roll up, then slice into finger-food/sushi-roll sized pinwheels. The sweet potatoes should "seal" the ends so there's usually no need for a toothpick. (GOOD, because my kids would probably try to eat it.)  Arrange in a plastic container or bento.
Can definitely be made the night before without fear of soggy bread.
Photos by Jen Tilley