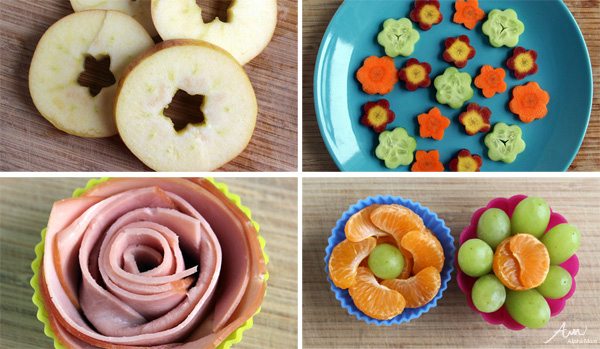 Food & Home
4 Flowery Ideas for Kids' Lunches
Celebrate spring with four fun, flowery foods kids will love. These are perfect for a spring bento box lunch, or kids can eat them at breakfast or snack time.
Flower Apples
Cut an apple into large rounds, then remove the core from each slice with a small flower-shaped cutter.
If you serve these immediately they'll look their very best, but it's not difficult to pack them in a lunch box either. Sprinkle each slice with a little Fruit Fresh powder or dip them into a bowl of water with a little lemon juice squeezed into it to prevent browning, then seal them into an air-tight container.
Serving Ideas: Bump up the protein by sandwiching a smear of peanut or sunflower seed butter between two of the apple slices. Delectable!
Veggie Dippers
Cut slices of cucumbers, large carrots (both shown above), bell peppers, jicama or radishes.
Use small cutters to cut each slice into a flower shape. Bonus: since you are cutting the outside of the vegetables off, you can save a little time and skip peeling them.
Serving Ideas: Serve the veggie flowers with hummus or ranch dip or sprinkle them on a green salad or mix them into a pasta salad to make it extra pretty.
Ham Rose
Two make a ham rose, you'll need one or two slices of deli ham — depending on the size of the slices you are using. Cut the ham into strips about 1 inch wide.
Wrap a strip of ham around the inside edge of a silicone baking cup. Add more ham strips, one at a time, taking care to overlap the spots where the ends meet up. Work your way toward the center one layer at a time. As the space in the middle gets smaller it can be difficult to fit the long strips in, so cut one in half and use those smaller pieces. When the hole in the middle of the cup is about an inch wide, roll a strip into a spiral to fill the remaining space.
Serving Ideas: Tuck your ham rose into a bento box for lunch, serve it with a scrambled egg at breakfast, or cut a few more flowers from cheese slices and eat them with crackers.
Fruit Cups
Flower cups are a fast way to make a lunch a little cuter and they might just entice your child to eat their fruit before they dig into their dessert. I've used clementine wedges and green grapes to make the ones shown here, but you can also use raspberries, blueberries, strawberries or small melon balls.
Begin by putting a bit of fruit in the bottom of a silicon baking cup. There's no need to be fussy with this part — you're just filling the space a bit.
Next, arrange a circle of fruit neatly around the edge of the cup. This is the time when you should be a little fussy.
Finally, add a bit of fruit in a contrasting color to the center of the cup. Voila! You have yourself an edible daisy!
More Lunch Box Ideas on Alphamom: