Activities
Visit TV Land Statues
Do you happen to live in one of the cities where an iconic TV character is memorialized in a landmark? Are you wondering what the heck we're talking about here?
TV Land, that fabulous television network that plays reruns of some our greatest American classic sitcoms and other TV classics has been placing statues throughout the United States honoring our favorite fictitious characters. Take a look at some great photographs we found:
The Mary Tyler Moore Statue


Photo by meetminneapolis

Photo by mhartford
We squealed when we saw this. Yes, we did. This statue is found in Minneapolis, Minnesota. You know, home to Mary.

The Andy Griffith Statue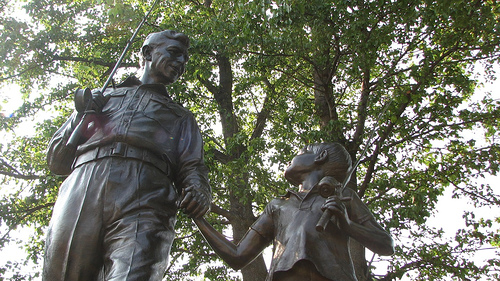 Photo by Mark_W
This statue pulls at our heart like no other. Andy and Opie goin' fishin' just warms us over. This sculpture can be found in Raleigh, North Carolina. Now get goin' if you live nearby and haven't visited yet.

The Ralph Kramden Statue
Photo by msnyc111
Photo by Point-Shoot-Edit
This fella is appropriately located outside the Port Authority Bus Terminal in New York City. What a great treat for visitors. He is the first of the TV Land statues and was unveiled in August of 2000.
Other TV Land sculptures include:
*
The Bob Newhart Statue in Chicago
*
The Elvis Statue in Honolulu
*
The Bewitched Statue in Salem, MA
*
The Fonzie Statue in Milwaukee
(the most recent unveiling)
We hope this economic downturn doesn't put the kibosh on the roll-out of new landmarks. But, if they do, who can blame them really?
TV Land, if you're listening, we'd love to see a Laura Ingalls from Little House on the Prairie, JJ from Good Times or an Addams Family statue next, just sayin'.
Dear readers, how about you? What statue would you like to see unveiled next?