Activities
Portland, OR: 50 Things to Do With Kids Before They Grow Up
By Asha Dornfest of Parent Hacks and Blythe Butler of The Blythe Spirit.
In our biased opinions, Portland is a family paradise. Kids here love the outdoors in its leafy summertime brilliance and its wintry, puddle-soaked glory. They can learn to do almost anything, from cooking vegetables grown in a neighborhood garden to swinging from a trapeze. And they do it all in a city that's criss-crossed by trains, streetcars, buses, and even an aerial tram. Let us show you around:
1. Spend an afternoon at the Oregon Museum of Science and Industry (OMSI), including a tour of the USS Blueback Naval submarine.
2. Splash in the "tidal" fountain at Jamison Square.
3. Drink a heavenly seasonal Burgerville milkshake, made with local huckleberries, caramel apples, or chocolatey hazelnuts.
4. Slide down the waterslide at the indoor Southwest Community Center pool.
5. Take a free children's gardening class at one of Portland's Community Gardens.
6. Eat elephant ears and dance to live music at the Portland Saturday Market.
7. Get a bird's-eye view from the Portland Aerial Tram.
8. Visit Packy at the Oregon Zoo.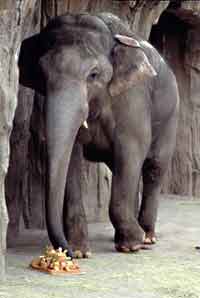 9. Play in the brook at the Crystal Springs Rhododendron Garden.
10. Watch the ducks at Laurelhurst Park.
11. Climb up Mount Tabor — an extinct volcano in the middle of a neighborhood with a playground at the top.
12. Eat a homemade Ruby Jewel ice cream-and-cookie sandwich at the Portland Farmers Market in the Portland State University park blocks.
13. Go to a free Oregon Symphony Neighborhood Concert.
14. Eat cotton candy, ride the bumper cars, and roller skate on the wooden rink at Oaks Park Amusement Park.
15. Eat a single Moonstruck Chocolate truffle.
16. Grab a slice of pizza and watch a $3 second-run movie at McMenamins Kennedy School.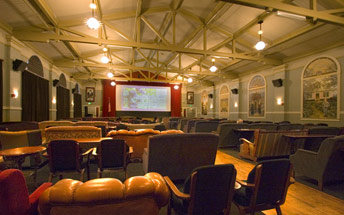 17. Take a downtown Portland fountain walk. A self-guided tour map is available at the Visitor Center in Pioneer Courthouse Square.
18. Hang out in the children's section or take in storytime at the Central Library.
19. Take a free streetcar ride in downtown. (update: no longer free; thank you to our commenter below!)
20. Watch a minor-league Beavers baseball or Timbers soccer game at Providence Park.
21. Take the MAX train to Washington Park.
22. Watch July 4th fireworks over the Willamette River.
23. Go to the Children's Museum.
24. Watch the Vaux Swifts' return to the Chapman School chimney every night in September.
25. Pick fresh berries and peaches on Sauvie Island. In the Fall, visit the pumpkin patches and corn mazes there.
26. Stake out a prime sidewalk viewing spot for the Rose Festival Grand Floral Parade.
27. Paint your own pottery at Mimosa Studios. Afterward, walk down Alberta Street and eat a lavender syrup crepe at Tour des Crepes (It's charmingly housed inside an old garage, and the crepe-cooking happens in an Airstream trailer out back). Tour des Crepes is now closed and replaced by an Iraqui food spot (thanks, JR!)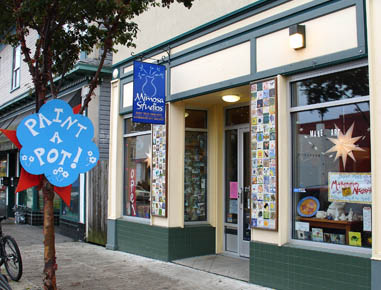 28. Pick up some gifts at Thinker Toys or Annie Bloom's Books in Multnomah Village. Walk around the corner to the candy shop for a sweet treat.
29. Take a hike in the middle of the city in 5,000-acre Forest Park.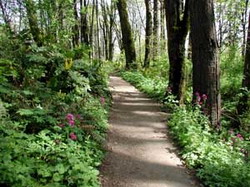 30. Take in the views of the city from Council Crest Park.
31. Walk along the elevated boardwalk in the Japanese Garden.
32. Relax with a cup of tea and some snacks in the pavilion at the Classical Chinese Garden.
33. Don your slicker and rain boots and walk through the puddles just about anywhere in Fall. The busy squirrels and the falling leaves will keep you distracted.
34. Take a day trip to see the midsummer snow on Mt. Hood.
35. Do some holiday shopping on NW 23rd Avenue, and enjoy the sparkly trees.
36. Eat a Grape Ape or a Dirt Doughnut at Voodoo Doughnut.
37. Keep an eye out for miniature plastic horses tied up to metal rings along neighborhood sidewalks.
38. Share a dozen Saint Cupcake mini cupcakes with friends.
39. Cheer the bands in the Rose Festival Junior Parade, or dress up and join it yourself.
40. Visit Mill Ends Park, the smallest park in the world according to the Guinness Book of World Records.
41. Bike along the Eastbank Esplanade.
42. Unleash your inner American Idol at Airplay Café's Open Tike events – open mikes for kids under 12. (update: Airplay Cafe is no longer in business.)
43. Pick up some bargain dress-up duds at the huge Catlin Gabel School Rummage sale, one of the largest rummage sales in the world. (update: no longer available)
44. Meander down Peacock Lane the last two weeks of December and see a streetful of spectacularly lit homes.
45. Take in a children's show at the Ladybug Theater.
46. Climb on the big wheels at Big Truck Day at Conestoga Rec Center.
47. Put on your best finery and enjoy Little Sippers afternoon tea at the Heathman Hotel.
48. Invite nine of your friends and schedule a backstage tour of the Rose Garden Arena (now the Moda Center) home of the Portland Trailblazers.
49. Swing from a trapeze in a DO JUMP! theatre class.
50. Walk along Tom McCall Waterfront Park and enjoy the view, rain or shine.
(This series was inspired by Mommy Poppins' 100 Things to Do with Your Kids in NY Before They Grow Up.)