Activities
Make a Terrarium With Your Kids
I miss my Christmas tree already. Do you? This is the time of the year to start building an indoor garden. Looky here what me and my son made.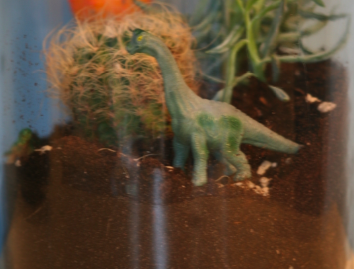 This was surprisingly easy and the payoff big, in terms of enjoyment and compliments.
What you need:
* glass container (I used Anchor Hocking)
* potting soil
* pea gravel, pebbles, or very coarse sand (for drainage)
* activated charcoal (clean the air)
* sphagnum moss (protect the drainage layer)
* succulents
* very cute dinosaur figurines (or any other toy)
For directions and other great links, you should read our post on How To Make A Terrarium With Kids.
Also, a great resource for gardening with kids is Sow and Grow, a book organized like a calendar with indoor-gardening and related activities, all linked to seasonal celebrations and changes.
Discover More Indoor Activities for Kids: