Activities
What to Expect at The Wizarding World of Harry Potter!
COVID-19 UPDATE: Universal Orlando is reopening on June 5, 2020. They ask that visitors follow guidelines from the CDC and health officials, and also follow Universal Orlando's policies, including the mandatory wearing of face masks. Full details on their policy here.  
My sons and I recently had the opportunity to visit The Wizarding World of Harry Potter (WWHP) at the two Universal Orlando Resort parks. My oldest, Sam (14) has read every "Harry Potter" book twice, my youngest, Jack (12) has seen every "Harry Potter" movie twice, and I (no age listed) have experienced a little bit of both the books and the movies, so we were ready to see it all and make some magic happen. Go, Muggles! UPDATE: The boys are now 16 and 18.
We had a truly fantastic time on our trip, but there is a lot to see and do at WWHP as well as the rest of the Universal Orlando Resort (that's a separate article that you can read here). If you're planning a visit of your own, allow me to help you navigate the two Universal Orlando Resort (UOR) parks–Islands of Adventure featuring Hogsmeade Village and Universal Studios Florida featuring Diagon Alley—as well as the various places to stay and the various ticket options, so you can use both your time and money wisely (and hotel, transportation and ticket information is in a separate post here).
What you're reading now is the What to Expect at The Wizarding World of Harry Potter! Guide, but there are two other complementary guides for your reference:
The reason I took my sons to see WWHP while they're still young teens is because I fear they'll soon be too old and "over it" to enjoy it. Right now they're at that perfect age where they know the stories well, and can appreciate all of the clever touches the park's designers have included to make JK Rowling's world come to life. (And they really, really made it come to life. I actually became teary at least a few times when I looked around the park and realized it was all there because of one writer. Wow.) (Don't make fun of me. I get emotions, too.)
Of course, when I say I'm worried my sons will soon be too old for WWHP, I'm judging them as their parent. Maybe your kids will still be willing to put on a cloak and use a wand well into their late teen years because we certainly saw a few of those witches and wizards walking around, too. You're the best at knowing when/if it's right for your son or daughter, but in my non-professional opinion, ages 8-15 are the sweet spot for WWHP at Universal.
I say eight as the youngest age I recommend going to WWHP because, while younger fans may have indeed read the books and seen the movies, the rides at WWHP and the rest of UOR are much faster and more intense than most of Disney World's. In fact, with the exception of one Harry Potter ride (Flight of the Hippogriff—height requirement 36 inches), the others may be too scary for those under the age of eight (and they also have height requirements ranging from 42 to 54 inches.) That said, if your kid isn't freaked out by giant spiders spitting water into her face while she's whipped around in the dark, godspeed, mama.
Now, let's talk about how many days will it take you to see all of WWHP. As mentioned, it's divided into the two separate parks—Hogsmeade is in Islands of Adventure and Diagon Alley is in Universal Studios Florida—so it's not as simple as one destination. You will need a Park-to-Park admission ticket to visit each one, most likely riding the Hogwart's Express from one to the other.
It is certainly possible to see all of WWHP at Universal Orlando in one day, however—it's not ideal. You may not get to go on the rides as many times as you'd like if it's crowded, you won't really have time to do some of the extra things like use the wand around the worlds, and there's a lot you may miss if you rush through. As mentioned earlier, WWHP has so many clever touches throughout that you'll want to take your time looking at everything. (The window displays are interactive and have a lot of secret features for kids to find.)
I recommend making your visit to WWHP two days for those reasons, but also so you'll have time to experience some of the other rides and attractions that UOR has to offer. After all, you're paying a decent amount for the park tickets, so you may as well take advantage of everything else there, too.
Here's how to make your Wizarding World of Harry Potter experience the best it can be:
HOGSMEADE
Located inside Universal's Islands of Adventure theme park is the original part of WWHP, Hogsmeade Village. Fans of Harry Potter know this is the only all-wizarding village in Britain, and it's where students of Hogwarts visit on the weekend. Kind of like their mall, I suppose, but there's no Justice For Girls. Hogsmeade Village is also where the Hogwart's Express train stops after departing Platform 9¾ from King's Cross station in London/Diagon Alley (then makes the journey back when you're ready to return.)
Now, first impressions when we got off the train and entered Hogsmeade? Wow. I mean, I'm well past the age of being impressed with theme parks, but seriously: this park is really well done and pretty darn magical. (And I am also not one who throws that word around loosely. Not even when I'm watching Magic Mike XXL.)
But just take a look at these pictures. If you ignore the selfie sticks and fanny packs all around you when you walk under the arch, you'll feel like you're entering another world.
Hogsmeade Rides & Attractions
1) HARRY POTTER AND THE FORBIDDEN JOURNEY
Harry Potter and the Forbidden Journey is located inside Hogwart's Castle, and there is a lot of cool stuff to keep you occupied while you walk up to the ride. So much so that you may even wish the line was longer. (Gasp!) Universal Orlando Resort did a fantastic job adding in a lot of special movie/book elements for guests to experience, like a real Sorting Hat, Dumbledore's office, the Defence Against the Dark Arts classroom, the Gryffindor common room, the Room of Requirement and even a gallery wall where the founders of Hogwart's "come alive" and talk to each other. It's so cool. (But thank goodness real pictures of our ancestors don't do that or we'd never get any sleep.)
The Forbidden Journey ride itself is a fast moving simulator where you basically soar around with your feet off the ground while various images and characters come at you. Oh, and you also zoom behind Harry during a Quidditch match which is really exhilarating. Whee! My 12 and 14 year old boys and I LOVED this ride, despite all evidence to the contrary. (We were not actually dead from dragon halitosis in this pic.)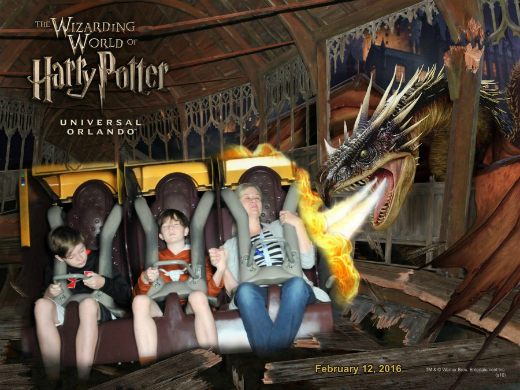 UPDATE: Don's miss Dark Arts at Hogwarts Castle. On select nights only, Dementors, Death Eaters and even Lord Voldemort appear on the walls of the castle in a music and light spectacular.
2) HAGRID'S MOTORBIKE
The red and blue Dragon roller coaster is no more, and replacing it is the new, exciting thrill ride Hagrid's Magical Creatures Motorbike Adventure. This "story coaster" takes you into the wilds of the Forbidden Forest beyond the grounds of Hogwarts castle, seated on either a motorcycle or its sidecar. You twist past towering trees, magical creatures and other surprises. And it's fast. You'll leave it breathless, trust me. The bad news: Because it's the newest ride, the wait can be almost two hours. And because it's outside, it is affected by weather and doesn't operate if there's rain. The good news: It's truly worth the wait. One of the best rides we've ever been on. Height requirement: 48″
3) FLIGHT OF THE HIPPOGRIFF
Though Flight of the Hippogroff is a roller coaster tailored to smaller Muggles, it's is still really fun and fast moving. Plus you pass by Hagrid's hut and follow his audible instructions as you learn the proper way to approach a Hippogriff, which has the head of a giant eagle and the body of a horse, but you probably knew that already, right? This was my younger 12-year old son Jack's favorite ride because it was "just thrilling enough and I totally didn't feel like puking." Yay!
Hogsmeade Dining
First, the bad news: There's only one restaurant in Hogsmeade. Second, the good news: It's really great! The Three Broomsticks restaurant is in the style of a rustic tavern, open for breakfast, lunch and dinner, and considered a "buffeteria" where you order, then pick up your food yourself. The menu is very British traditional with items like shepherd's pie, Cornish pasty, turkey legs and fresh vegetables. My kids had the fish 'n chips, which they really enjoyed. There's also a children's menu for kids in case Little Tommy needs his macaroni and cheese fix. For dessert, we had chocolate trifle, which is a rich pudding, I think. I was eating it too fast to categorize it.
Oh, and I also had a draft beer from the Hog's Head pub located in the rear of the restaurant. You know, just to keep my stamina up. (Out of the two WWHP restaurants, we preferred the Leaky Cauldron (more on that coming up), but you can't go wrong with this one, either.)
BUTTERBEER
If you know anything about Harry Potter, you know that the denizens of Hogwart's love their Butterbeer. Mmmm, Butterbeer. It's not actually alcoholic, though, so you can let your kids guzzle it like there's no tomorrow. No Butterbeer Bongs, though! That's too much!
There are two kinds of Butterbeer, regular and frozen. It basically tastes like butterscotch and Cream Soda, and is very, very, very, very sweet. I only took a few sips before I had to switch back to my BeerBeer.
Hogsmeade Shopping
There are five well-done themed gift shops in Hogsmeade. At Dervish and Banges and Filch's Emporium of Confiscated Goods, your little wizard or witch can shop for magical supplies and wizarding equipment including Spectrespecs, Omnioculars, The Monster Book of Monsters, Quidditch equipment, Hogwarts uniforms, and dragon-related merchandise. The Owl Post sells paper and pens, plus The Wizarding World of Harry Potter stamps that you can use to mail letters with a special Hogsmeade postmark from the park. There is also an Ollivander's Wand Shop here, as well as in Diagon Alley, which I discuss here.
Here are my boys "just browsing, jeez, Mom, we're NOT buying cloaks, okay?" in one of the shops. But if your child doesn't think they're too cool to get their Wizard or Witch on, they can choose hats, cloaks ($100) and various other items of clothing specific to the four houses of Hogwart's (Gryffindor, Slytherin serpent, Ravenclaw, and Hufflepuff—and I didn't even need to Google that.)
Now on to DIAGON ALLEY!
DIAGON ALLEY
The Diagon Alley area of WWHP, the newest of the two, is located in the Universal Studios Florida park, and to get to it, you first stroll through the streets of London. You then pass through the famous brick wall from the books to discover what looks like the area where Harry and his friends actually spend time looking for school supplies. Isn't this incredible?
That fella hanging up on the right is a 60-ft. Ukranian Ironbelly dragon, who does this every 15 minutes or so. Get a weenie and a really long stick, and lunch is served, friends!
Diagon Alley Rides & Attractions
1) HARRY POTTER AND THE ESCAPE FROM GRINGOTTS
Harry Potter and the Escape from Gringotts is actually the only ride in Diagon Alley, but it's so awesome, you'll want to experience it at least two or three times. Considered a "3-D thrill ride" the theme of this attraction is helping Harry, Ron and Hermione break into Gringotts bank. Again, Universal has done a fantastic job of including HP details to keep you entertained while waiting in line, like this wonderful bank foyer filled with goblins hard at work. (They were MUCH nicer to me than the women at my bank, but no free lollipops.)
On this ride, you encounter villains like Voldemort and Bellatrix. It's very fast moving, but considered a good pick for family members over 42″ high. We liked this one quite a bit. Maybe not as much as Forbidden Journey at Hogsmeade, but it's a tough choice.
2) DIAGON ALLEY: KINGS CROSS STATION
I don't know if Kings Cross Station should be classified as a ride, because it's actually transportation that takes you from Diagon Alley into Hogsmeade. (Meaning, you're moving from one park to the other and that requires a Park-to-Park admission ticket.)  But to experience it, you enter the train station, walk up the stairs, and magically pass through a solid brick wall between platforms 9 and 10. Don't believe me?
A Hogwarts Prefect then leads you to a passenger compartment for your trip through the British countryside, which is a well done video in the train's window. And I don't want to give too much away, but there are some surprise visitors both outside and inside the train that HP fans will love. My boys asked to ride this at least six times, and it was really fun every time.
3) DIAGON ALLEY MAGIC
There is magic all around Diagon Alley and Hogsmeade, but to make it, you need to first stop at Ollivander's Makers of Fine Wands (there's one in each part of WWHP) to get, yes, a wand. Watch the magical experience of a wand choosing a wizard before going into the shop to find yours. Here is my son Sam being chosen by his wand (only one kid per choosing session is picked to do this, so keep expectations low) (also, poor picture quality due to no flash allowed, but trust me, it was fun):
There are two kinds of wands to buy, regular and interactive, and many different styles of each. We opted for the interactive wands, which are a bit pricey at $50 because you can't use them at home, but the boys really enjoyed using them during our stay and can use them again if we ever return to WWHP. Basically, you look for gold medallion plates on the ground throughout WWHP, usually in front of fountains or storefront windows–the storefront windows are AMAZING. so be sure to spend some time just looking into a few for hidden cleverness–and follow the symbol on the medallion that shows you how to wave your wand (like in an S or M shape, e.g.). That then causes "magic" to happen, like things moving up and down or water spouting all over some nice blonde lady's hair grrrrrr.
Don't Miss: There is a side street in Diagon Alley called Knockturn Alley that has a few opportunities for magic, and it's very atmospheric for fans of the Dark Arts.
Diagon Alley Dining
There is only one restaurant in this part of the park, the Leaky Cauldron. Similar to The Three Broomsticks in Hogsmeade, this is a traditional British pub with offerings like cottage pie, fish and chips, bangers and mash, Scotch eggs, stew, and a children's menu. They also have Butterbeer and regular beer, plus a yummy dessert that was like thick vanilla pudding. We preferred this one to the Three Broomsticks because it was less chaotic on our visit, and your food is carried to the table by waitstaff, not yourself.
There is also a very popular ice cream parlor called Florean Fortescue's Ice-Cream Parlour.
Diagon Alley Shopping
There's a lot more shopping in this WWHP area, with seven stores including Weasleys' Wizard Wheezes (novelties and jokes), Borgin and Burkes (masks and skulls), Madam Malkin's Robes for All Occasions (robes) and Magical Menagerie (plush animals). There's also Shutterbutton's Photography Studio where guests can "purchase a moving image" of themselves. We didn't try that out, but it sounds intriguing.
We also loved the Gringotts Money Exchange bank that features a very cranky goblin who will answer questions you ask. For example, we asked him his name and he answered, "My name is Sir." Well, okay, then, SIR. Note that the staff won't necessarily TELL you to talk to the goblin, but be sure you do because he has answers waiting.
Don't Miss: Finally, as you're leaving Diagon Alley for the day, take a few minutes to chat with the Knight Bus Conductor and encounter the joking shrunken head hanging in the Knight Bus window. It's such a nice touch and shows how well-designed and executed all of WWHP really is. (I think they were talking about the Texas Longhorns' chances against Harry in a Quidditch game here, but I'm not sure.)
Now, go forth and experience the magic!
Thank you to Universal Orlando for hosting me and my family during our stay and visit; as you read, we had a fantastic time! All opinions are my own.