Activities
65 Things You Must Do & See at Disney World
Ah, Disney World! SO many things to do and places to see. Not enough time. Where do you start? Bah!
Lists! We're lists people at Alpha Mom. We love 'em and we love turning to others who are passionate and in-the-know. So, we called on our mom friends who are self-professed Disney World fans and the very knowledgeable moms of the Walt Disney World Moms Panel (they are not Disney employees and their opinions are their own). Our friends told us about their Must-Visit places and Secret spots at Disney World. The most popular choices wound up in our Top Picks Section. (We thank them all below!)
Please let us know in the comments section what you think!

Top Picks
1- The Three Mountains (Magic Kingdom): Space Mountain, Big Thunder Mountain Railroad and Splash Mountain are must-sees for adventure seekers. Hint: Ride Splash Mountain at Night; the view of Cinderella Castle is spectacular from the top of the mountain.
2- Magic Kingdom's Wishes Nighttime Spectacular. These aren't "just fireworks." These are FIREWORKS that will knock your socks off!
3- Go on the Kilimanjaro Safari (Animal Kingdom). You will feel like you just stepped into Africa as you board your safari vehicle into the Savannah. Hint: It's best experienced first thing in the morning as the animals seem to be a little more active at this time of day.
4- Twilight Zone Tower of Terror (Disney Hollywood Studios). For thrill seekers, they say it's the best ride. Also, the wait for this attraction is so full of detail some say they enjoy it more than the actual ride!
5- Toy Story Midway Mania (Disney's Hollywood Studios). How often does a mom get a chance to beat a kid at a video game? And the kid has fun anyway? This is the place to do it! This attraction is super popular, and has incredibly long lines (over 100 minutes wait within the park's first hour of opening) for good reason, it is a BLAST! This is definitely a family favorite.
6- Soarin' (Epcot) Words cannot describe the sensation of "flying" through the air! It's like an IMAX film but with a convex screen and you are lifted up and into the screen so it feels like you are on a hang glider "soarin'" over California.

Classics
7- Make sure to visit the classic Disney attraction Carousel of Progress (Magic Kingdom). Why? No waiting line, good for nursing moms who need a break but have other children that need occupying, nice and cool in the summer. BUT it's greatest feature is the history lesson it weaves through animatronics and was Disney's 1964 entry into the New York World's Fair and his favorite attraction.
8- The Haunted Mansion (Magic Kingdom) is a classic. "Is it cheesy? Yes! Is it scary? No! Is it absolutely fabulous! Yes!"
9- Pirates of the Caribbean (Magic Kingdom). There is Disney history steeped in this ride. Did you know that this was Walt's last creation at the park? And, that the original ride inspired the movie, not vice-versa?
10- It's A Small World (Magic Kingdom) is a classic ride for all ages.
11- A visit with your favorite Disney character (all over Disney World). There are character experiences throughout Disney World.  Look here first for an updated list and then plan accordingly.

More Musts
12- Living With The Land (Epcot) – This educational and entertaining boat ride takes you through an indoor greenhouse, where you can see and learn about alternate ways to grow crops, raise fish, and feed people in the harshest environments.
13- IllumiNations: Reflections of Earth's (Epcot) fireworks, laser and water show is an amazing way to end a day at the park.
14- Spaceship Earth (Epcot). This is an attraction where the more you ride it, the more amazing it seems!
15- The new Phineas and Ferb: Agent P's World Showcase Adventure (Epcot). Each mission sends you to a different country in Epcot to save the world. Use your F.O.N.E (a cell phone) to complete the mission.
16- Test Track (Epcot) at night. Again, there is just something special about being in the parks after dark.
17- Book at least one character meal. The food is always delicious but more importantly, it is a fantastic way to sit, relax and interact with the characters. Search for character meals here.
18- Tomorrowland Transit Authority (Magic Kingdom). This way-too-overlooked-ride through Tomorrowland rarely has a line, and is a perfect way to cool down, relax for a few minutes, and kill some time if you have Fast Passes in the area that you are waiting to use. It has significant "hidden" merit. For prospective Space Mountain "first timers", you can get a sneak peak of the ride through TTA, while safely riding at about 5-6 miles an hour. Hint: perfect place for little ones to take a nap while you ride around and around.
19- Mickey's PhilharMagic (Magic Kingdom). This 12-minute, 3D film is a treat for your eyes and ears. With songs from the most popular Disney movies, and characters everyone knows and loves, you follow Donald Duck on an incredible misadventure!
20- Be sure to enjoy a Pineapple Dole Whip (sold at the Dole stand in Magic Kingdom's Adventureland), a Mickey's Premuim bar, or a turkey leg. Classic Disney treats for the whole family to enjoy.
21- Enjoy the Spectromagic Nighttime Light Parade (Magic Kingdom) is breathtaking.
22- Don't miss a ride on the Jungle Cruise (Magic Kingdom).
23- Visit The Boneyard (Animal Kingdom). Let them slide down two-story slides and dig in sand (that's really made up of pebbles, so no dirty clothes!) for dinosaur bones.
24- Festival of the Lion King (Animal Kingdom) – A Broadway-esque 30 minute performance of the popular Lion King movie, with music and acrobatics. Great for all ages.
25- Watch Finding Nemo the Musical (Animal Kingdom). Amazingly talented actors not only sing their parts but do it while holding the large puppets–and sometimes from cables swinging wildly in the air!
26- Fantasmic! (Disney Hollywood Studios). It's a terrific show that includes lights and fireworks and characters and water (oh my!). It's a bit dark for real small kids as it features a battle between the "evil" Disney characters and the heroes, but it is so creative–showing movie clips against screens of water. Moms recommend the Fantasmic! Dining Package as guests who dine at select restaurants are given priority seating. This minimizes wait time and ensures that you will get to see this popular show. Note to parents with young children – this show may be too intense for little ones.
27- Ride the Rock 'n Roller Coaster (Disney Hollywood Studios). This coaster literally takes your breath away as you hop aboard your StretchLimo!
28- Disney Junior Live on Stage (Disney's Hollywood Studios)- for parents of preschoolers, seeing their faces at this show is so precious.
29- Stunt show Lights, Motors, Action! (Disney's Hollywood Studios). It's nice to have the chance to catch some shade on a potentially hot afternoon, but even if you're in the sun the stunt driving is incredible. It's worth the wait.
30- A walk around The World Showcase (at Epcot), sampling the snacks and drinks from each country.

Secret Discoveries
31- Make sure you find DiVine (Animal Kingdom). A "street" performer like no other, this elaborately costumed character blends in perfectly with the lush landscape of Animal Kingdom, and when you least suspect it, you might find one of her long, leafy branches resting on your shoulder; or you'll see her spring to life to chase a disrespectful teenager! You can find DiVine on the path between Asia and Africa.
32- Be sure to walk down the hidden pathways along The Tree of Life (Animal Kingdom). Most guests will pass these trails as they hurry to the next attraction, but these are some wonderful secluded areas to enjoy the peacefulness and beauty of the animals up close.
33- Tour of the Animal Kingdom Lodge (Animal Kingdom). They have the largest collection of African Art outside of a museum, few people know that you can have a guided tour.
34- Tom Sawyer Island (Magic Kingdom) is a great little hideaway and is NEVER crowded, full of shade and has tons of room for the kiddos to run around, explore and let of some steam.  Also, NO gift shops there.
35- The Kiss Goodnight (Magic Kingdom). If you're not too exhausted at the end of the evening in the Magic Kingdom, stick around. The Cinderella Castle will change into a rainbow of colors set to When You Wish Upon a Star as white lights twinkle on the surrounding trees. It's a truly beautiful end to a magical day.
36- Visit the Main Street Bakery (Magic Kingdom). The delicious aroma of baking cookies is rumored to be wafted out through the air conditioning vents to draw in hungry visitors – it works!
37- Harmony Barber Shop on Main Street (Magic Kingdom). How could it be a secret, right there on Main Street? Well, hidden back in the corner, this little shop is open daily from 9 – 5, and not only do they give a good haircut, but you can come away with your hair pixie dust sprinkled and any color in the rainbow (great for the dark rides!) But the best secret from this Barber Shop is Baby's First Haircut. They give you a certificate to commemorate the date, a lock of baby's hair for you to cherish, and a pair of pint sized mouse ears with the words "First Haircut" embroidered on the back!
38- Watch the Flag Retreat Ceremony (Magic Kingdom) which is held across from Town Hall everyday at 5:00 pm. This short ceremony is a moving tribute to our country and those that have fought for her freedom. If you are a retired military man or woman, be sure to stop in City Hall early in the day and ask to be a part of this ceremony.
39- Walkway From Tomorrowland To Toontown Fair (Magic Kindgom). This is definitely the "Path" less taken for guests on their way to Toontown! This lovely path winds along next to the train tracks. Well-shaded and quiet, it is a nice way to stroll through the Magic Kingdom.
40- Play Area by Splash Mountain (Magic Kingdom). While older siblings are singing Zip-A-Dee-Do-Dah on Splash Mountain, the little ones can climb and slide in this shaded play zone just for the little mouseketeers!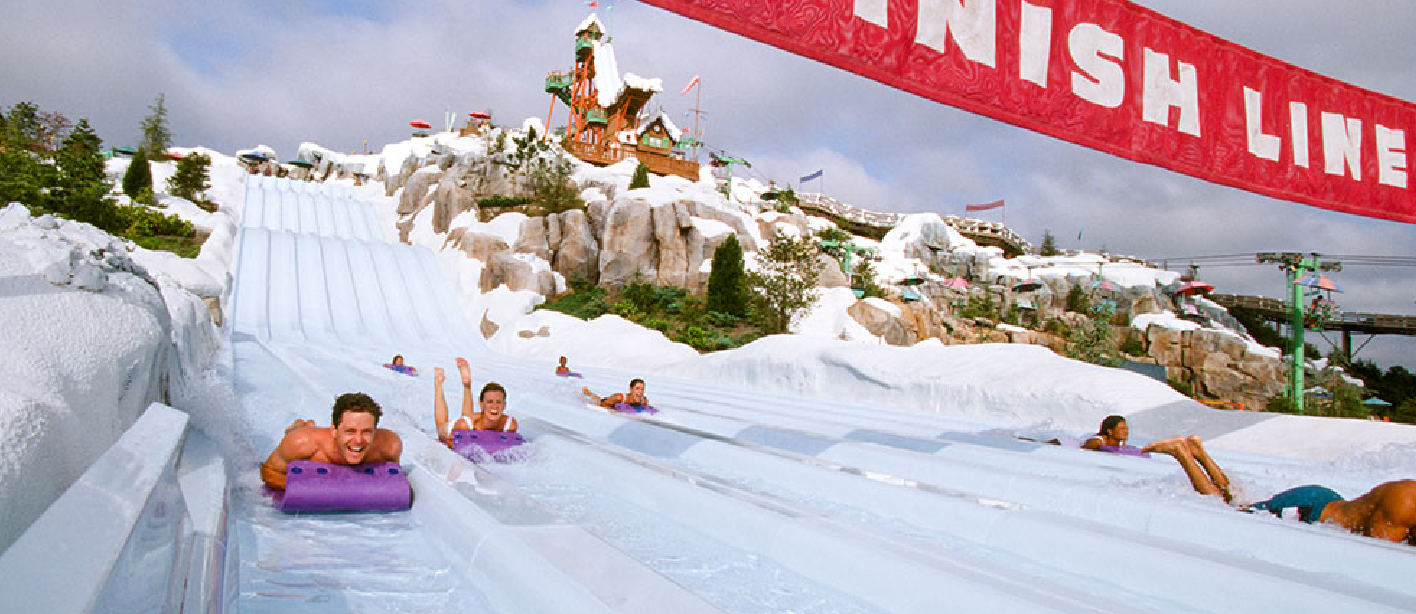 41- The Blizzard Beach water park. At the very back of Blizzard Beach's themed area for small children (under 48 inches), "Tikes Peak" are a few completely shaded wooden "cabanas" each with a private picnic table and several lounge chairs. (Prime real estate for families with small children. Look to the top left of the left-most slide and you'll see them. Make a bee-line for these cabanas at rope drop, and you'll have a secluded hiding spot for your family all day.)
42- Visit Miyuki (Epcot), the candy artist in Japan. If you arrive prior to her show and stand up front you may have the opportunity to suggest an animal design for her to sculpt out of Japanese rice candy. You get to keep this amazing design as a keepsake-it will look way too incredible to eat! (Miyuki no longer performs at Epcot.  Sad panda.)
43- [Redacted]
44- Visit Goofy's Candy Company in Downtown Disney – create your own treat.
45- Design your own mouse ears (Magic Kingdom) at The Chapeau.
46- Find the talking drinking fountains and trash cans (Epcot). Beware – once your child finds one, they will want to drink from every water fountain in every park! There are talking drinking fountains located in Future World at Epcot. One is located right next to Mouse Gear. Epcot is also home of the talking trash can. One can be found near the Electric Umbrella restaurant. There is also one in Tomorrowland in the Magic Kingdom. (The talking trash can is no longer found at Disney World as of 2014.  Sad Panda.)
47- Even though the Around the World on a Segway tour (Epcot) is no longer available,  you and the older kids (16+),  can explore Disney's Fort Wilderness Resort on a Segway X2.
48- Club Cool (Epcot) is a great place to cool off and quench your thirst. It's hosted by Coca-Cola, and you can sample (for free) Coke products from around the world. Try Italy's, Beverly… only IF YOU DARE!
49- Find the Miniature Train and Village (Epcot). Just outside the Germany pavilion is a miniature train, and many people walk right on by! Kids find it fascinating to stand and watch, and if you visit Disney often enough, you will come to see that the details in the village change according to the seasons and the holidays!
50- Muppet Vision 3D (Disney Hollywood Studios) a film experience featuring your most favorite Muppets. If you check under the mat to the right of the entrance door, an actual key can be found. Once again, Disney's attention to detail is amazing!
51- Visit the Magic of Disney Animation (Disney Hollywood Studios). This informative and fun class offers guests a brief look into the art of animation, followed by an opportunity to learn how to draw a Disney character. Guests sit at actual drawing board and are walked through drawing a Disney pal by an animator. The great thing is you can take these works of art home to keep. (No longer available.  Sad Panda.)
52- Spend a night at Fort Wilderness….Many folks don't realize that Disney sports a campground! Best of all, many activities at Fort Wilderness are free. Visit the horse barn where the horses from Main Street are stabled or enjoy our family's favorite: the Campfire Sing-a-long with Chip 'n' Dale! Bring your own bag of marshmallows (or you can buy them at an affordable price on site). The 25-minute sing-a-long, led by you guessed it, a singing cowboy, has everyone clapping along. End the evening with the outdoor Disney movie or take the 10-minute stroll down to the fort's pier to enjoy the Magic Kingdom fireworks.
53- Hoop Dee Doo (The Campsites at Disney's Fort Wilderness Resort) Musical Revue is an old-fashioned dinner show.
54- Ride the front of the monorail (a favorite place to do this is at the TTC enroute to Epcot).
55- Visit the Pop Century Resort Food Court for Tye Dye Cheesecake (Pop Century Resort). And, if your timing is right, you can work it off in the lobby by dancing to "The Hustle" with the cast members!
56- The Electric Water Pageant is held nightly (weather permitting) on the Seven Seas Lagoon and Bay Lake typically between 8:30-9:30pm. The electric barges travel from one resort to another and can be viewed from the Polynesian, Contemporary, Grand Floridian and Fort Wilderness Marina. The times of the shows differs from one resort to another so be sure to ask at the resort. Set in time to music this brief show is a hidden treat that most guests never see.
57- Get your kids to start trading Disney pins. It's lots of fun, a great way to meet Disney cast members and other kids and a very small souvenir to take home. Visit Disney's Pin Traders in Downtown Disney where Disney Cast Members can show you the tools of the trade to keep you going.
58- Visit Beaches n Cream at the Beach Club Resort for a family treat. The kitchen sink is a sundae built for the masses with over twelve ice cream flavors, every topping in the house and two cans of whip cream, it is plenty or everyone to share but the real treat here is the experience. The sundae is served in a kitchen sink, the kids will LOVE this!
59- The Little Sofas In The Lobby Of The Grand Floridian. Whether or not you are staying at the Grand Floridian, kids love to stop there to take a rest on these kid-sized sofas where Disney cartoons are playing on the TV. A great place for some down time!

60- The Walkway From The Grand Floridian To The Polynesian. Regardless of how busy it is in the parks, this is almost always a deserted path! You pass the charming Wedding Chapel, walk along the sandy beach, and see the Monorail overhead. Time it right in the evening and you'll see the fireworks from the Magic Kingdom. You will feel like you have the entire Disney Property to yourself!
61- Opening ceremonies at each of the parks – get there early to see songs, dancing, and characters.
62- Gospel Brunch at the House of Blues (Downtown Disney) on Sundays. Great food and wonderful music.

Seasonal Musts
63- Osborne Family Spectacle of Dancing Lights & Candlelight Processional (Disney Hollywood Studios) is a holiday special. (No longer available after the 2015 season.  Sad Panda.)
64- The International Flower and Garden Festival takes place annually in the Spring at Epcot. This year's display of Disney topiaries, exotic butterflies and over 30 million blooms is truly breathtaking.
65- Annual Food and Wine Festival at Epcot that takes place in the Autumn. During this very popular event, visitors can sample foods and wine from around the world in booths set up around the International Gateway at the park. A number of featured culinary events, including diners with top chefs from around the world. This is a very "grown up" way to experience Epcot.
Thank you to all the moms who contributed to this piece: Jodi Grundig of Mom's Favorite Stuff, Amie of Mamma Loves, Renee at Cutie Booty Cakes, Diane of Down on the Farm, Margaret of Fries Family Five, Jackie of One Fabulous Mama, Tanya, Cathy, Anna, Diane, and Whitney.